I recently saw a weekly event over at Bookish Temptations, those ladies always have something fun going on.
It's called Sunday Shout Out and is the creation of Monique of WriteNoteReviews.
The basic premise is: Is there ever such a thing as too many books? I don't think there are too many books to read, but there can definitely be too many to review.
Sunday Shout-Out aims to acknowledge these books.
My Shout Outs this week are two books I have started, but have not completed ...yet, but I will.
I have a tendency to get delayed on requests because of tour commitments. And even though I have a very tight control this year, delays still happen. That doesn't mean I am not appreciative of the requests or am not liking the stories, it just is what it is.
This is why Sunday Shout Out is such a phenomenal idea! A great way to let the authors know the reviewers haven't forgotten them and a little boost of promo to let others know as well.
Beautiful Addictions by Season Vining
Expected publication: June 10th 2014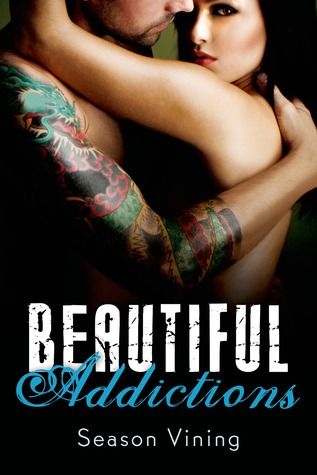 Josie Banks is a girl without a past. After being found unconscious with no memory, she was shuffled in and out of foster homes where she suffered years of abuse.

An experience that left her broken, damaged, and clinging to drugs and meaningless hook-ups to numb her pain.


When Josie disappeared years ago, she took a piece of Tristan with her. She's the girl he thought he lost forever—the one he's never been able to forget. Now a twist of fate has brought them back together, and he never wants to let her out of his inked arms again. But Tristan is haunted by a dark past of his own.
On the run from ruthless criminals that shattered Josie's world years ago, reentering her life puts them both in danger.
As Josie and Tristan's lives become tangled once again, they find themselves unwilling and unable to escape the relentless pull that draws them together.
But in Season Vining's Beautiful Addictions, will the past leave their love in ruins—or bind them together for a lifetime?
Safe and Sound by T.S. Krupa
Published January 1st 2014
When Jill met Jay Greenfield she knew she had found her forever love. She was a kindergarten teacher, he was a high-powered attorney and their lives were perfect. But when a tragic accident takes Jay's life, this young bride is left to pick up the pieces.
Jill finds herself a young widow facing multiple decisions she thought she had a lifetime to decide. With support from her childhood best friends, Lanie and Stella, Jill attempts to piece her life back together. With nightmares plaguing her dreams and the struggles of constant grief over Jay's passing, Stella and Lanie keep near constant vigilance over her.
In the process of settling the estate, Jill learns that her husband was not quite the man she thought he was. She finds herself transported to the small beach town of Oak Island, North Carolina. But the fairy tale ending she envisioned no longer exists.
She must face the reality that Jay is gone as she finds herself having a chance at love one more time.
Safe and Sound follows a yearlong journey of love, loss, friendship, and conquering the unexpected.
****************************
Is there ever such a thing as too many books? I don't think there are too many books to read, but there can definitely be too many to review. Often I'm sent books and, with an already sagging review shelf, these unsolicited books often often don't fit in to my schedule. Other times, I am unable to finish a book I intended to review (for various reasons), or I don't have time for a full review.
Sunday Shout-Out aims to acknowledge these books and the publishers who have sent them to me.
If you're a book blogger and you want to join in, just:
Share the title, author, blurb and image from a book (or more than one) you want to acknowledge
Share the genre, price and link to the publisher so readers can follow up if they like the sound of the book
Ping back to Write Note Reviews in your post.