Expected publication: May 13th 2014
Gallery Books
In this follow-up to
Clipped Wings
, the emotional love story continues between Hayden and Tenley; two young people who desperately want to love and be loved but are afraid to completely let go of their pasts.
In the wake of losing Tenley Page, tattooist Hayden Stryker's tumultuous past is haunting him. Plagued by nightmares about the murder of his parents, Hayden reaches out again to Tenley. Having run from the man she doesn't believe she deserves, Tenley finally lays her guilt to rest. Despite their intense physical attraction, Hayden and Tenley struggle to repair their fragile emotional connection.
As Hayden gets closer to the truth, he must find a way to reconcile his guilt over his parents' death in order to keep the woman who finally cracked his armor, and found her way into his heart.

Published May 8th 2014 by Orion
My Thoughts:
This was such a hard review for me to write. Obviously so, I finished the story in April and am only posting now, kind of. I just could not get clarity to my feelings. I still struggle trying to express what I want tell everyone.
This is a story where my feelings were stretched to such a level of snapping, causing a loss of words. But I am going to do my best to tell you why Inked Armor is a must read.
Inked Armor is book 2 in the Clipped Wings series. In order for you to understand the story, you must read book 1, Clipped Wings.
"Tenley and Hayden are damaged. They are also both young so the damage has become part of their core and dictates their actions as well as thoughts. But they both want to be loved and love in return. Those feelings of belonging and acceptance are just a finger tip away, though neither know how to grasp and hold on."
This is how I felt after reading Clipped Wings.
This is true but the depth of their pain, and for me, more so Hayden's was overwhelming.
Hayden is dark with sadness coloring the edges of his soul. His pain is so deep, you would think there was no way out for him.
Until he meets Tenley.
Now Tenley I found more guilt ridden then dark. And it is her guilt of bad decisions that all but consume Hayden.
Inked Armor picks up right where Clipped Wings left off with Tenley leaving Hayden with her almost brother in law. The anger I felt towards her was overwhelming to me. I don't think I have ever been that angry at a character before. It set off emotions unbeknownst the typical angst story lines I have read.
So angry at her blatant callousness, yep to me it was a callous move, that when she eventually returned, I wanted Hayden to walk away.
You see Hayden sunk to such a level of despair with her leaving I wasn't sure he would be able to overcome it.
The author wrote Hayden's levels of angst in such a volatile manner, I was reeling. The despair was palpable.
He hurt, I hurt.
Then the anger set it. I didn't get it. For Tenley to do what she did, even after explaining why she did what she did, practically begging Hayden to take her back, it wasn't enough for me. I wanted Hayden to punish her. That's how much the emotional roller coaster effected me.
I was breathless through out much of the story. Hurt, pain, anger, resentment, and finally acceptance of Hayden's decision just left me beside myself.
Pretty much why it has taken me so long to post this "kind of" review.
Helena Hunting's writing was flawless. This is an author who knows how to hurt.
Who knows how to drag you to the bottom of the darkest pit, and then drag you back up fighting it all the way.
Clipped Wings series is truly a must read for anyone who loves the emotional roller coaster of well written angst.
I am so sorry to see it completed because even though I was left with overwhelming feelings, I wanted more.
Here's to Helena Hunting killing me with more stories to come!!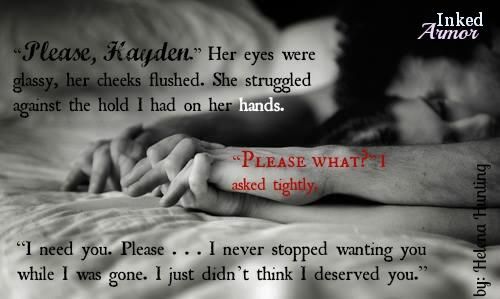 In this life, for as long as we had, we would be each other's armor.
Absolutely loved this story and will forever be stalking the author! Review will also be posted on my
Loved These
shelf on Goodreads.
About the Author:
Helena Hunting lives on the outskirts of Toronto with her incredibly tolerant family and two moderately intolerant cats. She's putting her degree in English Lit to good use by writing contemporary erotic romance. She is the author of Clipped Wings, her debut novel, and Inked Armor.
Website | Goodreads | Twitter | Facebook