I love Shoshanna Evers. She is my Queen of the Erotic Novellas.

Shoshanna writes smexiness that will have you squirming in your chair with nicely developed story lines and full characterizations. And that my friends is what keeps me coming back for more and why she is my Queen. Her stories never disappoint, regardless of the subject matter.

With the release of Enslaved, Book #1 in the Enslaved Trilogy, I had an opportunity for a little Q&A with the always friendly, always accessible Shoshanna.

I wanted to know her thoughts on the saucy covers so many books have and the hesitation many have bringing them to the counter for all to see. This is why I love my Kindle, no one can see what I am reading and I get to avoid the sometime awkward looks.


Question:
credoroza: Some commentators have speculated that with the easy availability and affordability of e-readers, the readers are free to read in public without the giveaway of a lurid cover, or that they will have less embarrassment taking the book to the cashier.
I know I have felt funny from time to time at the counter! Thoughts?
Shoshanna Evers: Oh hell yeah! While I never feel embarrassed about buying a dirty book (hey, it's research!) I love being able to read smut in public. You can pretty much assume that if you see me with my Kindle, I'm reading something totally hot. It's what I do. LOL!
My covers for the Enslaved Trilogy are actually really tasteful, erotic romance-wise. My publisher went with a "ribbon to indicate bondage" theme.
But no one will see them on your e-reader, so you can totally read my books without getting the stink-eye from the little old lady sitting next to you on the bus. Then again, that little old lady might be reading something waaaay smuttier. You never can tell. ;)
from Simon & Schuster's Pocket Star:
From a red-hot erotica writer comes an original eBook...
a sensual romp across the playgrounds of the unbelievably
rich and extremely sexy.
Elisabeth Anderson has seen Trevor and his friends at the infamous Manhattan BDSM club WhipperSnapper, where everyone calls them the BAD Boys, for "Billionaire Arrogant Doms." The BAD Boys—Trevor Brooks, Marc Wilde, and Roman Chase—are aptly named; they've made money hand over fist due to their aggressive investing at the Brooks Wilde Chase Fund. These guys are so rich they can get away with anything, or so the rumors go.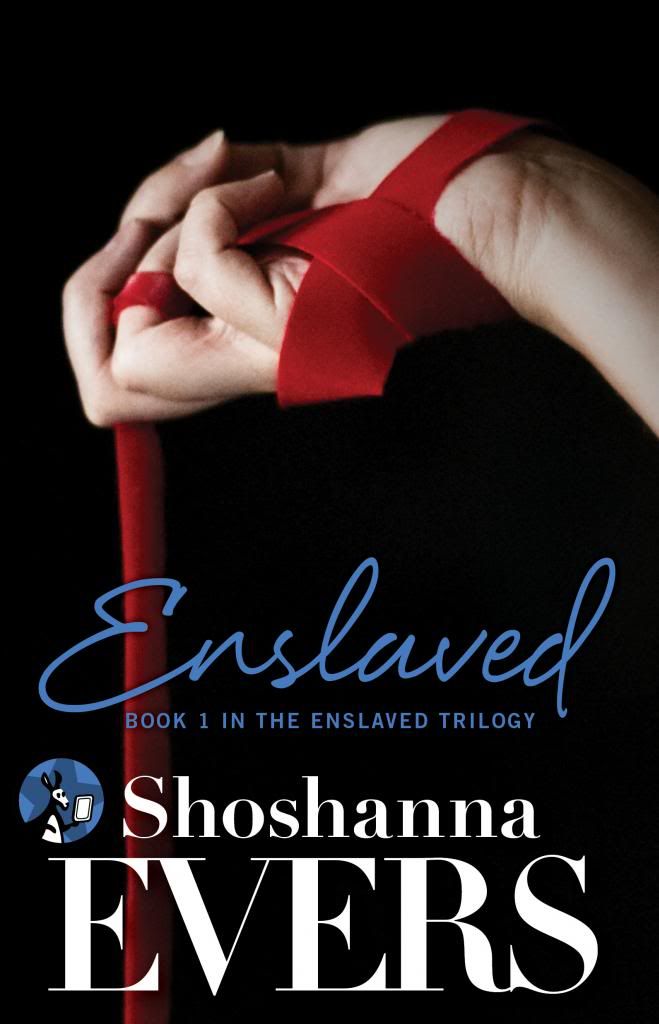 Trevor gives Elisabeth full reign of his estate in Westchester, letting her do as she pleases. He has only two rules. Rule One: she must obey and submit to him while she is living in his house. Rule Two: always answer the blue cell phone. She's happy to oblige, because being with Trevor makes her want to obey, to love him the way he seems to be falling for her. But Elisabeth's never been good at being the quiet sub; she's feisty and gets off on the punishments more than she does by pleasing Trevor.
Elizabeth can't submit to Trevor the way he needs her to, so his friend and business partner (and fellow BAD Boy) Roman takes her in hand. But love triangles can have sharp edges...and somebody's bound to get hurt.
Release Date: April 8, 2013
Coming Soon!
Enamored, Book Two in the Enslaved Trilogy May 13, 2013
Enraptured, Book Three in the Enslaved Trilogy June 10, 2013
About Shoshanna Evers:
Critically-acclaimed author Shoshanna Evers has written dozens of sexy stories including Amazon Erotica Bestseller Overheated. Her work has been featured in Best Bondage Erotica 2012 and Best Bondage Erotica 2013, the Penguin/Berkley Heat anthology Agony/Ecstasy, and numerous erotic BDSM novellas including Chastity Belt and Punishing the Art Thief from Ellora's Cave Publishing.
The non-fiction anthology Shoshanna Evers edited and contributed to, How To Write Hot Sex: Tips from Multi-Published Erotic Romance Authors, is a #1 Bestseller in the Authorship, Erotica Writing Reference, and Romance Writing categories.
Her BDSM erotic romance
The Enslaved Trilogy
releases April 8th, 2013 from Simon & Schuster's Pocket Star imprint.
Shoshanna is a New York native who now lives with her family and two big dogs in Los Angeles, California. She welcomes emails from readers and writers, and loves to interact on Twitter and Facebook.
*Buy links are provided as a courtesy to the reader and do not constitute an endorsement by this blog or its owner.