"Phoenix Harper never imagined her life would come to this: A life not worth living anymore.
After a failed suicide attempt, Phoenix is sent to be observed at a local psychiatric hospital. There she meets Braeden Harris, a hospital aide with his own haunting past.
Not long after their first encounter, they feel an explainable pull towards one another. Will fate bring them together, or will outside forces tear them apart?"


Release date is April 9th
Play List
As many authors and readers know, music is a large part of the writing process. Songs bring up emotions and were very much behind the inspiration in almost every scene in A Brand New Ending.
Here is a list of the ones I mostly had on repeat throughout the whole adventure. Some of these songs had direct influence on what happened in a scene while some other created happy, sadness, etc. inside me.
1. "Golden Gate Jumpers" by Cold War Kids
2. "What Lies Beneath" by Breaking Benjamin
3. "Little Lion Man" by Mumford and Sons
4. "Fix Me" by 10 Years
5. "Dear Agony" by Breaking Benjamin
6. "Running" by Rebelution
7. "Save Me" by Shinedown
8. "Reap" by the Red Jumpsuit Apparatus
9. "C'est La Vie" by Protest The Hero
10. "Never Too Late" by Three Days Grace
11. "For You" by Staind
12. "Last To Know" by Three Days Grace
13. "Savior" by Breaking Benjamin
14. "No One's Gonna Love You" by Band of Horses
15. "Right Here Waiting" by Staind
16. "Your Guardian Angel" by Red Jumpsuit Apparatus
Author Bio
S.A Rolls is a native of the Bay Area, where she attended culinary school and obtained a degree in baking and pastry. When she is not baking, she spends her time reading and writing. She reads anything - from biographies of her favorite president to the most popular YA series. Inspired by her surroundings, she has written her first YA novel, based in San Francisco, her favorite city. She currently lives with her boyfriend and their five-year-old pug.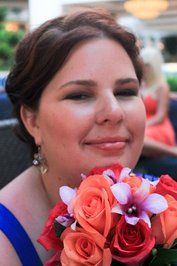 Giveaway
A Brand New Ending Giveaway