Thursday, November 15, 2012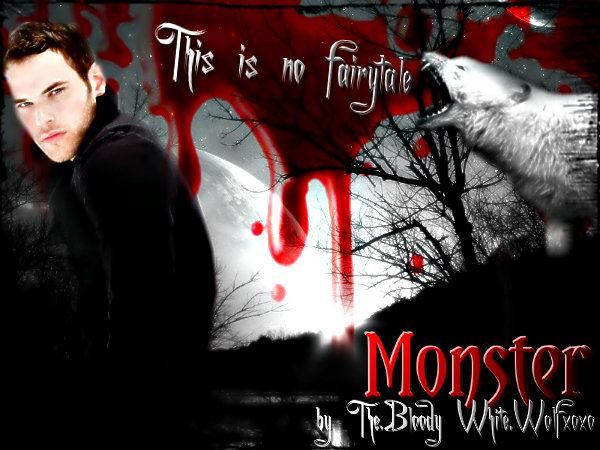 Summary: I am a monster—born to protect, yet living only to kill. My humanity is gone, all until one harmless glance changes everything. Just one glance has bound two sworn enemies together. But is it fate or a joke? Can one who has lost herself be found again by another? Or is this another dark, dirty, trick of my own mind? A forbidden passion, heat, and intense anger—this is no fairytale.
Read n Love 2Gether
sent me her review on Monster by The.Bloody White.Wolf.xoxo and it's a good one that has really caught my attention. I am always on the hunt for a good, dark, angsty story and I beleive I have found a little hidden gem here. The fandom obviously agrees as Monster was also the 2012 Emerging Swan winner for Best Angst WIP.
Let's see why Read N Love 2Gether loves this story so much she wanted us all to know....
This is the only story I've ever read that has captured my attention and had me sitting on my chair for 5 and a half hours without moving.
It was late in the night when I caught the attention of it, and I started the first chapter in a half-awake stage. I was interested, and something kept me reading. Before I knew it, I was on chapter 20. I was awake by then as the fantastic attention to detail kept me reading. I saw that the first 4 chapters of the second part were an exposition and thought I would stop. But, just my luck: I got to the 25th chapter and the happenings had me hooked. Hours passed as I read all the way through to the 46th, and I was awed by this fic.
It was incredible, from the detail that paints the world around the main character and the raw emotion of the main character.
It opened up my eyes to many different views and opinions. I never would have guessed that an OC would have made it onto my absolute favorites list. This fic is a dark, compelling read that hooks from the start and, once it starts going, captures you and swallows you whole. The fist-clenching emotion and heat of the character's struggle ignites a spark while the forbidden romance explodes into a fire. I can't get enough.
However, the fic doesn't seem to be heard of. I've tried to discuss it and was surprised that there wasn't any of my reading, internet buddies that had heard of the fic, so I'm hoping recs and sharing my experience can help give this undiscovered gem the discovery it deserves.
---
Have a story you love and want to see rec'd?
Be a guest reviewer on Fandom Fanatic
Just fill out the
form
and let us know