Wednesday, November 11, 2015
I have been so excited for this story since finding out it was Dean's book!!! I can not even contain the giggles coming out of me!! I am loving this series! You can read my quick reviews here for both The Deal and The Mistake and of course, my obsession for all things Elle Kennedy!
And now the blurb:
Allie Hayes is in crisis mode. With graduation looming, she still doesn't have the first clue about what she's going to do after college. To make matters worse, she's nursing a broken heart thanks to the end of her longtime relationship. Wild rebound sex is definitely not the solution to her problems, but gorgeous hockey star Dean Di-Laurentis is impossible to resist. Just once, though, because even if her future is uncertain, it sure as heck won't include the king of one-night stands.
It'll take more than flashy moves to win her over
Dean always gets what he wants. Girls, grades, girls, recognition, girls…he's a ladies man, all right, and he's yet to meet a woman who's immune to his charms. Until Allie. For one night, the feisty blonde rocked his entire world—and now she wants to be friends? Nope. It's not over until he says it's over. Dean is in full-on pursuit, but when life-rocking changes strike, he starts to wonder if maybe it's time to stop focusing on scoring…and shoot for love.
Expected Publication: January 11, 2016
Add to Goodreads
Pre-Order Links: BN | Kobo | iTunes | Amazon
The Off Campus Series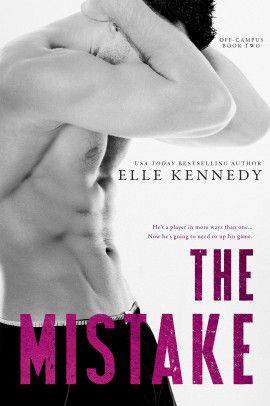 The Deal (Off-Campus #1)
The Mistake (Off-Campus #2)
About the Author:
A USA Today bestselling author, Elle Kennedy grew up in the suburbs of Toronto, Ontario, and holds a B.A. in English from York University. From an early age, she knew she wanted to be a writer, and actively began pursuing that dream when she was a teenager.
Elle currently writes for various publishers. She loves strong heroines and sexy alpha heroes, and just enough heat and danger to keep things interesting!
Website | Twitter | Goodreads