Ruby Stone volunteers at the rodeo auction to raise money for a good cause, but she's in for a surprise that'll shock her from roots to stilettos. Seeing her old flame, Jobe Walters, is enough to turn her blood to boiling—and threatens to unravel a secret.
Jobe has everything he needs—a thriving ranch and business, good friends, peace and quiet—but he doesn't have the one thing he truly wants. He lost Ruby two years ago when she left town without saying goodbye. The last thing he expects to see is her on stage at the fundraising event. Bidding starts and there is no way, over his dead body, will he let another cowboy outbid him for a date with the one woman who has haunted his every dream. He wins the date, but then the truth is revealed, changing his life forever.
Ruby kept her pregnancy a secret and now Jobe is an instant father. Spittin' angry and shocked to his core, Jobe will do anything to have his son in his life, including having Ruby close. He swears he'll never forgive her for betraying him.
When old feelings and desire can no longer be ignored, Ruby must prove to Jobe that she can be trusted. Ruby wants her cowboy, her family and the love she knows still exists. Pressure unlike any other will force them to make decisions about life and love. Will Jobe finally forgive Ruby?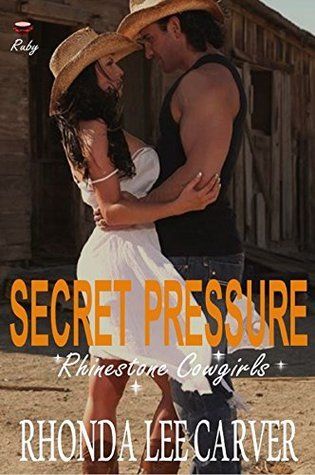 Published July 29th 2015
Rhinestone Cowgirls Series
Add to Goodreads
Excerpt:
The bell dinged, warning them.
He pulled back, both panting, chests heaving and he stepped across the small space of the cubicle. The doors opened and a couple stepped in, the woman offered a smile to Jobe. He dipped his hat in greeting.
Across the space, Ruby met his gaze. Her cheeks were perfectly pink and her lips were swollen. He brought his hand to his nose and inhaled her musky scent, smiling. Pure heaven. He couldn't wait to dip his tongue into the treasure.
Seconds seemed to turn into hours as the elevator lifted them higher. Ruby's eyes were glossy and her bottom lip quivered, he knew she couldn't wait either.
The elevator stopped and the doors slid open. He took her hand and they hurried down the hall toward room 721. Outside his door, he could barely think as he grabbed the keycard from his pocket and pushed it into the slot that suddenly seemed too small. The door clicked and he pushed it open, letting her pass. The door closed, he locked it and pushed her against the solid wood.
In record time he found the zipper at the back of her dress and had it undone, sliding it down her shoulders until it landed into a pile of puff at her feet. He stepped back a mere inch so he could look at her sweet body—as beautiful as ever. Her breasts were larger and her hips were wider, more curves to explore. She was the same Ruby as before, though. Her breasts pressed the lavender lace, her nipples hard against the material. But what got him, straight into the center of his gut, was her chocolate brown eyes that were now close to black. They could make his pulse flounce and his brain to shut down. Her body still made him crazy.
Her lips thinned ever so slightly in impatience. Yeah, he knew exactly what she was feeling because he felt it too. He reached around, unsnapped her bra, and the delicate material slipped down her body and joined the dress. Holy mother of…
"My God, you're beautiful." His words hurt as they escaped his raw throat. Her breasts were full, her nipples were a creamy pink, thick and hard. He could no longer wait to sample them. He lowered to one breast, licking the hard nub and she arched her back. Her fingers strolled up his shoulders, into his hair, knocking his hat to the floor. He continued to suckle and gently nibble the silken skin, then gave the other breast the same attention.
"Jobe?" Her needful voice drew him from his enjoyment. He looked at her, her eyes were sparkling and craving filled her expression. "I want you!"
"Hell yeah, sweetheart. I want you too."
Buy Links:
Amazon US | Amazon UK
About the Author:
At an early, Rhonda fell in love with romance novels, knowing one day she'd write her own love story. Life took a short detour, but when the story ideas would no longer be contained, she decided to dive in and write. Her first rough draft was on a dirty napkin she found buried in her car. Eventually, she ran out of napkins. With baby on one hip and laptop on the other, she made a dream into reality—one word at a time.
Her specialty is men who love to get their hands dirty and women who are smart, strong and flawed. She loves writing about the everyday hero.
When Rhonda isn't crafting sizzling manuscripts, you will find her busy editing novels, blogging, juggling kids and animals (too many to name), dreaming of a beach house and keeping romance alive. Oh, and drinking lots of coffee to keep up with her characters.
a Rafflecopter giveaway