Has Max, the bad boy of the art world been tamed just as his girlfriend, Ava's star begins to shine?
Anything can happen in Los Angeles, a world where heroes become villains and the rogue saves the day.
An unexpected plane ticket leads our heroine to a meeting that will change her life.
What happens when what's most precious to you slips out of your grasp? How fiercely will you fight for the one you love?
Join Max and Ava for the dramatic and passionate conclusion to the Work of Art trilogy.
Publication: March 2, 2015
Goodreads
AMAZON US | ITUNES | BN
Hours later, I open my eyes. The room is dark except for the reflection of the outside streetlights giving the sheer curtains on the tall windows a platinum glow. It takes a long moment for me to realize where I am and that Max isn't next to me. In his place are ripples of sheets that have been peeled back. I've kicked off the sheets and lie on my side, nude.
I hear him breathing…deep and ragged. In the dim light, I see movement. As my vision adjusts, I spy Max sitting in the armchair next to our bed.
Gloriously naked, his legs spread and his head leaned against the back of the chair, he slowly strokes himself as he watches me. It's incredibly erotic, and my desire for him overwhelms me. When our eyes meet, he moans and strokes himself again.
The sight of him instantly arouses me, and I lick my lips as his hands move over what's mine. His cock looks so commanding from this angle, and I want him badly. I look up, my expression burning.
"Do you mind if I watch?" I whisper in a sleepy voice.
"You want to watch what you do to me?" He gives me a wicked look.
I nod and run my hand over my breasts, circling my nipples.
His lips part. "You were moaning in your sleep, Angel. You got me so worked up, and I didn't want to wake you, so I came over here and imagined what you were dreaming about."
"What did you imagine?" I slip one hand between my legs and slowly stroke myself. I notice his fist tighten over his erection.
"Remember that night in the O'Keeffe Museum? We got so turned on by the art, I had you up against the wall with my cock inside of you.
You wanted me so much it made me crazy."
"I remember, are you kidding? You were wild."
eyes roll back as he shudders. It takes him a moment to start speaking again.
"So, I started imagining us in the room near the back of the Picasso museum. Remember the wide bench?"
"The leather bench we sat on for a while?"
"Yes, you're naked and spread out on that bench, and I'm kissing my way up your thighs to your sweetest spot."
I moan and stroke further into my wetness. "You really like going down on me, don't you? I mean, you don't just do it to satisfy me."
"You have no idea how much I love it." He groans and watches me hungrily.
"So, did you fuck me in the Picasso museum?"
He gives me a naughty smile. "Yes, I fucked you, but we haven't finished yet. You woke up and interrupted my fantasy."
I squint and flash him a wicked smile. "Yes, I'm such a distraction."
"What were you dreaming that made you thrash around and moan?"
From the steamy look in his eyes, I imagine he wants to know he owns me in sleep too.
I pause, pulling the memory out of the folds of my mind. "I dreamt that we were in a room with dark burgundy walls and burning candles around the room. There was no ceiling, just the night sky filled with stars, and I was crouched low on this huge bed, purring like a wild animal."
He leans forward in his chair, and his whole body is tense. I'm beside myself over the way his fist moves with purpose as he listens.
"What was I doing?"
I move my fingers back to where I'm wet. "You were taking me from behind."
I love the anticipation building as he rises off the chair and approaches the bed. The testosterone in the air intoxicates me. The bed sags and the heat from his thighs warms mine before his strong hands settle on my hips.
He pushes into me slowly, so slowly, until I'm beyond full.
"Ava," he gasps, as he slowly pulls out again.
"Yes, just like my dream…You feel so good," I groan, as he pushes back inside and I grind against him. "Is this better than your fantasy?"
"There's no better with you, Angel… 'cause it's all perfect…"
"Every…" He pushes into me hard.
"Fucking…"
I brace myself from falling forward as his movements become more forceful.
"Time."
His heat builds inside me, and he groans before we lose ourselves in the moment. He's all hardness and passion, strength and command.
I submit again and again as my fingers stroke the circle of pleasure closed. When we climax, there's no breath, no words, just the explosion of our bodies combusting before he falls over me.
CURRENTLY BOOKS I AND II IN THE TRILOGY ARE ONLY 99 CENTS!!!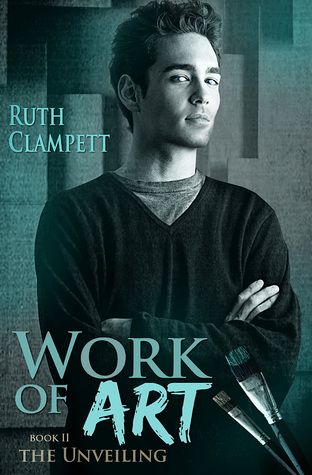 Work of Art- The Inspiration
(Work of Art #1)
AMAZON US
| AMAZON UK |
BARNES AND NOBLE |
ITUNES
Goodreads
Work of Art - The Unveiling
(Work of Art #2)
AMAZON US |

AMAZON UK |

BARNES AND NOBLE |

ITUNES
GoodReads
About the Author:


Ruth Clampett, daughter of legendary animation director, Bob Clampett, has spent a lifetime surrounded by art and animation.
A graduate of Art Center College of Design, her careers have included graphic design, photography,
VP of Design for WB Stores and teaching photography at UCLA. She now runs her own studio as the fine art publisher for Warner Bros. where she's had the opportunity to know and work with many of the greatest artists in the world of animation and comics.
The Work of Art Trilogy is Ruth's third publishing endeavor, following Animate Me and Mr. 365.
She lives in Los Angeles and is heavily supervised by her teenage daughter, lovingly referred to as Snarky, who loves art and visiting museums as much as her mom.