Add to Goodreads
Publication: June 8th 2014
Decker Steele had it made...Penthouse apartment, VIP parties, girls on tap. You see, Decker Steele is the Pornography Associations award winning, money making machine. But what does a self-confessed, pussy pounding warrior do when his prized package begins to fail? Freak the 'F' out, that's what!


Andi Jennings is the socially inept, geeky and awkward cousin of Decker's best friend. Only she's not so geeky and awkward anymore. Now she's a smokin' hot country bumpkin, with a smokey voice made for phone sex, and a pair of hot as hell cowboy boots. Everyone adores her, my porn star buddies, my mom and dad, my 'equipment'.


So, the prized package isn't so failing anymore, the catch is, it will only perform for Andi...My friend WITHOUT benefits.


What will the prince of porn do? The girl or the career?
He has one month to figure it all out.
Reader Warning
-
This novel is NOT a dark romance. There are absolutely no whips or floggers, no matter how much Andi wants to smack Decker over the head at times. There are no BDSM slavery themes, unless you can count that Decker is a slave to Andi's hot cowboy boots and sexy Texan drawl. Decker's Wood does however feature glitter rain, manscaping, vajazzle, tequila shots, roof-top dancing and one hell of a dick trick!
My Thoughts:
Definitely hot and a really fun read too!
Sexy, sweet, funny, completely enjoyable. Characters you just love and a story line that could have been seedy but instead was delivered with a lot of humor that had me both laughing and swooning.
And I loved the cover! Exactly what I envisioned Decker to look like. I think it's the smirk, yeah the smirk, I like it.
Andi Jennings, bad ass but sweet girl from Texas who comes to NYC for a fresh start.
Decker Steele is a successful pornstar who has had some issues rising to the occasion and questioning his life. A bit dark and down in the dumps kind of guy but amazingly sexy and charming.
Andi and Decker knew each other as kids through Decker's best friend and Andi's cousin, Bradley. And it's Bradley that brings them back together by having Decker pick Andi up at the airport on her arrival to the big bad city and making sure she is ok.
When Decker and Andi meet again, their lifestyles couldn't be further apart.
Decker grudgingly does the favor, but is completely taken off guard when all of a sudden, the south rises again! His new predicament is hysterical. But Decker is a hysterical character to start with. His theories, inabilities to understand a woman's psyche really made for a fun read.
Andi is the little engine that could to the core. She buys a building, converts it in to a book store, and will do what she needs to make herself a success.
Decker was not what Andi remembered. She starts to see a different side to him and their banter and sexual tension was just priceless.
There was some super sexy scenes, hysterical banter, witty and equally funny secondary characters, and just a whole lot of page turning fun.
Can a pornstar and a sweet country girl really make a life together? You need to see for yourself!
A recommended fun read because I completely enjoyed the story from start to finish with a huge gooning grin on my face!
Great story, would definitely recommend it! Stalking is warranted. Highly suggest you do the same.



About the Author: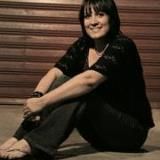 I grew up on the beaches of North Queensland Australia before migrating south to the iconic Gold Coast in 1995. I traded the surf and my bikini for pajama's and a computer when I embarked on writing professionally in 2012.


I have two rules when writing. Rule one, "forget about ratings and awards, write simply for the love of writing". And rule two, "be brave, don't be afraid to traverse the path less traveled and don't conform." With these rules in mind, I hope my books spark a light inside your heart and leave you in a complete book frump!
Facebook | Twitter | Website | Goodreads | Pinterest