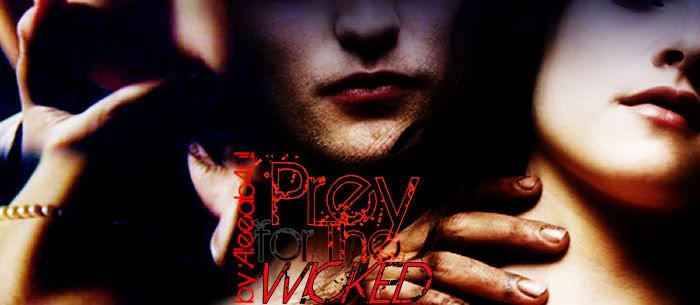 Story Link | Author Link
Summary:
A vampire finds the true meaning of temptation, an innocent beauty with a siren's blood. Need and curiosity ignite endless possibility, but is she prey for the wicked or the answer to a prayer for salvation? When obsession has no reason and love knows no bounds, where do you draw the line? AU E/B Darkward Mature themes. Non-canon vampires. No sparkling, vegetarianism or venom.
So many stories, so many Edward's to choose from. I love them all. What can I say, I love Edward. But my favorite Edward is a dark and naughty Edward.
And the bad boy of them all...Darkward.
I love Darkward. He is without a doubt my favorite Edward.
There is something so alluring about the dangerous and dark side of this character.
And if you can find well written Darkward stories, you will be a confirmed believer in the darkness and obsessively look for more.
Prey for the Wicked is the epitome of the Darkward.
This is a story that the characterization has never strayed. Edward is not shiny. He is not damaged waiting for love to cure him. He is dark, obsessive, selfish, takes what he wants regardless of the consequences.
There is nothing worse, of course in my opinion, than a Darkward who turns all sweet and docile.
And Bella, not weak or submissiveness, more overwhelmed emotionally. They really are the perfect contrast to one another You can see why she was initially attracted and why she keeps trying to get away from him. The connection is there but so is the fear. There emotional attachment to one another just shines through the author's words.
Like Bella, I am so emotionally attached to Preyward, it is scary! He is the the devil incarnate. A naughty, dirty, devious bastard!
Keep in mind this is not story that updates quickly, sometimes months go by. But it doesn't matter. It is so well written, you will wait.
And why? Because you must.