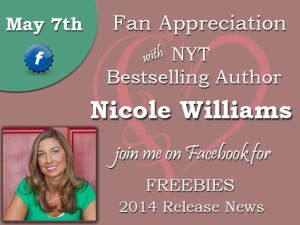 New York Times Bestselling Author Nicole Williams is hosting a Fan Appreciation Day on Wednesday, May 7th!
You are invited to her celebration of YOU on her Facebook page for freebies
and news about her upcoming releases for 2014.
You can also find out how to get on the ARC list for her upcoming titles.
For fans who really can't wait for her next release, click the link below for a special surprise!
Nicole Williams Jigsaw Puzzle
Fan Appreciation Day
Date: May 7, 2014
Time: 7:30 am – 9:00 am PST and 4:30pm – 6:00 pm PST
About the Author:
I'm the New York Times and USA TODAY bestselling author of the CRASH series (HarperTeen, S&S UK), LOST & FOUND series, UP IN FLAMES (S&S UK), The EDEN TRILOGY, and a handful of others. I write stories about everyday kinds of people who find themselves in extraordinary kinds of situations.
I tell love stories with happy endings because I believe in making the world a better place, and that's one tiny way I can make it so. I'm one of those people who still believe in true love and soul mates, and would rather keep my head in the clouds any day over having my feet firmly on the ground.
Blog
|
Facebook
|
Twitter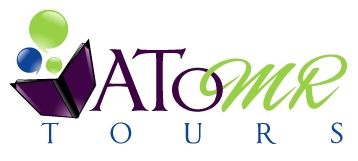 Website | Twitter | Facebook