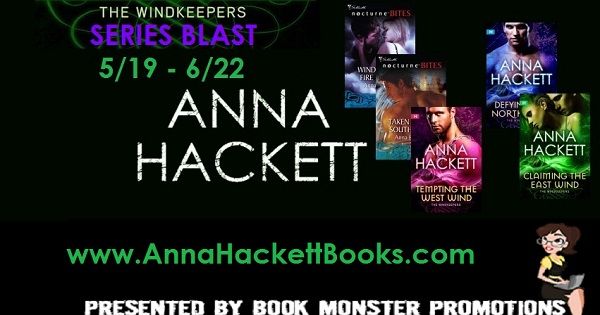 Wind Kissed, Fire Bound
The WindKeepers, #1
For centuries, she has felt nothing…
As Keeper of the Winds, Livia Cavalli needed to focus her power on keeping the evil Tempest Winds trapped in their island prison. What she doesn't need is to be distracted by sexy horse trainer Rafe Donovan. Three hundred years ago, Livia became an immortal Keeper to numb her emotions, but Rafe arouses her in a way she hasn't felt for centuries.
For Rafe, Livia is a challenge he longs to solve—and take to bed. Once she's in his arms, their desire is overwhelming. But when his own powers reveal Livia's secret pain, he realizes taking her body isn't enough—he wants to heal her soul, too…
Amazon | Barnes & Noble | Kobo | ARe
The sight that greeted Livia had her limbs turning liquid and warmth rising to burn away the coolness inside her.
The horse was stunning. And the man riding him even more eye-catching.
Man and beast moved like one through the cobbled street. The big chocolate-colored stallion tossed his head, willful and wanting his own way. Full of fire.
But the man controlled the horse with ease, and despite her best efforts to fight it, Livia's eyes were drawn to him. To the powerful, jean-clad thighs gripping the horse, the muscular shoulders filling out the white T-shirt. The thin tattoo of flames banding one strong bicep, the fascinating face—all angles with a jagged scar on the jaw. The dark hair, not long, not short, teased by the morning breeze.
The smoke-gray eyes locked on her. Heat tore through her, washing away her composure. Her fingers curled into her palms. No, she wanted the numbness. She forced herself to stay still, her face blank.
How? she despaired. How did he make her feel like this?
Taken by the South Wind
The WindKeepers, # 2
The deadly Tempest Winds have escaped…
Now, four brothers gifted with the power of the winds must recapture the Venti Tempesta before they can unleash their evil on the world…
WindKeeper Dante Venti, Keeper of the South Wind, is in Rome on a mission to entrap the Southwest wind and its holder before it can infect humanity with the vice of pride. Dante already feels pride seducing him…but the real temptation is alluring assassin Samia Hassan.
Samia has been sent to kill Dante, but her body is irresistibly drawn to him, his power and presence enveloping her. And if she's not careful, she will be entrapped by Dante, body and soul…
Amazon | Barnes & Noble | Kobo | ARe
The hunt had begun.
Dante Venti stood at the top of the Spanish Steps, Rome spread out before him. The wind swirled around his body, carrying the noises and scents of the Eternal City.
He lifted one hand and waved toward the night-shrouded buildings. The wind hurried to obey his order, searching for any sign of the prey he hunted.
The wind was his to command. Like his father and grandfather before him, he was a WindKeeper, one of four brothers gifted with the power of the wind. Since the day he'd reached manhood and inherited his power, he'd been the Keeper of the South Wind.
His warm breeze brought back the blaring horns of the frantic Rome traffic, the laughter of late night diners, the exclamations of wandering tourists and the whispers of lovers.
It also brought him the taint of his foe.
Tempting the West Wind
The WindKeepers, # 3
The deadly Tempest Winds have escaped…
Now, four brothers gifted with the power of the winds must recapture the Venti Tempesta before they can unleash their evil on the world...
Antonio Venti, Keeper of the West Wind, wakes naked and chained, captured by the nemesis he hunts. The evil Northwest Wind is spreading the vice of lust across the city of Florence and Antonio feels his skin heating, his blood firing and his body wanting. He refuses to succumb, but then his cunning prey offers him his ultimate temptation—the woman he craves above all else.
Sophia Crane has given up on rich, cheating men. She's come to Italy to focus on her art restoration and discover the truth about the legend of the WindKeepers, but then she wakes naked and locked in a room with her sexy boss. As Sophia and Antonio fight their scorching desire, Sophia learns the terrible truth about the power of the wind, and that she may either be Antonio's salvation or his downfall.
Amazon | ARe | Smashwords
Antonio was at the very edge of his control.
The door opened again and he tensed.
A large man backed in carrying something in his arms. He didn't look at Antonio, just dumped his cargo on the blood red bedcover and left.
Antonio stared. Every muscle in his body tightened, so hard it was painful. His gaze traced the naked curve of the unconscious woman's body. Slim limbs, curvy hips, beautiful full breasts topped with cherry pink nipples. Her dark hair fell over her face, hiding her features.
Oh, no. He didn't need to see her face. Her scent teased him. Like a spring meadow in full bloom.
The newest employee at Museo Venti, Dr. Sophia Crane.
Corus had just locked Antonio in the room, naked, with his greatest temptation.
Defying the North Wind
The WindKeepers, # 4
The deadly Tempest Winds have escaped…
Now, four brothers gifted with the power of the winds must recapture the Venti Tempesta before they can unleash their evil on the world...
Billionaire Luca Venti is head of Venti Enterprises and the Keeper of the volatile North Wind. He prides himself on his control and as he battles the deadly Northeast Wind in the heart of Venice, he refuses all help. But the vice of rage beats within him and when he discovers his new personal assistant is hiding more than just dangerous curves under her suit, his fury wants to be unleashed.
Rayne Santini was sent to spy on Luca, not to get involved with him and his explosive temper. She knows all about angry men who like to hurt others, but as she watches Luca struggle against his vice, she refuses to stand by and do nothing. But when their enemy entraps them, Luca's control begins to crumble and the only thing standing between him and his rage is Rayne.
Amazon | ARe | Smashwords
"Out." Luca watched as looks of shock were quickly smothered. Folders were closers, papers shuffled, then they filed out.
All except one.
Steady, cool green eyes watched him. Her stylus was poised over her tablet. "Is there anything else you require today, Signor Venti?"
Even his new personal assistant's voice was cool with the faintest tinge of an English accent. His fingers curled. Damn, Pietro for falling ill. Luca didn't want to break in a new personal assistant. Especially one who inflamed his already stretched temper. He had enough problems without also wanting to mess up her sleek swing of chin-length red hair. Or to get some sort of reaction out of her. Any reaction.
He'd yelled at her plenty this week and she'd barely blinked.
Si, something about Rayne Santini rubbed him the wrong way. Although during the last six weeks everything had rubbed him the wrong way.
Rayne crossed her long legs, the movement catching Luca's attention. Her gray suit was stylish but hardly provocative. Still, it fired something in his blood. Something he knew he didn't have time for right now.
Claiming the East Wind
The WindKeepers, #5
The deadly Tempest Winds have escaped…
Now, four brothers gifted with the power of the winds must recapture the Venti Tempesta before they can unleash their evil on the world...
Skye Santini has lived her life in the shadows, hiding from the horrors of her past. Tired of always being afraid, she vows that now is her chance to make a difference. She will be the virgin sacrifice to appease Soren Venti, the Keeper of the East Wind, who has succumbed to his vice of greed.
Locked away in his villa on Lake Como, Soren has no memory of his identity. He is driven only by the whispers of greed to take, own and possess, but then one fragile woman enters his domain. Soren wants Skye above all else…but he wants her willing, not as a duty-bound lover. As they are drawn together, their dangerous enemy, the Southeast Wind bears down on them. He wants Soren to join him and rule the world…and he knows that Skye is the only thing stopping him.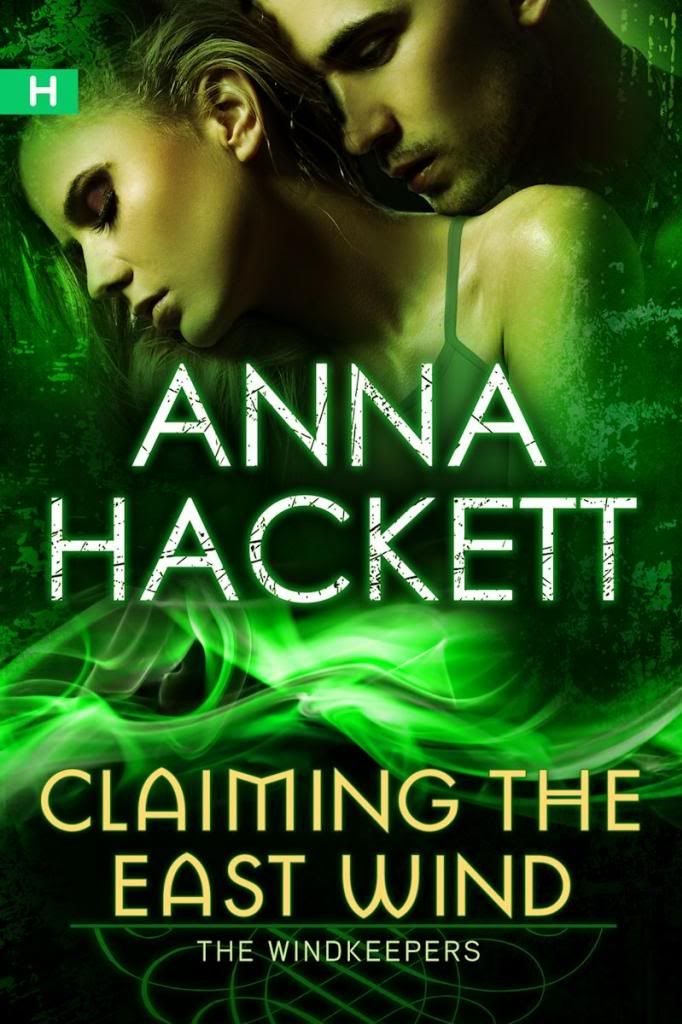 Amazon | ARe | Smashwords
She was the virgin sacrifice for a greedy wind god.
Skye Santini clasped her hands together and tried to wrestle her nerves into some sort of submission.
She was failing. Big time.
Swallowing hard, she stared up at the beautiful villa. A cool, brisk wind blew in from Lake Como and tossed her hair around her face. She scraped it back. She could do this. She wanted to do this. Besides, she wasn't exactly a virgin and the male locked inside wasn't exactly a god. He was a man. A man who usually ran the finances for the successful company he and his brothers had built, Venti Enterprises.
Oh, and he was a WindKeeper on the verge destroying the entire world.
"This is insane. Skye, you can't do this!"
Skye turned and watched her sister storm up to her. Rayne never held back from saying what was on her mind. She was also a trained Aurae warrior and the best big sister in the world.
"Rayne, I'll be fine—"
"Fine?" Rayne gestured wildly. "The man has succumbed to his vice. He has no memory of who he is, no idea of his power, and no clue about the danger lurking close by."
Skye looked again at the building. Vines climbed up the side of the cream-colored villa. Windows overlooked the manicured gardens that reached down to the lake. It was beautiful and she imagined, on most days, peaceful.
Today it was nothing of the sort.
About the Author: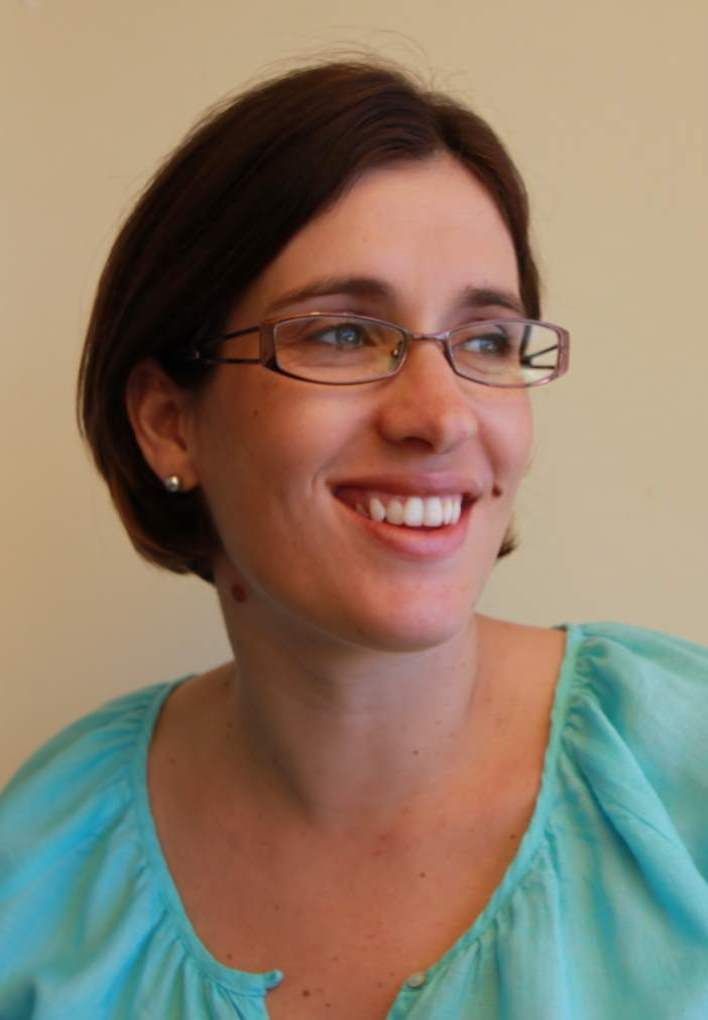 I'm Anna Hackett and I write action romance stories to thrill you, excite you and leave you inspired. I write about people overcoming unbeatable odds and achieving seemingly impossible goals to inspire you with the truth that the possibility exists for all of us to do the same. I love car chases, explosions and spaceships…and of course when the boy wins the girl. Oh, and I'm a sucker for that moment when the team is walking in slow motion, shoulder-to-shoulder heading off into battle. After reading or writing an awesome action romance story, I'm left energized and feeling like anything is possible. I aim to give the same to my readers.
a Rafflecopter giveaway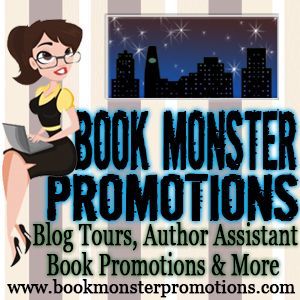 Website | Facebook | Twitter
Buy links are provided as a courtesy to the reader and do not constitute an endorsement by this blog or its owner.
In accordance with FTC regulations regarding giveaways, let it be known that Books and Fandom has not received nor does it accept any compensation for posting giveaways. Giveaways are at the the discretion of said tour host and/or author. All questions are to be directed to said tour host and/or author.