In this exciting paranormal erotic romance, a dominant schoolteacher with a serious role-play fetish finds the perfect submissive in an infamous vampire lover.
Cerise Norrell, Type A substitute teacher by day, is ready to quit being a domme. Despite her best intentions, none of her partners can keep up with her scene fetish and attention to detail—let alone her demand that they have a costume and set waiting every afternoon by the time she's home from school.
Over a dozen potential subs have left her in the past year, but just when Cerise thinks it's impossible—that she'll have to go back to vanilla relationships, or be alone forever—she meets William, who wants to make all her fantasies come true. He turns her home into a geisha's dream apartment, a concert hall with a grand piano (which he uses to play an original composition while wearing a tuxedo), and even rents an abandoned loft for a zombie apocalypse scene—complete with canned goods.
But there's something strange about William. Well, a lot of strange things. He must be absurdly rich, since he can afford to provide extravagant costumes and props on a daily basis without having to leave work early.
He must be insane, since he puts up with Cerise's over-the-top demands. And most importantly, he doesn't redden when he's spanked, and his skin is as cool as satin sheets. When Cerise discovers she's become dome to the infamous "Chilly Willy," as he's known throughout the BDSM urban lore, she begins to find out there's a whole lot more to her handsome submissive than a creative mind and a hard body.
And when it's William, ironically, who starts pressing Cerise to give him the kind of commitment she's never given anyone, it'll take everything she has to work through her issues, confront her past, and learn to be vulnerable.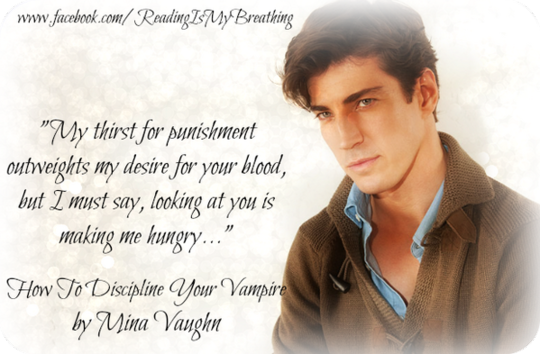 *Graphic by Lucia of Reading is My Breathing
My Review:
A real fun, tongue in cheek story.
No over the top drama or angst. Smexiness through out with touches of light BDSM. Great debut for an author who must have one wicked sense of humor to come up with this story line!
Cerise is a Domme, but an odd one. She has some very particular requirements for her Subs, hence why she has a difficult finding one.
William is a vampire with some burning submissive tenancies.
These two come together during a odd speed dating venue for BDSM minded clients. The attraction is immediate for them both.
The "scenes" are elaborate and over the top. Hence the author's creative imagination. William being a vampire does not seem to bother Cerise at all when she discovers this about him. She actually is turned on about it.
Their banter is pretty funny as well.
There was one heartbreaking scene where Cerise finally opens up about a malicious and hurtful experience she suffered at the hands of a high school boyfriend, it actually colors her view of relationships and says so much about why she is so distant with everyone except her one friend, Erin, who I didn't feel was much of a friend.
What I liked most about the story was in the last few chapters, the story morphed in to a really sweet and loving relationship between the two.
A surprise ending that I was not expecting really made me smile.
Again, a really fun, sweet, and light read. Totally enjoyed this debut from the author.
Great story, would definitely recommend it! Stalking is warranted. Highly suggest you do the same.