Tuesday, September 10, 2013
The Last Oracle: Book Three of The Sibylline Trilogy
Can love defy death itself?
From Bestselling author, Delia Colvin, The Last Oracle, is the passionate finale to The Sibylline Trilogy that weaves Greek Mythology with a modern tale of eternal love!
Alex has waited 3000 years to finally marry his soul mate…his symbolon. But as the wedding comes to fruition, their secret plans are discovered and now no one is safe!
In order to triumph over these forces, the oracles must return to the entrance to the Underworld and revive the first oracle, Myrddin, whose jumbled mind holds the key to their survival. But that solution forces Alex and Valeria to face certain death, for the chance to change their fate!
The Symbolon: Book Two of The Sibylline Trilogy
From Bestselling author, Delia Colvin, The Symbolon, is the passionate second novel of The Sibylline Trilogy that weaves Greek mythology with a modern tale of eternal love!
For 3000 years, Alex has dreamt of a life with his symbolon, his mortal soul mate. But when they approach the ancient council of immortals for approval of their marriage, they discover that sinister forces object to their union. Soon, they are faced with terrifying threats, including a devastating separation that neither may survive.
The Sibylline Oracle: Book One of the Sibylline Trilogy
Can love defy death itself? When she's rescued by handsome Alex Morgan, Valeria thinks she's found her happy ending —but Alex knows the terrifying truth…time is running out! And unless they can discover the source of an ancient curse, fate will take her life…again. Greek Mythology and modern romance intertwine in this addictive trilogy.
THE SIBYLLINE TRILOGY – a love more enduring than life…
than death…than destiny

Buy Link: Amazon
* Giveaway *
Must be 13+ to Enter
Shipping in the US only.
a Rafflecopter giveaway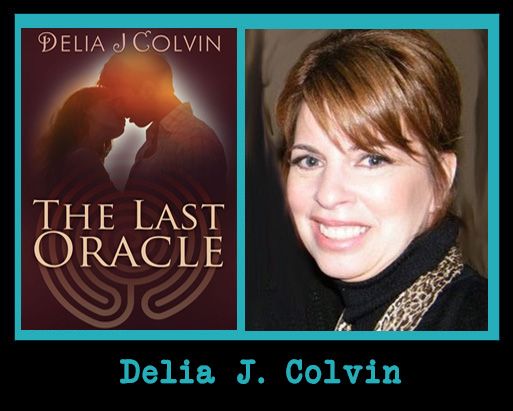 "We have a new star to add to the firmament of romance/fantasy writers. Ms. Colvin takes her place in the first tier and it's well deserved." Al Hatman Author
Delia J. Colvin is the bestselling author of The Sibylline Trilogy.
While working at enhancing her writing skills, she worked in a wide range of occupations from marketing to entrepreneur, Air Traffic Controller and Russian Interpreter. But her passion is in writing and helping people.
Delia has donated both time and money to literacy programs around the country.
She currently resides in Northern Arizona, with her husband, Randy, and her two Cavalier King Charles pups.
Buy links are provided as a courtesy to the reader and do not constitute an endorsement by this blog or its owner.