Friday, September 20, 2013

One weekend—no strings, no expectations, and no commitments. On Sunday afternoon it all ends, or does it?
No-nonsense businessman Spencer Cannon has a dilemma. He's headed to Connecticut for the weekend to attend his cousin's elaborate wedding. His whole family will be there in addition to his obsessed ex-girlfriend Ava. According to Spencer's brother, Ava has been telling her friends she's planning a magical reunion with her favorite ex-boyfriend. Spencer's not in the mood to deal with her, but he can't miss the wedding. He needs a plan.
Struggling Brooklyn waitress and aspiring graphic designer Dakota Vercelli has fallen on hard times. College debts, pending eviction, and her sick mother are taking a toll on her. A chance encounter with Mr. Cannon, CEO of Cannon and Carrington Advertising, leads to a proposition that may be just the thing to solve both of their problems. Spencer's offer—spend four days with him during the wedding festivities and keep his ex off his trail. In return, he'll compensate her generously for her time. He needs a weekend girlfriend, and Dakota needs the cash.
It was just supposed to be a business deal, but after sharing a room, kissing under the stars, and attending a wedding, their attraction is undeniable. Will the illusion end when the weekend is over or is the proposition just the beginning?
Content Warning: contains mature language and graphic sexual content
Goodreads
Buy Links:
Read an excerpt:
http://beachwalkpress.com/the-weekend-proposition-excerpt/
My Review:
Oh I really liked this story! Very sweet, romantic easy read.
Definitely not what I was initially expecting at all.
I was expecting a cross between Pretty Woman and The Wedding Date based on the premise and the initial chapters. But then the whole story made a sharp turn and veered in to happy land for me.
I love a happy story without all the typical cliches. There were some definite tight spots going on, namely the ex-girlfriend who doesn't know how to take "no" for an answer, but they were done very smoothly, very believably.
I loved how the "money" for the proposition was dealt with as a business transaction initially, but then how the terms starting changing and evolving making the story that much more realistic. The fact that the money was not an issue and it was "what it was", a business deal, was handled very well. At no time did Coda feel like she was bought nor did Spencer look at her that way. Definitely no cheap vibes from the story at all.
Really good flow, strong characterizations, fun story line.
And Spencer's mother, you will lover her!!
Definitely a must read for the fan of romantic fun contemporary stories with some really good characters without the same old typical cliches.
A story that will leave a smile on your face.
Great story, would definitely recommend it! Stalking is warranted. Highly suggest you do the same.



a Rafflecopter giveaway
About the Author: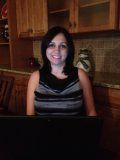 Ella Jade has been writing for as long as she can remember. As a child, she often had a notebook and pen with her, and now as an adult, the laptop is never far. The plots and dialogue have always played out in her head, but she never knew what to do with them. That all changed when she discovered the eBook industry. She started penning novels at a rapid pace and now she can't be stopped.
Ella resides in New Jersey with her husband and two young boys. When she's not chasing after her kids, she's busy writing, attending PTO meetings, kickboxing, and scrapbooking. She hopes you'll get lost in her words.
She loves connecting with readers. You can find her here…
Buy links are provided as a courtesy to the reader and do not constitute an endorsement by this blog or its owner. ARC provided by author via tour host.