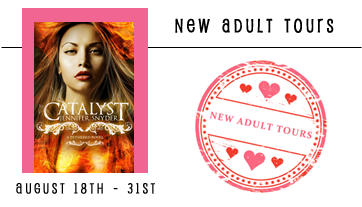 Sometimes who we really are lies buried just beneath the surface…
After learning she's inherited a house in the beach side town of Soul Harbor, Georgia, Addison Harmon and her best friend decided to take a much needed vacation before the pressures of life after high school suffocate them too heavily.
But what Addison finds isn't a chance to recoup from a bad break up and hang out with her best friend while she decides what she wants to do with her future. What she finds is Kace Sullivan—a sexy guy she can't seem to get enough of—someone who with one touch reveals a seductive world full of magic and secrets Addison isn't sure she's ready to be a part of.
(New Adult/Mature Young Adult: Contains sexual situations, mild language, and underage drinking.)
Goodreads
Buy Links: Amazon | B&N
About the Author:
Jennifer Snyder lives in North Carolina were she spends most of her time writing new adult and young adult fiction, reading, and struggling to stay on top of housework. She is a tea lover with an obsession for Post-it notes and smooth writing pens. Jennifer lives with her husband and two children, who endure listening to songs that spur inspiration on repeat and tolerate her love for all paranormal, teenage-targeted TV shows.
Website | Boekies Book Reviews
Buy links are provided as a courtesy to the reader and do not constitute an endorsement by this blog or its owner.