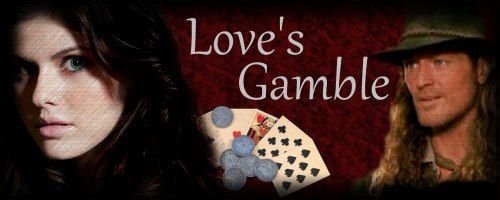 Story Link | Author Profile | Website | Twitter
Summary: Destiny and a drunken bet change the course of two lives. Will Hank and Julia risk everything on Love's Gamble? This is a Hank Lawson of Dr. Quinn Medicine Woman romance.
I love romance novels, they will always be my first love in the fiction genre, and historical romance, I am fangirling the hero or in the case of Love's Gamble, the anti-hero. How can you not? These men are toxic and addictive. You crave them with a blinding passion.
The anti-hero, the bad boy...Hank Lawson...who would think it? Not me, until now.
I loved Dr.Quinn, Medicine Woman. It was historical, romantic, great story line and had some nice looking casting. At the time I was a bit to young to appreciate the badness of Hank, so I was more a Sully girl. But now after discovering the Dr.Quinn fandom through @LovesGamble and her story, I am definitely a Hank girl!
Love's Gamble is all the things I love in a historical romance. You have history, classic verbiage, a sweet and innocent heroine, the hero or misunderstood anti-hero, good characterizations, nice flow to the story and a fabulous yet simplistic story line.
I sat and read through 15 chapters in one evenings, and completed the current 61 chapters in two more evenings. Normally I shy away from a story that far in, but the author's writing style is very smooth and the chapters just flowed. I didn't even realize how much I had read until I was on the last posted chapter.
The story line is simplistic as it should be. Everything centers around Hank and Julia. Two people from different woulds, as wrong for each other as you can possibly imagine, but with a connection so strong, they need to be together. Perfect romantic intrigue.
Now Hank, as we all know is not the nicest of men, he's down right mean at times, yet show's the ability to care, though with only peaks of it showing. Brothel and saloon owner, drinker, gambler, womanizer. A jaded, difficult, and abusive past has colored him to the bad boy that he is. No regrets is his armor as he goes about his day to day life.
Julia Tate is a young innocent girl who has come west to escape an impending betrothal to a man she does not love. She wants a life she can be happy in and a man to love who will love her. Julia also has a very jaded past. Losing her parents, the denial of her heritage. Raised by family who want her to be who they want her to be. But Julia is also very head strong and stubborn. Her initial encounter with Hank upon arriving in Colorado Springs was very eventful...
As his large hand closed over her small one, a rush of heat flowed through her body, jolting her senses to a strange new awareness. She stared down at their joined hands in confusion, then up to his face, surprised to discover the rage from moments before had disappeared. In its place was an expression she couldn't quite decipher, nor could she understand why it left an unsettling quiver in the pit of her stomach.
Their interactions though odd and fraught with innuendos completely drive the plot.
Hank is gruff, demanding, and dominant towards Julia, even when trying to be nice...
Hank put his hands on her shoulders and gently spun her around, back in the direction of the stairs. She trembled as his large hand settled on the small of her back, expertly guiding her down the hall. Heat seeped through the thin layers of her clothing to sensitize the skin underneath.
Julia was suddenly irritated by how presumptuous he was with his liberties of her person. It was time to set some boundaries, and fast. She whirled around to face him, her jaw set in determination.
"Mr. Lawson, I'd appreciate it if you'd kindly refrain from putting your hands on me as if you have the right to do so. You do not."
Hank stared at her with a flat expression that was unnerving. "Ain't ya gettin' yer back up over nothin'?"
Nothing? Embarrassing heat flushed her face. Whatever she felt at his touch, it was definitely not nothing.
She turned away and stubbornly sped up until she walked a few steps ahead of him. He said nothing more, only followed silently behind her.
I am completely charmed by this story and Hank and Julia are so engaging I had a smile on my face the whole time. Really looking forward to more of these two.
Keep in mind Hank being Hank, their romance is a bit of a roller coaster, but a roller coaster I am on board with. I love their private moments when you get to see a different side of Hank. I love how Julia stands up to him because she knows what she wants and refuses to be pushed away.
Really such a good story and a great romance!!
The definition of a siren call:
"The enticing appeal of something alluring but potentially dangerous."
And that is Hank Lawson in a nut shell!!