Called to the homicide of a Dallas criminal lawyer, Detective Remy LeBeau stares at a scene that drags him back into his past. To another murdered lawyer in New Orleans. A case that put Remy on a collision course with death.
Cody Lewis struggles with the horrific memories of her kidnapping and the need to numb the pain. The battle she puts up causes her to avoid Remy and their undetermined relationship. But the flashbacks and nightmares are proving more potent than Cody thought and she's having a harder time resisting the cravings for alcohol.


As the case takes a turn in revealing a professional assassin is behind the death, Remy begins to make decisions that could cost him his job and Cody. Because the deeper he sinks, the closer the enemies of his past come to finding him.
"Relentless is an intensely suspenseful book that will have you turning the pages." —The Romance Reviews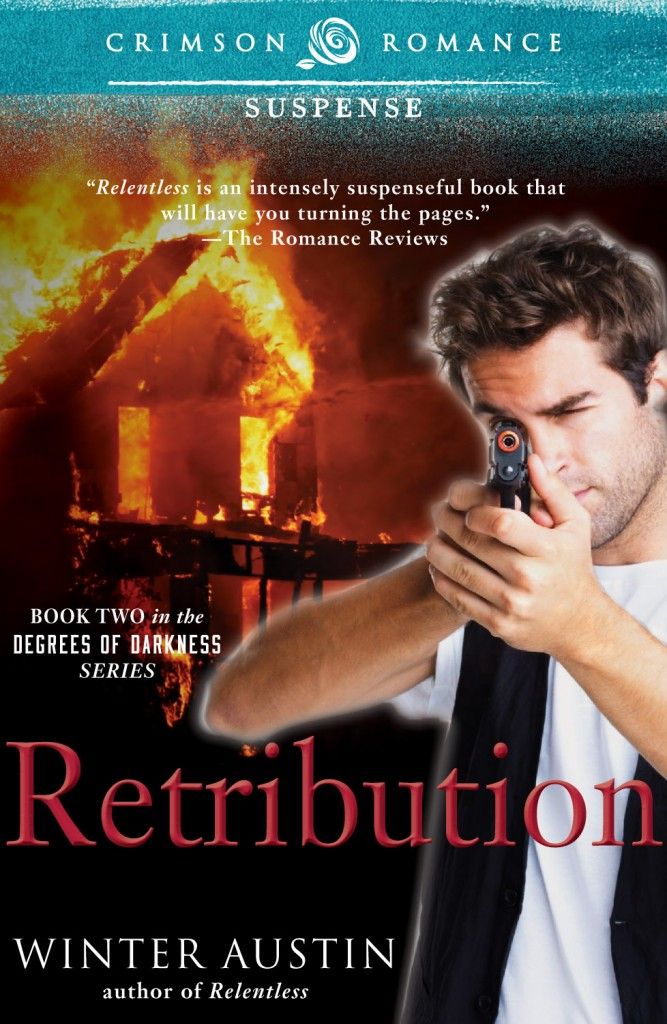 Goodreads
Buy Links: Amazon | iTunes
a Rafflecopter giveaway
My Review:
I read
Relentless
which is Book 1 in this series and absolutely loved it. I even have a little girl crush on the author for writing such an amazing story. After reading Retribution, I am in full blown stalking mode.
I LOVED Retribution! Seriously LOVED it! And Remy LeBeau...no words are spectacular enough for this man.
I was never big on the romance/suspense/mystery genre but oh how I am singing a new tune now. Winter Austin is a writer who can weave a story of suspense to the level of building it piece by piece that you are actually on the edge of your seat chapter by chapter. And when she has you on the edge of that seat, she swoops back in and completely knocks you right off with surprise after surprise that you are reeling from the multiple layers she is tossing you as she leads you in to her world.
Winter Austin's ability to tell a plain old good story is just...wondrous.
I was completely engaged with the characters. They were written in such a way that they were real. Flesh and bone real. I continually think about them. I know them. I can feel their emotions.
Did I mention Remy Lebeau? Yes I did but he is definitely worth the redundancy.
Jeepers I loved his character. Alpha. Kind. Protective. Troubled. Confused. Cajun. Smexy. Dark. Mysterious. Hidden past. Hurt. Swoon worthy.
Retribution starts off five months after Relentless ended. And the story starts off running with another murder mystery. This time though, the stakes are higher, the twist and turns that are woven bring you back to Remy's former life in New Orleans. We finally find out so much more that was hinted at and touched upon in Relentless. What happened to him, his wife, and what led him to disappear. What secrets is he still hiding, and what has him so scared.
Then we have Cody. She loves Remy just as Remy loves her. But there is so much still keeping them apart. Cody is suffering from PTSD from her kidnapping ordeal and not dealing with it very well. Not dealing to the point of continuously avoiding Remy.
The story line is so intricate in bringing past and present together that the additional characters brought in start to bring everything full circle in your understanding of their world.
There is the return of J.C, Heath, and Logan as well.
Heath aka C-Bar, Remy's partner. He's quite the character and we learn a lot more about him and his past as well. He played a very big role this time around with all involved.
The story is action packed with the same underlying romance peaking in around the edges. You will be guessing and completely surprised through out the entire story with a HUGE surprise ending. Personally, my mouth was hanging open I was so stunned!
Retribution can definitely stand on it's own but I highly suggest you read Relentless first for a much better understanding of the characters and situations.
And the best thing about this series...it continues with Revenge, book 3 scheduled to be released in November. I know I need more.
This series is a definite must for a good story, a good mystery, great suspense, and a nice romantic balance.
Absolutely loved this story and will forever be stalking the author! Review will also be posted on my
Loved These
shelf on Goodreads.
About the Author:
Winter Austin was once asked by her husband if he could meet some of the people who took residence in her head. She warned they weren't all characters he wanted to meet, as killers walked among them. Needless to say, that conversation ended abruptly.
A lifelong Mid-West gal, Winter swears she should have been born in the South, Texas or Louisiana preferably. But then she'd miss the snowy winters.
Dividing her day between her four children and their various activities, a growing pet population, and her Beta-with-Alpha-tendencies Hero, Winter manages to find time to write chilling thrillers between loads of laundry.
Don't worry. You won't find any of her mouthwatering culinary dishes poisoned. Unless you're one of her fictional creations.
Website | Facebook | Twitter | Pinterest | Goodreads
Follow the Tour
Buy links are provided as a courtesy to the reader and do not constitute an endorsement by this blog or its owner. ARC provided by tour host.