When French perfumer Danielle Bretancourt steps aboard a luxury ocean liner, she has no idea that her life is about to change forever. The year is 1939, and the declaration of war on the European continent soon threatens to devastate her beloved family and young children.
Traveling through London and Paris into occupied Poland, Danielle searches for the remains of her family until she is forced to flee to America.
Gathering the fragments of her impoverished family, Danielle begins life anew in 1940s Los Angeles. Through determination and talent, she rises from meager jobs in her quest for success as a perfumer and fashion designer to Hollywood elite. Through it all, the men she loves suffer mounting losses.
As the war continues to rage around the world, Danielle aids the French Resistance in its quest for freedom, and continues the search for her lost son, Nicky.
Can Danielle and her family overcome the devastation that haunts their life?
Set between privileged lifestyles and gritty realities, SCENT OF TRIUMPH is one woman's story of courage, spirit, and resilience.
Story Excerpt


"Merci, Danielle," the young woman said with a smile as Danielle placed an armload of fragrant white lilies next to the blush pink roses she had already chosen. "You always choose my best flowers."
Danielle winked at her friend, the owner of the Flower Pot in Beverly Hills. "And you always have the best flowers in town, Mimi. Especially this spring."
"Mais oui! It's a good season. Are these for a special occasion or party?"
"These are just for me. You know I can't resist walking past your beautiful flowers." Danielle buried her nose in the bouquet of roses that Mimi had already wrapped in newspaper. "I feel so much better when my home is full of flowers. Their perfume always lifts my spirits."
"Mine, too. That reminds me, my brother just sent some potted gardenias from the farm. They're full of buds and would be perfect for the windows in your boudoir. Did you see them? They're in the front of the shop."
"I'll take a look." Danielle meandered through a brilliant maze of cut flowers, charming topiaries, and magnificent floral arrangements. She loved the scents that swirled through the air, and they really did lift her spirits.
After she had committed Cameron to the sanitarium for his alcohol and drug addictions, she tried to banish the turmoil that had been in their home. Not only had his behavior affected her, but it had also disturbed Liliana, Jasmin, and Marie. Once he was gone, she had asked a friend, who was an interior designer, to make subtle changes throughout their home using an ancient Chinese design theory called feng shui, which they all found calming and healing. The sound of waterfalls and the aroma of flowers had helped restore balance and happiness to their home, and reminded her of her uncle's flower fields in Grasse. Since then, Danielle managed to find time in her busy schedule to shop for fresh bouquets every week, and she felt better than she had in years.
She drank in the heady aromas wafting through the air, closing her eyes from time to time as she leaned into an exotic flower or plant to breathe in its scent. I could almost be in Grasse, she thought.
She loved her friend's shop, in fact, she had helped Mimi and her brother start their business with a small investment. They were from the Provence region of France, and while Mimi ran the retail shop, her brother oversaw their farm in a valley north of Los Angeles where they grew the flowers and plants.
The shop was busy this Saturday morning in May, bustling with people in their casual weekend clothes enjoying the warm spring weather. Danielle folded up the long sleeves on her white cotton shirt, and as sunshine streamed through the front windows, she pulled her dark sunglasses from their casual perch atop her head, shielding her eyes against the bright glare. She spied the gardenias and made her way to them.
She rubbed the glossy green leaves, touched the moist earth in the pot, and let her fingers trail along a fresh white flower bursting from a tightly swirled bud. Instinctively, she sniffed her fingers.
Perhaps I'll capture this aroma, she thought to herself, smiling. Cool greens combined with sweet gardenia, the moist earth, the warmth of the sun—it would be perfect for this season. Maybe a new line of garden-inspired perfumes—
"Danielle?"
She squeezed her eyes shut, her fingers still hovering beneath her nose. Am I hearing things? She heard someone call her name. And not just anyone, but it sounded just like— And that scent...the patchouli, the hint of rose...it was Spanish Leather and the scent of his warm skin...oh, mon Dieu! She felt a hand on her shoulder, and felt a shiver of remembrance course through her.
"Danielle."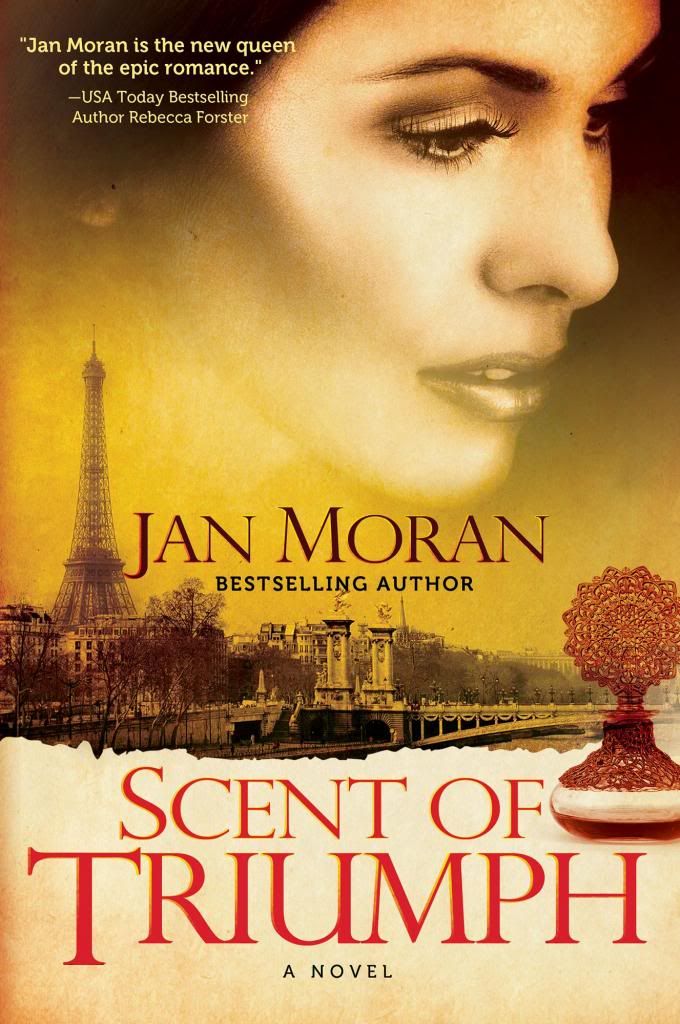 Slowly she swung around. The shop seemed to fall away, and she felt suspended in the moment. She pushed her sunglasses up on her head and blinked, staring at the handsome man who stood before her. "Jon?"
"It must be kismet." A wondrous smile spread across his face. "I stopped to buy flowers for Abigail, and I thought I saw you through the window." He ran his hand down her shoulder and caught her hand, drawing her to him, intensifying the delicious scent of him in her nose.
"I can't believe it, what brings you here?" She felt her heart beating wildly, and was certain he could see it beneath her blouse.
"We have a ship going out on the Pacific from Long Beach. I didn't have much notice, what with security and all. So I thought I'd surprise Abigail."
Danielle laughed nervously. "Oh, you would have. But she's not here. She's in San Francisco with Lou. He has a film shooting on location there."
He ran a hand through his thick hair, releasing a faint scent of the sea. "Ah, once again, I should have called ahead."
He smiled wistfully at her, his warm eyes crinkling at the corners. She noticed his face was leaner than before, but his chest was broad, and he looked more muscular. He's even more magnificent than I remembered.
"Then our meeting really is kismet," he murmured. His voice sounded low and gentle, yet charged with emotion and strength. "You look so different, Danielle, you've bloomed, just like these flowers. How many years has it been since that day outside of your apartment?"
Danielle felt her face flush, and moistened her lips to speak, but at that moment, Mimi bustled toward them.
"Did you find the gardenias?" Mimi paused and tilted her head. "Ah, I see you've found a friend instead. Who is this?" she asked with a curious smile.
"Jon is an old friend, and Abigail's brother."
"I am so very pleased to meet you," she said, her eyes darting between Danielle and Jon. "Danielle, I have your flowers ready. Did you want the gardenias, too?"
"Oh yes, of course. I'll take two of these."
"Let me help you," Jon said. "Which ones do you want?"
Reining in her emotions, Danielle pointed to two lush plants, and Jon swept them up in his arms. "What else do you have?"
Mimi gestured to the counter. "She has quite a few roses and lilies." She glanced at Danielle and added, "How nice that you ran into Jon."
"Yes, what luck," Jon said with broad smile as they wound through the shop.
Danielle felt her pulse quicken, and yet, she marveled at how easily they fell into step together. It had been three, no, almost four years since they'd seen one another. Before Cameron, she thought with a jolt.
Jon paid for the flowers and scooped them into his arms. Laughing, Danielle said, "Here, I can manage the lilies."
"How far do we have to go with these?"
"I'm parked in the back, follow me." As he held the door for her, she glanced over her shoulder, and noticed his gaze lingering on her body, then he met her eyes.
"Nice flowers," he said with grin.
She laughed nervously and shook her head. "I'm in the Delahaye."
Jon walked to the car and let out a low whistle. "What a beauty—the car, too," he added, looking appraisingly at Danielle.
"Jon, you're being naughty. And I'm supposed to be mad at you." She unlocked the doors.
"At me? Why?"
"Well, why shouldn't I be? You show up again, with no notice at all."
"Danielle, let's not waste time on the past." Taking the keys from her, he opened the trunk and placed the flowers inside. He drew a deep breath. "I didn't call you, or anyone, because I didn't know how much time I would have. As it is, I only have a few hours, and I don't know when I'll return." A serious look shadowed his face for an instant. He took her hands in his. "But I'm here now, and it's a beautiful day. May we enjoy it together?"
She smiled up at him. "Come with me to the house. My mother and the girls are visiting friends in San Diego. And you know where Cameron is. I wrote to you about that."
He nodded. "Is he any better?"
"He's taking this opportunity to work on new songs, and is looking forward to coming home soon." She paused, then sighed deeply. That had been her standard answer to the press for months. Why should I lie to Jon? "Actually, he was released from the sanitarium to work on his new album, but after just a month, he had a horrible relapse and returned. But let's not talk about Camero
Author Bio
Jan Moran writes smart, stylish, sensual sagas. She's also written several books on perfume.


"My most recent book, SCENT OF TRIUMPH, was inspired by my love of perfumery and history. In writing, I drew upon my own family history and my mother's memories of World War II, imagining a young entrepreneur whose talent, determination, and fearlessness catapult her to the pinnacle of success, despite mounting personal tragedies and the elusiveness of love.
"I write about strong, capable, female entrepreneurs. I'm a world traveler, so I also enjoy writing about different destinations."
Jan Moran is the author of SCENT OF TRIUMPH, a historical novel, and FABULOUS FRAGRANCES I and II, which earned spots on the Rizzoli Bookstore bestseller list. She is at work on more series in fiction and nonfiction.
As a fragrance and beauty expert, she has been featured in numerous publications and on television and radio, including CNN and Extra, Women's Wear Daily, Allure, InStyle, and O Magazine. As an editor and writer, she has covered fragrance, beauty, and spa travel for a variety of publications.


Giveaway For (1) E-Book
Just leave a comment on the post. Winner will be chosen by me :)


Giveaway For Signed Paperback
a Rafflecopter giveaway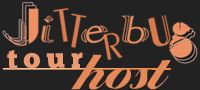 Hosted by Jitterbug Tours