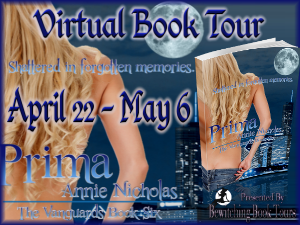 One year ago, Sugar survived a wolf shifter attack but it had left her broken. Paralyzed on the left side, she fights for independence in her day-to-day life. Her worst injuries are the scars on her soul. She can't bear who she has become and it drives her to push her vampire lover, Daedalus, away. How could he still love her when she is just a shadow of herself? But a new threat on Daedalus's life yanks away her veil of self-pity and she resolves to help him.
The vampire council sends an emissary to Daedalus. His clan brother, another Nosferatu, hands him an ultimatum. Return to his post as Prime in Pal Robi or he'll kill Sugar and her shifter friends. Daedalus has brought enough trouble into Sugar's life. He won't be responsible for more, so he agrees to leave Chicago.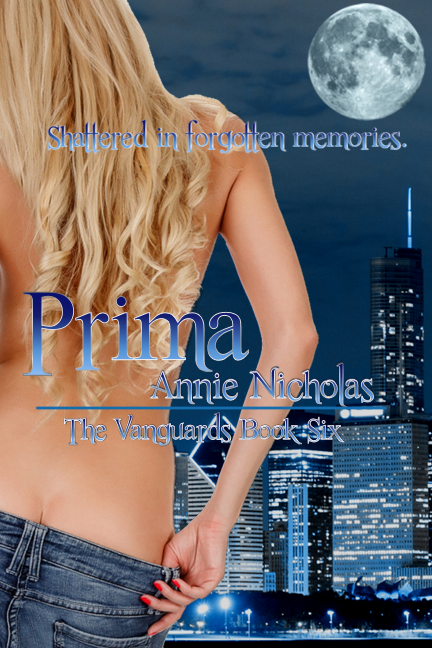 To both warriors surprise, Sugar's not willing to remain behind, and with her own shifter guards she's ready to assist Daedalus regain control of Pal Robi.
The Vanguards Book 6
Annie Nicholas
Genre: Paranormal Romance
Number of pages: 150
Word Count: 44, 000
Cover Artist: Hailey Edwards
Excerpt
Daedalus set his arm around Sugar's shoulders, something he used to do often but not so much since her return home. His arm felt heavy and solid. He always made her feel safe. Even though they lived together, she missed him and how they used to be. Daedalus guided the tip of the cane back to the ground. "Let's not kill Pallas right away. He still has his uses." He pressed a kiss on her head.
She tossed a look over her shoulder where the pack in beast form had poured out the door onto the patio. If the neighbors were watching, there'd be more notes in her mailbox. "Can we move this inside and keep it civil?"
Pallas gave her a short bow and returned to her home.
She elbowed Daedalus in his solid gut. "You never said you had family." He hardly ever spoke about his past. After three years, she would have expected to know this at least.
"What?"
"They said he's your brother." She pointed at the shifters escorting Pallas inside.
"Oh, not by blood, but by vampire clan. I told you that turning females into Nosferatu only kills them, so my clan is a type of brotherhood."
A familiar throb returned to her temples, and she shrugged his arm off. "Why is he threatening to kill us then?"
"Vampire blackmail tactics. They work remarkably well."
She frowned. How could he be so nonchalant about a threat on their lives? What could Pallas possibly want from them? Unless… "Who does he want you to kill?"
Daedalus flinched. "Why do you jump to that conclusion?"
"What else would he want? It's what you're good at." The words came out her mouth before she could stop them. Damn it. Daedalus killed. It was a fact she couldn't seem to live with. They'd been round and round this barbed subject so many times she had scars on her scars. He probably owned as many. Saying sorry just didn't mean the same after the amount of arguments they'd had. He knew she'd be lying because once again she'd tossed her stupid high morals at him. They stared at each other as the canyon between their hearts grew wider. What was a few more inches when they had miles to bridge?
Daedalus leaned close enough that she'd only have to go on tiptoe to kiss him. Her broken heart ached that she couldn't manage even that simple task. His blue eyes had gone dark. "He represents the seat of power of my people. They want me to stop neglecting my duties and return to my position." He smirked, but it didn't hide the hurt in his voice. "Please, try to remember that I have more skills than just killing. I am Prime of this part of North America, and I haven't been a very good one since I've met you. I'll take care of Pallas, just like I do everything else." Daedalus stormed into the house, leaving her to limp back alone.
She stared at the uneven ground and ignored the heaviness pressed against her chest. He had finally given her the space and independence she craved, and it stung.
Giveaway
To celebrate Prima, I am giving away an e-book to one lucky winner! Just leave a comment telling me you are a winner and what format you prefer. If you leave an anon comment, I won't have a way of finding you to let you know if you won so keep that in mind when posting your comment!
Annie Nicholas hibernates in the rural, green mountains of Vermont where she dreams of different worlds, heroes, and heroines. When spring arrives the stories pour from her, in hopes to share them with the masses one day. Mother, daughter, wife are some of the hats she happily wears while trudging after her cubs through the hills and dales. The four seasons an inspiration and muse.