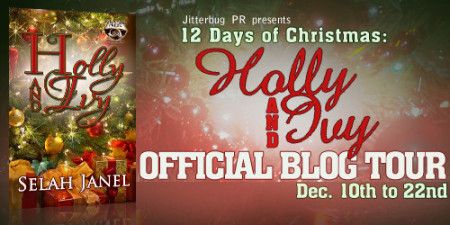 As part of the 12 Days of Christmas Blog Tour, we are very excited to celebrate the release of Holly and Ivy by Selah Janel and today is the cover reveal! And here is the cover we have all been waiting for...
Holly and Ivy by Selah Janel
Expected Pub: 12/5/2012
After losing her job and her boyfriend, Holly returns to her parents' farm. Embarrassed and hopeless, she doesn't expect to bump into a forgotten childhood friend that wasn't supposed to exist. Ivy is not only a dryad, but she lives in the pine trees Holly's family grows to sell at Christmas. As the old friends reconnect, Ivy not only shares her strong opinions, but gives Holly a charm that will change both their lives. As days melt into weeks and the seasons change, Holly's life magically turns around. Christmas not only brings surprises, but a choice for the human woman. What's more important: stability, success, and love, or keeping a promise to an old friend?
---

Selah Janel has been blessed with a giant imagination since she was little and convinced that fairies lived in the nearby state park or vampires hid in the abandoned barns outside of town. Her appreciation for a good story was enhanced by a love of reading, the many talented storytellers that surrounded her, and a healthy curiosity for everything. A talent for warping everything she learned didn't hurt, either. She gravitates to writing fantasy and horror, but can be convinced to pursue any genre if the idea is good enough. Often her stories feature the unknown creeping into the "real" world and she loves to find the magical in the mundane.


She has four e-books with No Boundaries Press, including the historical vampire story 'Mooner' and the contemporary short 'The Other Man'. Her work has also been included in 'The MacGuffin', 'The Realm Beyond', 'Stories for Children Magazine', and the upcoming Wicked East Press anthology 'Bedtime Stories for Girls'. She likes her music to rock, her vampires lethal, her fairies to play mind games, and her princesses to hold their own.
---