Monday, September 17, 2012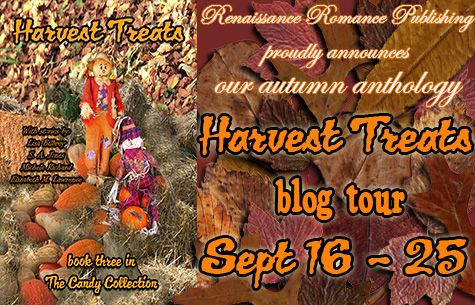 Today starts the blog tour for Harvest Treats, book three in the The Candy Collection published by Renaissance Romance. There are four amazing writers involved who all contributed their own fabulous stories.
And today for the blog tour we have Lisa Bilbrey, author of Angel's Heart, The Keeper, who wrote the story, The Journey Home for Harvest Treats.
Lisa gave us a fabulous guest post to enjoy telling us about the process of actually writing a guest post and of course, about Travis, the main character in The Journey Home.
So here's Lisa thoughts...enjoy...
Travis Lets Himself Be Heard
I always feel a little awkward when I do these posts for my books. Sure, writing a 25K novella is easy, but attempt an 800 word guest post, and I get all nervous. A bit dramatic perhaps, but it's like putting myself on display. But, for the sake of getting this story into the hands of all you amazing readers out there, I fought through the panic, and put myself out there. So, here we go...
For my book in Harvest Treats, I wanted to do something different, something that you don't always see in the typical romance book. For me, that meant writing The Journey Home from the man's point of view. The Journey Home is all about Travis McCoy — about him coming to terms with the ending of his career, dealing with the town's people he'd left behind on his quest to achieve his dreams, and accepting that not all the blame could be placed on everyone else. He'd messed up and he had to be a man about it. Of course, that's often easier said than done, and that's a lesson that Travis learned the hard way. When Travis left home, he left the only person he'd ever loved -
Travis stretched his legs out, crossed them at the ankle, and folded his arms in front of his chest. No matter how hard he tried, he couldn't get his shoulders to relax. When Travis left, he crushed the one woman who'd ever cared about him - Penelope.
She owned his heart and soul; the one person who'd ever believed that he'd be able to do anything he set his mind to. The day he left her had been the hardest moment of his life — at least until now. Going home was proving to be even harder.
While Penelope plays a vital role in The Journey Home, the story focuses almost entirely on Travis and how he deals when he learns that his world is about to come undone at the seams — even more than he'd been experiencing. I won't spoil it for you, something are worth waiting for.
Writing The Journey Home from Travis' point of proved to be harder than I anticipated. I'm a woman and trying to think like a man is not an easy task to take on, but it was a challenge that I couldn't turn away. A good writer pushes themselves to do the best they can, even when it scares the crap out of them. So, I pushed up my sleeves and delved into the male's perspective — trying to keep away from the smelly gym socks. Why men's socks are so much more disgusting than women's is something I will never understand. It's like they wrap them around raw fish or something.
Anyway, back to the topic on hand. While doing so, I asked myself how I would feel if I was Travis; how I would deal with learning that there was this huge secret that had been kept from me. And I came up with one conclusion - I'd be pissed as hell.
Often, as women, we don't think about the feelings of men, they are often put on the back burner for the sake of not rocking the boat. I know I am guilty of this with my own husband, and even though he's good about telling me how he feels, there are times that he's felt this need to keep his emotions bottled up so that he didn't make me feel worse. It's not fair, and it's not right of us to do this to the men in our lives, and I didn't want that for Travis. I wanted to give him a voice, a chance to get his story out, and capture the hearts of women all around. Here's hoping I did.
For those you of who enjoy The Journey Home, I am planning a sequel that will be released in the early part of next year. Travis decided he had more to tell me.
Thanks so much Lisa! Loved the post and love that your visiting on my site again!
Make sure you keep scrolling because we have a great giveaway for you to win a copy of Harvest Treats and also the trailer for the book!!
Enjoy and enter!
---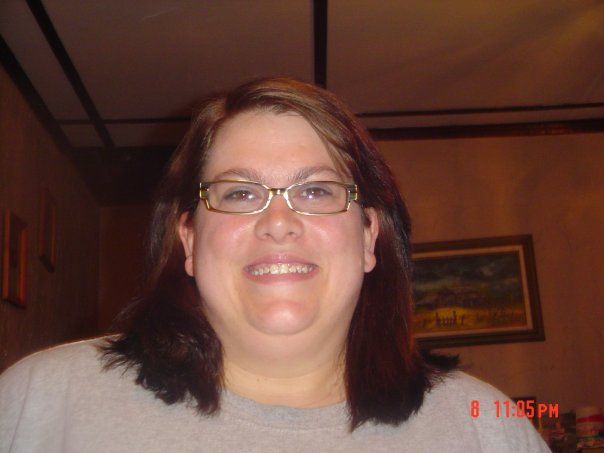 Lisa Bilbrey is a mom of three and has been married to her high school sweetheart since 1996.
Finding a love in the written word, she started writing as a way to express herself. From the first word she wrote, she'd found her heart and soul.
Always willing to learn, she's spends much of her time trying to improve as a storyteller. She's been blessed to find Michele Richard and Laura Braley, both of whom she spends hours every day writing with.
Where to find Lisa:
a Rafflecopter giveaway
---
Enjoy the book trailer for Harvest Treats