Wednesday, February 1, 2012
"Fics are my obsession! I am a wife and mother of 2 teenagers. I am an admin & co-owner of TwiFicCentral and an admin & pre-reader for Sparkly Red Pen! Oh, and I also run TweetAFic on Twitter as well as Fic Obsessed. We tweet fic recs every 15 minutes. No qualifications -- all you have to do is sign up! Thats me...and all I do."
Says Kelly Provence...and me, what do I say? I am exhausted just reading that!
Her presence alone in the fandom speaks volumes and you can find her on many different sites as well as her tireless promoting of fandom causes and the multitude of contests. Tweet A Fic alone is an example of her support.
Kelly has also been spotted here and there working with contest sites as a judge, staff, and all around help. Most recently, The Hidden Star Awards.
For me personally, Kelly is one of my favorite affiliates. Always letting us know when she makes changes, as well as responding to affiliate requests. Her all around niceness and willingness to participate is a testament to all that is good in the fandom.
This is a new segment for me. I wanted to do something to let the followers know who the affiliates are and what they do. Most see affiliates as sites that tweet out the same info as everyone else or sites that bombard their TL's. Affiliates are there to promote and help. Many a new story and writer have received tremendous help by the affiliates promoting their stories. Causes and contests have received help in bringing awareness as well.
You see this, but you really don't know what goes in to these sites and promotions and who is behind the scenes. Aside from the amount of effort it takes to keep sites continuously updated, many run with little or no staff. You would be surprised how many out there that go it alone. Keep that in mind the next time you see a new site, join them. Or when you see the tweets, re-tweet them. Or when participation is asked for voting. Or causes that spring up, check them out.
Our fandom lives and persona are part time, though sometimes it feels like a full time job. We all have real lives. But it is our love of the fandom that drives us to participate.
Naturally, Kelly was who I sought out to help kick off my segment, and naturally, Kelly was more than happy to help.
So without further ado, my interview with Kelly and her site, Tweet A Fic...
Tell us about your site -
TweetAFic holds all the rec's that are sent to us! I take the fics that people submit on a form and tweet them once a week. We tweet a different rec every 15 minutes. The reason I needed the site was because, well, people can't just hang around Twitter all day checking out the rec's from TweetAFic. The blog holds them all so people can just go to the site if they miss a rec!
Why did you decide to create the site?
I was part of the admin that was TwiFicPromotions. We reviewed fics. That became a full time job and a lot of our staff had real lives and just couldn't dedicate the time needed to continue our site. I couldn't do it alone, but wasn't ready to give up rec'ing fics. Then I thought that I would like to give every fic a chance, because every fic rec site out there has some sort of qualifications that the authors have to meet. I figured there is no way that we all like the same things. Soooo....TweetAFic was born! Everyone qualifies and I rec them to the masses via Twitter!
What do you want your blog to accomplish?
I want every author to get some sort of pimping. Whether they have 10 or 10,000 reviews. Every author deserves to have their fic pimped a little!
How do you decide which fics or authors to rec?
I rec everyone! An author can submit their own fic for pimping, or someone can submit their favorites.
Do you have any plans for the future of your site that you would like to share?
We just moved to a new site, thanks to Ysar! So we are all set up and will continue to take new recs!
Favorite thing about the twific fandom?
My favorite thing about the TwiFic fandom is the amazing authors that I have come across! It gives people an outlet to share their ideas and passions and the rest of us benefit from it! Who knew there were so many people that could write!
How did you find each other?
Its just me! LoL!
What do you think is the most important component to a rec site in the twific fandom?
I think the most important thing on a rec site is a short review. Sometimes the summary of a fic just doesn't drag the reader in, but if there is a little blurb telling an honest opinion of the fic, it can help tons, in my opinion.


How did you decide on the site design?
I didn't. LOL! I am so not creative. Ysar did it all! She is so amazing at this stuff! She also designed my personal rec site, FicObsessed. I am so in love with both of them that sometimes I just stare at the pages. LOL!
What is the key to a successful blog?
The key to a successful blog is getting yourself out there! It also helps to have something for everyone!
How do you grow your readership?
I think my readership comes from word of mouth. I am sooo humbled by the people that mention and Follow Friday TweetAFic on Twitter. When I came up with the idea, I had no idea that it would turn out to be so successful. I am still shocked!
Who are you founding members and current staff?
Me and Me. LoL! I do this alone.
Thanks so much Kelly for taking time out of your extremely busy life to help out a fellow affiliate!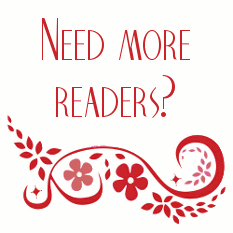 ~ Where You Can Find Tweet A Fic ~
http://tweetafic.com/
@TweetAFic