Saturday, January 2, 2016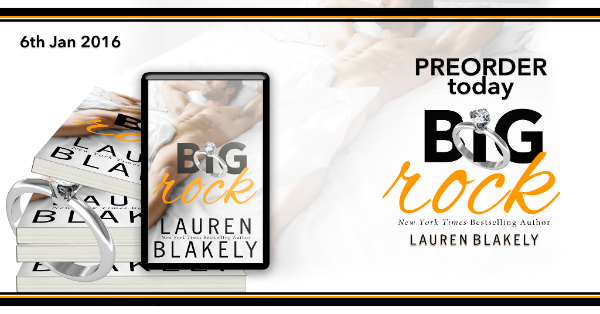 Happy New Year! The BIG ROCK preorder is now live on Kindle!
This hysterical and addictive standalone can be preordered everywhere at last!!
Go forth and laugh, swoon and fan yourself into the new year
with this dirty, sexy romantic comedy told from the male POV!
It's not just the motion of the ocean, ladies. It's definitely the SIZE of the boat too.
And I've got both firing on all cylinders. In fact, I have ALL the right assets. Looks, brains, my own money, and a big c*&k.
You might think I'm an a*&hole. I sound like one, don't I? I'm hot as sin, rich as heaven, smart as hell and hung like a horse.
Guess what? You haven't heard my story before. Sure, I might be a playboy, like the NY gossip rags call me. But I'm the playboy who's actually a great guy. Which makes me one of a kind.
The only trouble is, my dad needs me to cool it for a bit. With conservative investors in town wanting to buy his flagship Fifth Avenue jewelry store, he needs me not only to zip it up, but to look the part of the committed guy. Fine. I can do this for Dad. After all, I've got him to thank for the family jewels. So I ask my best friend and business partner to be my fiancée for the next week. Charlotte's up for it. She has her own reasons for saying yes to wearing this big rock.
And pretty soon all this playing pretend in public leads to no pretending whatsoever in the bedroom, because she just can't fake the kind of toe-curling, window-shattering orgasmic cries she makes as I take her to new heights between the sheets.
But I can't seem to fake that I might be feeling something real for her.
What the hell have I gotten myself into with this... big rock?
Add to Goodreads
Expected publication: January 6th 2016
Amazon US: http://amzn.to/1R0PZPq
Amazon UK: http://amzn.to/1YRXWLw
Amazon CA: http://www.amazon.ca/gp/product/B01A1E8WO0/
Amazon AU: http://www.amazon.com.au/gp/product/B01A1E8WO0
iBooks: http://tinyurl.com/BigRocklb
Kobo: http://bit.ly/1MVsZKv
B&N: http://bit.ly/213rlAQ
Google Play: http://bit.ly/1l6ZhLY
Lauren Blakely writes sexy contemporary romance novels with heat, heart, and humor, and she has had eight books on the New York Times Bestseller list and sixteen on the USA Today Bestseller list.
Like the heroine in her novel, Far Too Tempting, she thinks life should be filled with family, laughter, and the kind of love that love songs promise. Lauren lives in California with her husband, children, and dogs. She loves hearing from readers! Her bestselling series include Sinful Nights, Seductive Nights, No Regrets, Caught Up in Love, andFighting Fire.
She recently released Sinful Longing, the third bestselling title in her New York Times Bestselling Sinful Nights series. In January, she'll release Big Rock, a sexy standalone romantic comedy. She also writes for young adults under the name Daisy Whitney.