Monday, December 14, 2015
Life in Rook & Ronin's world has been bliss for fifteen years. Rook, Veronica, and Ashleigh are still BFF's raising their kids together. Ronin, Spencer, and Ford have managed to go legit and stay out of trouble. And they have a pack of kids running around the eight thousand square foot Vail mansion they all share for the holidays—begging for gifts, and fun, and love.
But every HEA has problems.
Five is fifteen and getting ready to go off to college. He's put it off as long as he could in order to stay close to Princess Shrike, but his stay of execution is over and in three weeks he's off to Oxford.
But Five can't leave until he gets the only thing he's ever wanted. The heart of his Princess.
Ford and Ashleigh never had any more children after Five. And now that Kate is sixteen, Ashleigh is out of her head with desire for just one more chance to have a baby in the house.
Rook and Ronin have two beautiful daughters, but Sparrow is growing up too. And she just got a job offer that has Ronin crazed with paternal worry.
And Spencer is the father of a fifteen-year-old princess who looks way too much like her Bombshell mother for his comfort level.
Join the whole Rook & Ronin gang for a Team Christmas you will never forget.
There are SEVEN BOOKS in the Rook & Ronin series before this one.
This is not a standalone.
Rook & Ronin Series & Spinoffs

(1) Tragic – Rook & Ronin
(2) Manic – Rook & Ronin
(3) Panic – Rook & Ronin
(4) Slack – Ford & Ashleigh
(5) Taut – Ford & Ashleigh
(6) Bomb – Spencer & Veronica
(7) Guns – Spencer & Veronica
Happily Ever After: A Day in the Life of the HEA
Published: 12-16-15
Add to Goodreads
Pre-Order Live
Amazon➔ http://amzn.to/1Q7bPAA
B&N➔ http://bit.ly/1RIu5zq
KOBO➔ http://bit.ly/1NKPma1
Amazon CA➔ http://amzn.to/1IJGwJB
Amazon UK➔ http://amzn.to/1OlTqK7
Amazon AU➔ http://bit.ly/1OlSXaZ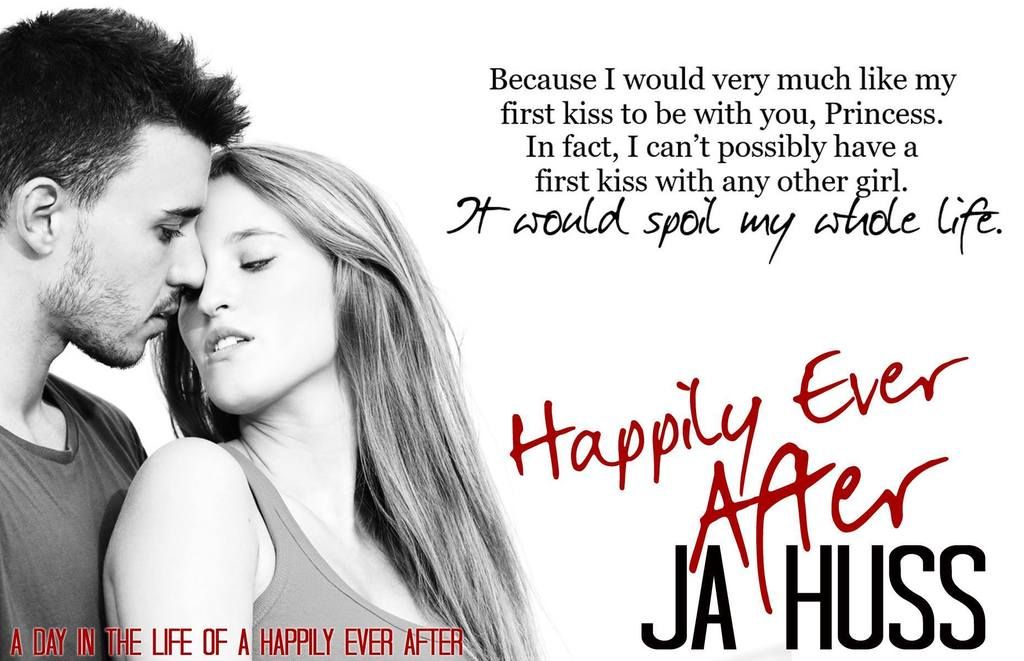 I ease out of the room quietly and take the baby downstairs. The house is big and the kitchen is far, but I can hear the bustle of kids and dogs before I even make it downstairs. When I walk in, it's a madhouse.
I love this fucking madhouse. My girls are all laughing and talking a mile a minute.
Belle is stuffing her face with pancakes, Jasmine and Ariel are clinking their OJ glasses together like they are having a secret toast, and Rory is…
I squint my eyes at Rory. She's talking to Five, but that's not what makes me squint my eyes. She's wearing a Shrike Trikes t-shirt and sweat pants, but it's the way… it's the shape of her…
"Daddy," Rory squeals, getting up from her stool at the breakfast bar and coming towards me. "Five wants to know—"
"Absolutely not."
She stops short. "What?" Her smile falters.
Cindy smacks her little fist into my eyeball, and I have to take a deep breath. "I'm sorry, what were you going to ask?" I eye Five suspiciously. I know he's always liked her, but he's so weird. Like Ford, just weird. Always wearing those suits. Always on that computer. And he's been in and out of different college programs since he was ten or eleven. He's gone a lot and that's the way I like it.
But today he looks… different. Different in the same way that Rory looks different in her innocent nightclothes. He almost looks normal in his flannel pajama pants and Shrike t-shirt. Add in the fact that his normally perfectly coiffed hair is messed up a little like he just rolled out of bed, and I get flushed with anger.
In fact, Rory's long blonde hair is all messed up too. Flowing over her shoulders like an unruly waterfall. And Five is looking at her the way I look at the Bomb.
"But Daddy," Rory pleads. "I need to go shopping."
"Shopping?" I ask, ratcheting down my suspicions and getting a hold of my paranoia as the seconds tick off.
"Yeah, we don't want to ski today. We want to go shopping in the Village."
Shopping. I mull it over in my head. Lots of people there. Crowds of people, actually. Not private, in other words. "Maybe," I say. "But I'm pretty sure Ford is counting on you to help him, Five."
"Mr. Shrike," Five starts. "I've already cleared it with my father. Kate's helping him today. Right, Kate?" He looks over at his sister and there's… there's some kind of secret look going on between the two of them.
"Yup," Kate says. She is as normal as Five is strange. And she's been Ford's little sidekick since day one. But she's smarter than people give her credit for. I think she secretly likes it that way. Like being underestimated is the best gift she ever got out of being Ford's adopted daughter. "Ford and I are skiing a double black once the kids are finished."
"Well," I say, eyeing my brood. Rory needs a chaperone. Belle, Jas and Ariel won't go shopping.
They love Ford too much to skip out on a whole day with him on the slopes. And there's no chance in hell that Rook and Ronin will have time to shop today. Sparrow has ballet rehearsal before The Nutcracker tonight. "Oliver," I say, smiling. "Ollie, my boy. You don't want to ski today, do you? You hate skiing." He does too, he can't ski worth a shit. "Will you go with Rory and finds something extra-special pretty for Mommy today? She's tired and needs a pick-me-up present before Santa comes."
"Yay!" Oliver says. "Yes, yes, yes! I want to go shopping with Five. He's the best, Daddy."
I roll my eyes. "OK, good. You can go, Princess, but…" I look at Five. "But…"
"But what, Daddy?" Rory asks.
But what am I going to say to Five? You touch my girl, I'll break your fingers? I'll grab that shotgun I'm hiding under my bed and—"Just be home in time for dinner. Your mom is making something special tonight."

"Get on your knees," I say. Ashleigh is wearing that black bra and panty set that I love so much. It's a signal we've had over the years. Oh, the lingerie is new. I gave it to her last night as a hint of what I've been craving. I do every once in a while when the sex gets too normal, just to spice things up.
And if she puts it on, I know she's in the mood.
She put it on when she came back to bed from helping Ronnie with her baby.
God, I love her.
Ashleigh kneels down in front of me, her eyes trained on mine. I'm sitting on the bed wearing black silk pajama pants and I've been hard since I realized she was up for some fun. She puts her hands on my thighs, her palms down. Just the warmth from her touch makes me impatient. We don't do this a lot. Kids, work, dogs… these things have been interfering with our sex life for the last fifteen years.
But Kate is sixteen and Five is fifteen, so their needs have become less time-consuming.
We've had lots of spare time lately.
"What do you want to do this time?" I ask her. "Spankings?" I waggle my eyebrows at her.
"Um…" She hesitates. "Maybe."
"Hmmm. You're not excited about it?"
"Well, whatever you want is fine."
"Fine? Since when do we use the word 'fine' to describe sex?"
"Well, I was just thinking—"
"Don't kneel then, Ashleigh. If you've got something on your mind I don't want to be looking at you on your knees." I pull her up and place her on the bed next to me. "Just tell me. You have something else in mind?"
"Well," she says, climbing in my lap and placing her hands on my shoulders. "I don't know if I need all that exciting stuff anymore. You know? I just like being near you, Ford. We can have sex any way you want and I'm happy. Just the thought of climbing into bed with you gets me excited."
"So you don't want the kinky shit right now?" I'm kind of confused. She put the lingerie on. That's the signal. But if she wasn't thinking about sex, then she must want something else.
I slip my hands behind her neck and pull her close so we can kiss. Her mouth is soft and her lips are plump against mine. I want to bite them so bad.
"I like the spankings. We can do that if you want."
"Hmmm," I say. "But it's not on the top of your list?"
She shrugs.
"Well, that's no fun, Ash. What kind of sex do you want then?"
"I don't want sex today. I want love."
Awww. "I can do love, love." My fingers slip under the silky bra strap and slide it down her shoulder.
Her skin still prickles with anticipation when I touch her.
Every single time. "You want slow, huh?"
"Yes," she whispers.
"You want tender?"
"Yes," she giggles. "I want slow and tender." Her hand slips down my shoulder, dipping and rising along the curve of my biceps. Her nails dig into my skin and I grow harder just at the thought of making her feel loved.
"Should we go on a date today?" I ask, sliding the other bra strap down so her full breasts begin to spill out of the cups. I squeeze them gently and kiss her mouth. "Should we take a ride on the gondola for old times' sake? Or get a room at the Travel Saver Motel and fuck like teenagers?"
She nips my lip as I talk and then her tongue slides in. "Maybe."
"Should we go eat at the diner and risk bumping into people who will tell you about my atrocious childhood?"
"That's an idea."
"Should we say fuck everyone and get on the road and drive to Vegas so we can hold hands in the aquarium?"
"That was the best week of my life," she sighs, pulling back a little.
"Me too. I mean, we've had a lot of great weeks, but that week was so special."
"Sometimes I wish we could go back, you know? Back to the beginning and redo all those things that brought us together."
"I don't need to go back to feel that way, Ashleigh. I like our present. I like you, and the kids, and the house, and the jobs, and everything. It's all perfect. Why go back and start again?"

SALE ALERT: The first three books in the
Rook and Ronin series
are on sale
for only 99 cents until Christmas.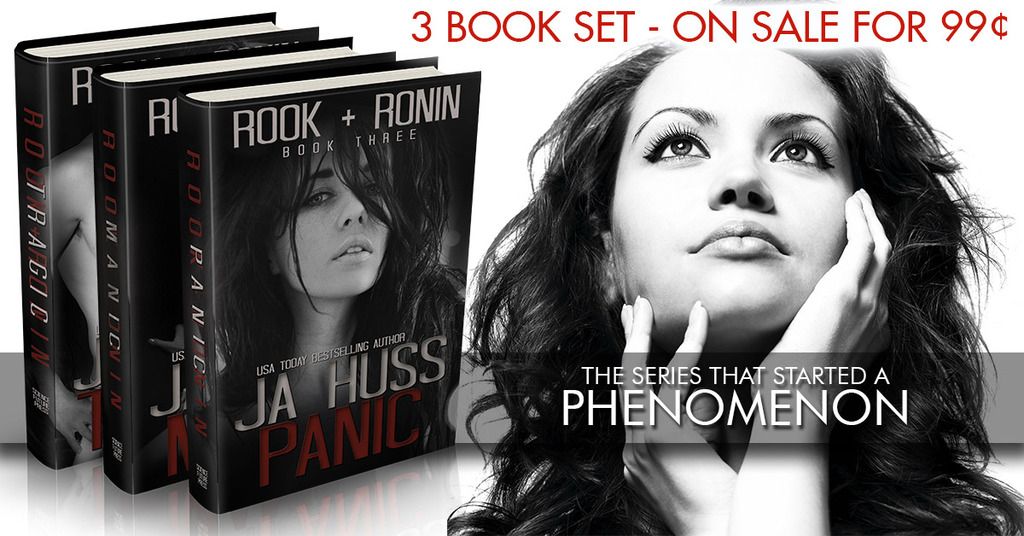 Get it here:

AMAZON➔ http://amzn.to/1iy1YlM

B&N➔ http://bit.ly/1yCS1dC

KOBO➔ http://bit.ly/1U16itZ
a Rafflecopter giveaway
About the Author:
JA Huss is the New York Times and USA Today bestselling author of more than twenty romances.
She likes stories about family, loyalty, and extraordinary characters who struggle with basic human emotions while dealing with bigger than life problems. JA loves writing heroes who make you swoon, heroines who makes you jealous, and the perfect Happily Ever After ending.
You can chat with her on Facebook, Twitter, and her kick-ass romance blog, New Adult Addiction.
If you're interested in getting your hands on an advanced release copy of her upcoming books, sneak peek teasers, or information on her upcoming personal appearances, you can join her newsletter list and get those details delivered right to your inbox.