Tuesday, November 17, 2015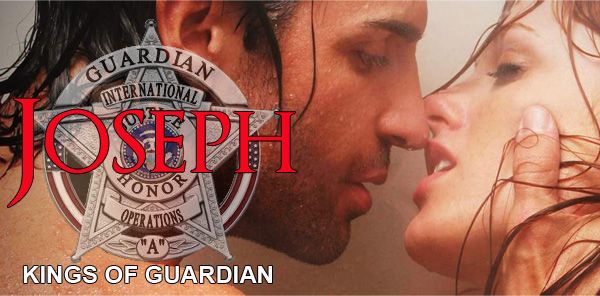 Ember Harris has sworn to save lives. Joseph King is an assassin. Death is their common ground, only they stand on opposing sides. Thrown together they find that in life, like death, everyone needs a Guardian.
A dead man's plea pushes Ember headfirst into a swirling mire of drugs, death and political corruption. Chased by a murderous drug cartel, she runs straight into the arms Joseph King, a former Navy Seal turned assassin.
Protecting Em is Joseph King's last mission and this time he'll risk anything, including his life, to keep her safe. As a matter of fact he'd stroll through the sin-stoked fires of hell and gut the devil himself.
Kings of Guardian #2
Published October 1st 2015 by Smashwords Edition
Add to Goodreads
Amazon.com: http://amzn.to/20GMnFm
Amazon.co.uk: http://amzn.to/1Hqbohi
Kobo: https://store.kobobooks.com/en-us/ebook/joseph-23
Smashwords: https://www.smashwords.com/books/view/579725
All Romance: https://www.allromanceebooks.com/product-joseph-1897856
OTHER BOOKS IN THE SERIES
JACOB (Kings of Guardian Book 1)
Victoria Marshall didn't cooperate by dying in the Afghani hell-hole like the CIA expected. Defying all probability, a privately-funded black ops group led by a handsome, sexy-as-sin southerner pulled her out of the warlord's prison cell and brought her home. Even half out of her mind with pain Tori knew this man was special. She made a date with the commander to meet one year later at a restaurant of his choice. Keeping that date was the best thing she ever did.
Jacob King found little physically attractive about the woman he saved from the warlord's camp, though it was hard to see what lay under the filth and suppurating wounds she suffered from countless beatings. He admired her brave humor in the face of her agonizing injuries. This kind of tough-minded woman was someone he'd like to know as a friend. He never expected the leggy, blond bomb-shell in the red dress who showed up for their date.
But then he never expected she would save his life, either. In a world of shadows, smoke, and dangerous covert missions, where people routinely vanish and living one more day was never a given,
Tori and Jacob fight to build their happily ever after.
About the Author:
Kris Michaels is the alter ego of a happily married wife and mother who loves to write erotic romance with a twist of military flavor. A chance meeting and immediate friendship with an established author propelled Kris into a world where her lifelong fantasy of publishing romance novels came true! Her vivid imagination and erotic fantasies evolved into the Kings of Guardian Series now under contract to be published with Troll River Publishing.
a Rafflecopter giveaway