Sunday, November 22, 2015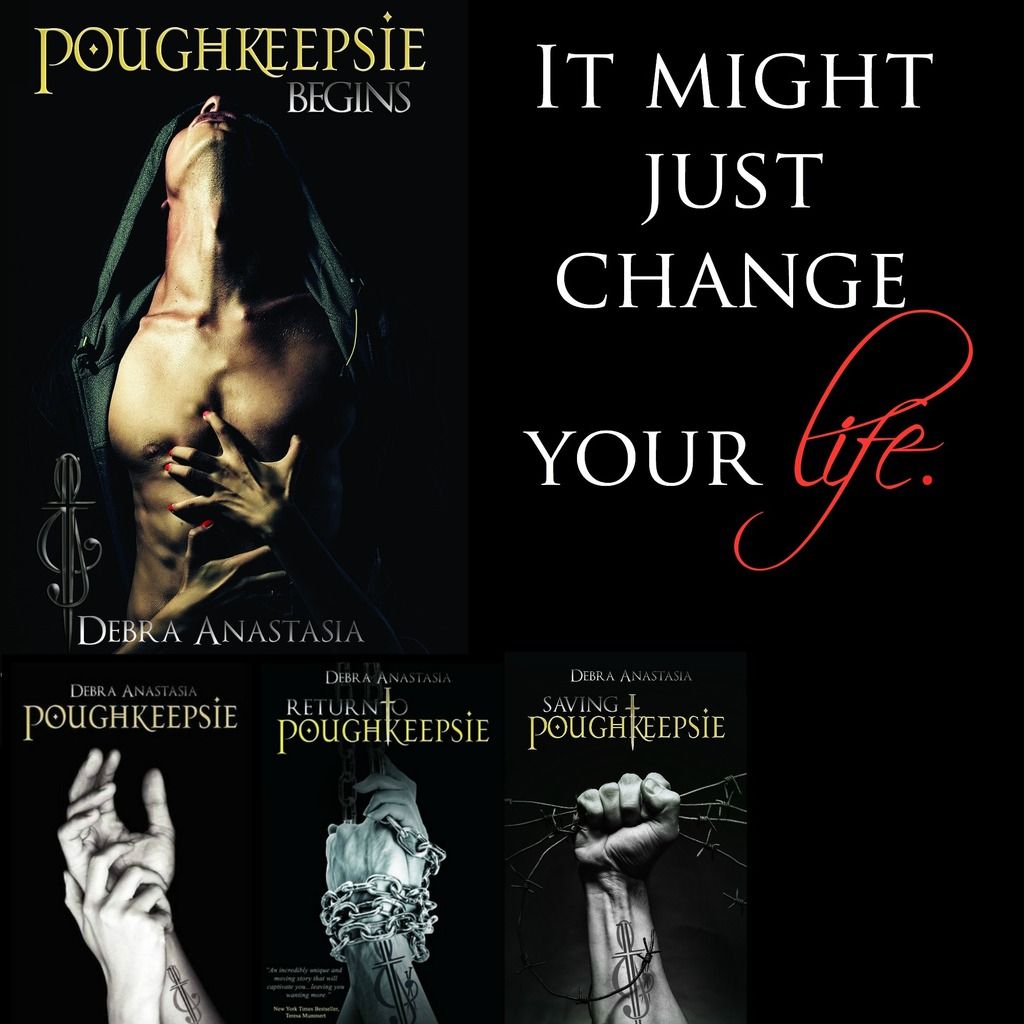 Today is the release day for Poughkeepsie Begins (The Poughkeepsie Brotherhood 0.5), and we are celebrating here on the blog with a few posts today for everyone to enjoy and celebrate with.
First up is my interview with with Debra. You will laugh out loud, shed a tear, and cringe by the end of it. But that's what I love about this author. Always honest, always generous, always unpredictable, but always true and sincere,
Keep checking back through out the day for an excerpt, a freebie, and my 5 Star review!
Quick thoughts on Poughkeepsie Begins:
I am used to the zaniness of Debra Anastasia with Late Night with Andres and Fire Down Below.
This is an author that can take humor to a level where you are cringing.
Poughkeepsie Begins is the polar opposite. The raw emotion of the story just stunned me stupid at the completion.
Now on to the interview!
1. I know you for your zaniness on twitter and your stories, Late Night with Andres and Fire Down Below. This was my first trip to Poughkeepsie. How do you flip the switch and go from zany to emotional heart break in your writing? Is there a process for you to follow to get you in the zone?
Aww. Your first trip? I'm hoping it was a good one. Thank you for reading my crazy. I actually started writing the more angst-riddled stories, and then transitioned to the funny. So for me, flipping the switch was sort of in that direction. It's all about music for me. I can write the funny to anything, but the angst has to have an emotional soundtrack. Sometimes I'll play the same song on repeat for hours. Thank heavens for headphones or my family would be giving me a lot of dirty looks.
2. Breast cancer is a cause near and dear to my heart. Late Night with Andres, 100% of the proceeds go to breast cancer research, how did that decision come about?
Coming from fanfiction, the Twilight Fandom was big into giving back and supporting causes. I missed it when I transitioned to writing full time. I approached Omnific about it, and they were amazing and agreed. They donate all of their profits too. Everyone that worked on the book did it for free. I think we have all had enough of cancer. It needs a cure. Anything we can do to help, I think we should. (Thank you for bringing this up!)
3. I love the cover for Poughkeepsie Begins. What was the process for you? And who was that lusciousness on the cover??
Omnific really are amazing with letting me pick images for my covers. That one was just an out of the blue find on a photo search and my eye kept going back to it. I couldn't picture how three arms would work, which is kind of what I thought would be the cover. Then we were thinking of just the plain tattoo, but Poughkeepsie Begins can be read as a stand alone, so I was thrilled that they were able to make that image work. I do not know his name! Isn't that crazy. I need to find out.
4. I am almost afraid to ask this, but will there be a Gynazule #3?
You are a wise woman to be afraid. I think that series is pretty complete. I never shut the door completely though.
5. When you complete and publish a story. What do you do every time? Do you have a tradition?
Smoke a cigarette, drink a bottle of wine?
Panic shits? That's my tradition. And a healthy swig of Mylanta for my heartburn. I think I need a new tradition.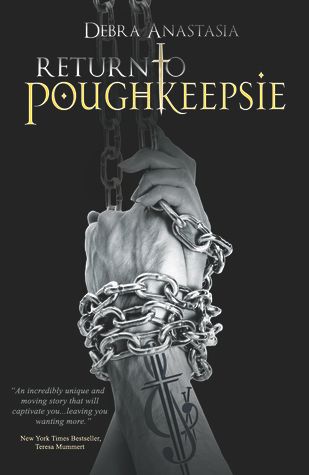 The Poughkeepsie Brotherhood series
Leave a comment to enter complete series giveaway!
About the Author:
There are a lot of eyes in Debra Anastasia's house in Maryland. First, her own creepy peepers are there, staring at her computer screen. She's made two more sets of eyes with her body, and the kids they belong to are amazing. The poor husband is still looking at her after 17 years of marriage. At least he likes to laugh. Then the freaking dogs are looking at her—six eyeballs altogether, though the old dog is blind. And the cat watches her too, mostly while knocking stuff off the counter and doing that internal kitty laugh when Deb can't catch the items fast enough.
In between taking care of everything those eyes involve, Debra creates pretend people in her head and paints them on the giant, beautiful canvas of your imagination. What an amazing job that is. The stories hit her hard while driving the minivan or shaving her legs, especially when there's no paper and pen around. Within all of the lies she writes hides her heart, so thank you for letting it play in your mind.
Debra has written a smattering of books in a few genres. There are two paranormal romances in the Seraphim Series and now four contemporary romances in the Poughkeepsie Brotherhood Series, Fire Down Below is the first in the comedic Gynazule series, with the second, Fire in the Hole, coming in late 2015. The Revenger, a dark paranormal romance, is lurking in the wings, waiting for its upcoming debut, and the last, a novella called Late Night with Andres, is special because 100% of the proceeds go to breast cancer research. (So go get it right now, please!)