Anica Tomlin, business major, has just learned that the man she's been planning her future around, her Global Finance professor, already has a beautiful wife and family. Ani cashes in her graduation gift to herself a little early—a trip to Tuscany—but from the moment she boards the wrong train in Pisa, her plans for solitude and self-indulgence begin to unravel around her.
When a bicycle accident thrusts Ani into the skilled hands of the dashing Dr. Cosimo Lazzaro, she reluctantly accepts his invitation to recover in his family's country villa, perched on a hilltop surrounded by the Lazzaro olive groves. But it's been a black year for olive growers all over Italy, and generations of tradition are being put to the test like never before.
Ani is swept up in the drama of life in Tuscany, the convergence of old and new, and the passions that drive people to pursue the desires of their hearts. Just as Ani begins to get her feet under her again, an unexpected turn of events leaves her doubting the very existence of happily-ever-after, unless she can learn to trust the desires of her own heart.
Although All the Way to Heaven is a stand-alone novel, it is the first book in The Fallout Series, a collection of sweet contemporary romances that follow characters featured in the first book.
(The Fallout Series, #1)
Published by: Clean Teen Publishing
Publication date: November 2nd 2015
Genres: New Adult, Romance
Add to Goodreads
Amazon | B&N
Reaching for my seatbelt, I grappled with the strap for a few moments, trying to tug it across my lap using just my fingertips, but I couldn't get the two ends of the buckle to lock in. Mr. Rude Guy leaned into the already ridiculously cramped space of the tiny back seat, reached across me, and gently took the two ends from my clumsy grip. The click was loud in the sudden stillness, and I took in a shallow breath of surprise through my nose.
Lord have mercy. My nostrils filled with the achingly familiar scent of… of a man. Other than my father, my face hadn't been this close to one since Jacob, and even though this guy had a distinct sun-soaked quality not shared by my ex, there was no mistaking that certain underlying note that women just didn't have. I breathed in a little deeper, covertly, I thought, but he turned to look at me, his face less than a foot away, and smiled. A real, genuine smile. Even the fatigue that seemed to hover around his eyes receded for just a moment.
Then he was backing out of the car, slowly, careful not to bump his head on the low door frame. He stayed bent down in the opening though, his eyes serious again. And I was suddenly deflated, drained of all my bravado, embarrassed at being caught sniffing him, and more than a little daunted by what lay ahead of me.
"Thank you… I—I don't even know your name."
Becky Doughty is the author of the best-selling Elderberry Croft series, The Gustafson Girls series, Waters Fall, and more. She's also the voice behind BraveHeart Audiobooks. She writes Women's Fiction with strong elements of romance, as well as Young Adult and New Adult Fiction.
Becky's favorite people are edge-dwellers, those who live on that fine line where hope and despair meet, where love is the only answer and grace becomes truly amazing.
Becky is married to her champion of more than 25 years. They have three children, two of whom are grown and starting families of their own, and they all live within a few miles of each other in Southern California. They share their lives with too many animals, a large vegetable garden, and a strange underground concrete room they're certain was built for dark and sinister purposes….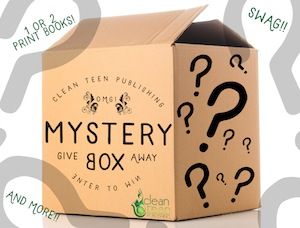 a Rafflecopter giveaway