Tuesday, October 20, 2015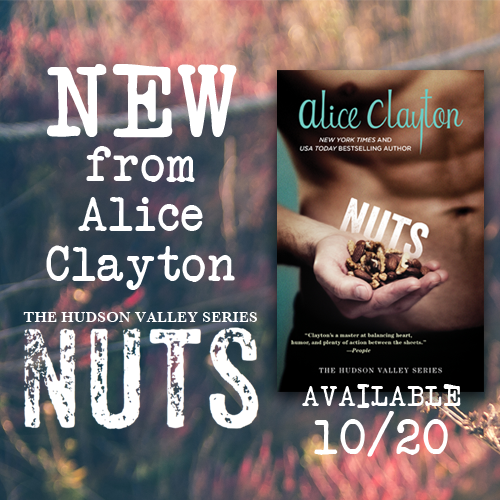 The New York Times bestselling author of Wallbanger and Rusty Nailed is back with Nuts, the first in a brand new series set in New York's beautiful Hudson Valley.
Roxie Callahan is a private chef to some of Hollywood's wealthiest, and nastiest, calorie-counting wives. After a dairy disaster implodes her carefully crafted career in one fell ploop, she finds herself back home in upstate New York, bailing out her hippie mother and running the family diner.
When gorgeous local farmer Leo Maxwell delivers her a lovely bunch of organic walnuts, Roxie wonders if a summer back home isn't such a bad idea after all. Leo is heavily involved in the sustainable slow food movement, and he likes to take his time.
In all things. Roxie is determined to head back to the west coast as soon as summer ends, but will the pull of lazy fireflies and her very own Almanzo Wilder be enough to keep her home for good?
Salty. Spicy. Sweet. Nuts. Go on, grab a handful.
Publication: October 20, 2015
Gallery Books
Add to Goodreads
Amazon | BN | BAM | iBooks | Audible | iTunes
The boys were jumping and shouting as he held what looked like patches over them, doling them out and calling the kids by name. As I got closer, I could hear him laughing along with the kids.
"I hear you, Owen; you'll get your activity patch too—don't worry. Who else? Here you go, Jeffrey, you earned it when you picked the biggest eggplant we've had yet this year! Who else? Let's see . . . oh boy, we can't forget Matthew—here you go, buddy.
You guys are the best Webelos around."
His smile really was contagious, and I found myself grinning as I crossed the gravel, admiring his high cheekbones, the curve of his lower lip as he laughed, and the green eyes that, when fixed on mine, turned my belly all butterflies.
And that beard. What constituted a hipster beard? Is it the length? The shape? The proximity to flannel and Mumford? We were within twenty yards of an heirloom tomato; does that count as hipster cred?
I hadn't been a fan of facial hair beyond two-day sexy scruff, yet Leo was sporting an actual beard and I liked it. I more than liked it, I wanted to touch it. Was it scratchy? Soft? Coarse? Touch it, hell—I'd like to look down and see it, and his face, between my thighs. With significantly less clothing than in our previous encounters.
As my breathing speeded up, another image popped into my brain: sweaty, naked parts and grasping, clutching hands. Whew, it seemed hot out! Christ, the farmer was now affecting me physically.
Which was good— I wanted physical. I needed physical. So when I saw him pick up a bottleneck squash that mimicked something very specific in my mind, I covered my moan with a cough.
"You okay?" he asked as I reached him.
"Yeah. Why?" I said, tugging at my T-shirt. Air, please—just a little air.
"Sounded like you were—"
"Just clearing my throat," I said, and quickly changed the topic. "I made the black walnut cake, with cream cheese butter- cream frosting." I thrust the white box into his hands.
"Wow, you really made me cake?" he asked, looking quite pleased.
"Well, I made it for the diner; the rest got sold today."
"Is it good?" he asked.
I grinned. "It's fucking great."
Leo closed his eyes and shook his head, and I realized I'd just F-bombed a Boy Scout troop.
My 5 Star "He Licked My Spine" Review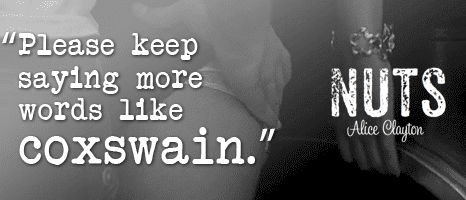 * Giveaway *
Paperback Copy of Nuts (Hudson Valley #1)
Open Internationally
Leave a comment to enter for your chance!!
About the Author:
Alice Clayton worked in the cosmetics industry for over a decade before picking up a pen (read: laptop). She enjoys gardening but not weeding, baking but not cleaning up, and finally convinced her long-time boyfriend to marry her.
Now, about that Bernese Mountain dog....
Website | Facebook | Twitter | Goodreads