NOW AVAILABLE FOR PRE-ORDER
First, he saved me.
I lived because he was a hero.
And then he was gone.
FROM THE WRECKAGE by Melissa Collins
Releases on October 21!
First, he saved me.
I lived because he was a hero.
And then he was gone.
Uprooted by the fire that destroyed our home, my family moved away and I never saw David Andrews again.
Then, he found me.
Eighteen years later, he rescued me again - in much simpler terms, of course. By loving me, by giving me the fairy tale I'd always hoped for, he provided me with the perfect life.
Now, he needs to be saved.
It's my turn to be strong, to be brave, to be valiant.
When flames threaten to turn us to ashes, it's up to me to pull us From the Wreckage.
Add to Goodreads
"Want to come up for some coffee?" I ask, hoping to spend just a little more time with him.
"Coffee?" he arches an eyebrow, as one side of his lips pulls up.
My eyes roll skyward. "Yes, coffee. And no that's not code for sex." He chokes on his own laughter as I call his bluff.
Not even bothering to wait for a response, I pull my keys out of my bag and walk in front of him.
Walking up the small flight of stairs to the main entryway, I can feel his heat at my back.
When we step into the elevator, I press the button for my floor. His eyes scan the small enclosure, reaching into all four corners before settling on the fire inspection certificate behind the flimsy piece of plastic next to the buttons.
"Needs an inspection soon," he says absentmindedly.
Clicking my heels together, I mock salute him. With an assured, "Yes, sir," falling from my mouth, he laughs at me and my goofball reaction to him and his seriousness.
"Come on in." Standing to his side, I extend my hand into the opened doorway.
There's not much to the apartment, but considering that it's a two-bedroom apartment in lower Manhattan, it's not too shabby. Jade and I decided to move here about a year ago. The six mile commute to the school was only a minor inconvenience and since Jade's parents helped out considerably, I was pretty much along for the ride. Since it was a given that she'd have a job in the financial district, this was the best location for her career.
However, there's a pile of laundry on one cushion of the couch. On top of which is of course my panties. "Sorry." I toss everything into the basket on the floor in a rush. "I wasn't expecting you."
"I wasn't expecting you either." His softly spoken words stop me in my tracks.
Not wanting any weirdness to halt the conversation, I offer to make the coffee I promised him.
Realizing I'm still holding Burning Desire, my newest firefighter romance, in my hand, I hide it behind my back. Quickly, hoping he doesn't see it, I tuck the book in my laundry basket before showing him into the small kitchen.
If anyone ever judged me on my laundry skills, or lack thereof, I'd fail—miserably.
Thank God, it was there today, though. Having to explain that book would have made my cheeks flame for sure.
David's large body devours the tiny kitchen, his broad shoulders literally taking up the entire doorframe. On the tips of my toes, I reach up into the highest cabinet ever made and struggle to get down two mugs. With empty hands, I turn around to see David grinning like a fool at me. Arms folded across his chest, he's simply standing there watching me lose the battle with the too-tall cabinet.
"Something funny?" I pull a face at him over my shoulder. Turning around, I lean back against the counter. He's in front of me in two short strides, eyes heated and bright with amusement.
"Nope, nothing at all." Smiling down at me, I can feel his low chuckle vibrate between us. Without having to reach up an inch, he opens the cabinet door and effortlessly pulls down two mugs, bathing me in his heat as he does so. "Looking for these?" Quirking up a brow, he lightly mocks my vertical deficiency.
Reaching around me, he places them on the counter. "Coffee's up there, too." My voice is thin and wispy, barely audible. With hardly a stretch, he pulls down the can of coffee, setting it beside the mugs. Instead of stepping away from me, as I'd expect him to do now that I have everything I need, he puts his hands on the counter, one on each side of me. Locking me in place, he continues to smile down at me. If I thought he ate up the space before, I was sadly mistaken.
"Anything else?" he asks, a playful lilt in his voice.
"No," I choke.
Looking up into his dark eyes is as if I'm staring into the night sky. His pupils are so wide, the black erases the brown. The little sparks of light look like stars dotting the sky. It's a look so precisely mixed with desire and hunger, laughter and mirth it stops my brain from functioning.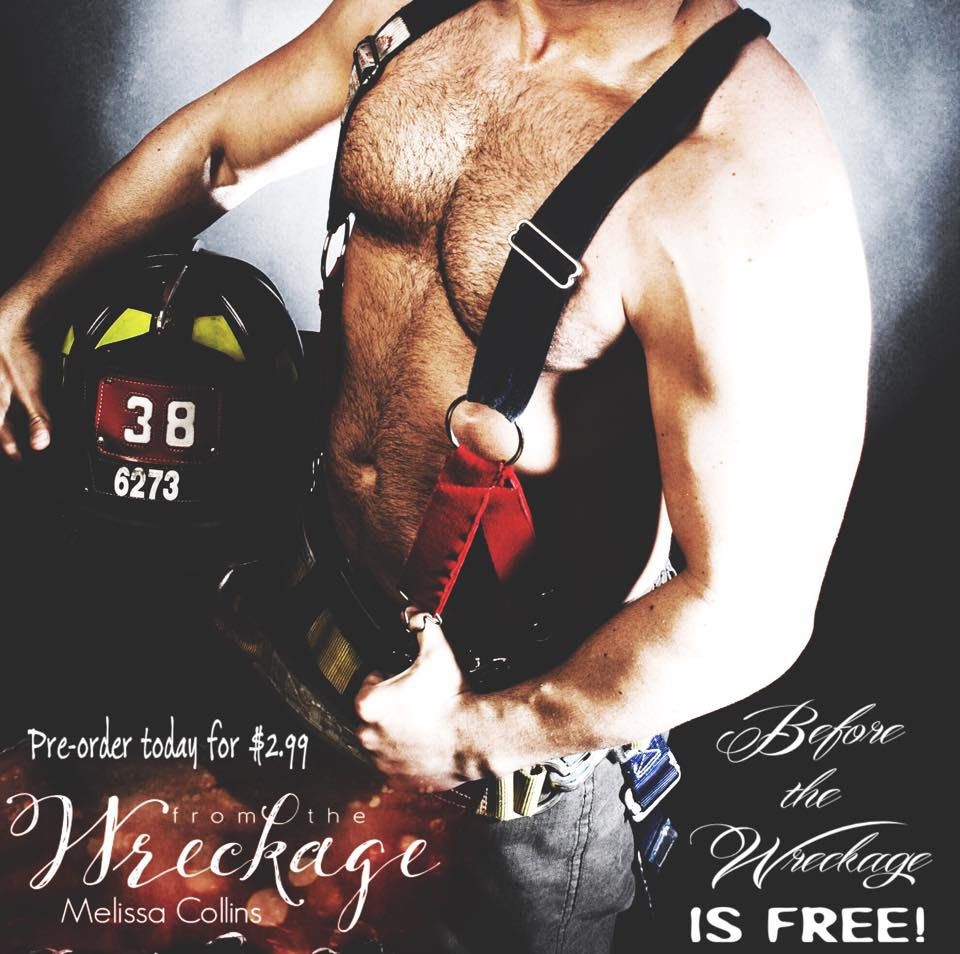 Amazon US: http://amzn.to/1Nf1AWI
Amazon UK: http://amzn.to/1ycpjlr
Barnes & Noble: http://bit.ly/1LR29ZE
Kobo: http://bit.ly/1GJeaJ0
Google Play: http://bit.ly/1NKxnlB
Before the Wreckage - Goodreads