Sunday, September 13, 2015
***Limited Time Only***
Julia and Clay are having a sale!
For the first time since its launch nearly a year ago, get all THREE full-length bestselling books featuring Julia and Clay from Lauren Blakely's Seductive Nights Series for $2.99!
This is a Limited Time Box Set Sale! $.99 each for THREE steamy, sexy, seductive bestsellers!
Don't miss your chance to be seduced, and grab it while it lasts! Regularly $6.99 in the US (£4.59 in UK/$8.99 in Canada), you can grab your set of Julia and Clay's story for $2.99 (£1.99 UK/$1.99 Canada) now!
THREE STORIES, ONE BOX SET
ONLY $2.99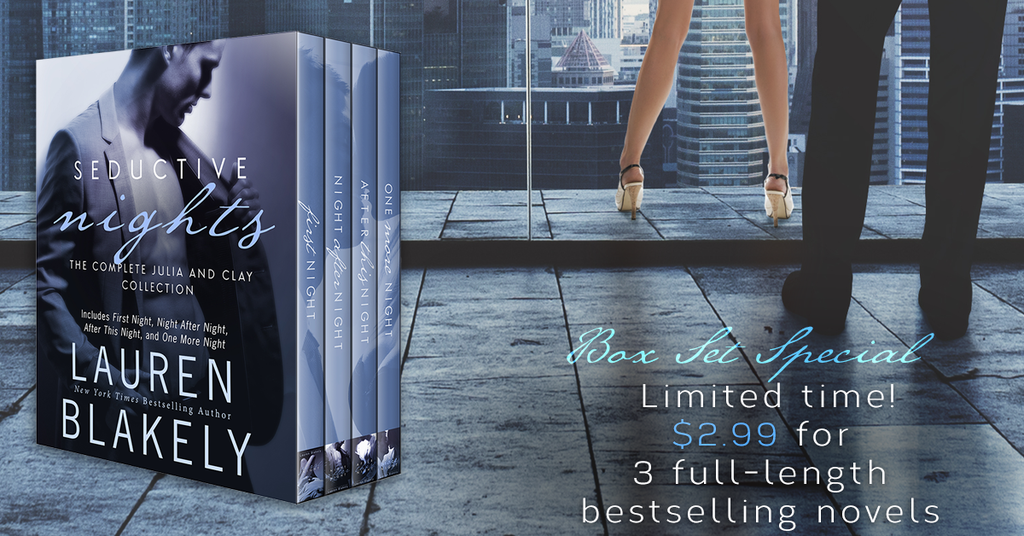 Seductive Nights: The Complete Julia and Clay Collection is a box set of all the books starring Julia and Clay in the New York Times and USA Today Bestselling Seductive Nights Series.
This box set includes First Night, Night After Night, After This Night, and One More Night.
This is the ONLY Seductive Nights box set that includes the final Julia and Clay story, ONE MORE NIGHT.
FIRST NIGHT
When the sinfully handsome Clay Nichols walks into her bar in San Francisco, Julia Bell simply wants a break from the troubles that keep chasing her. They share one scorchingly hot night together, but discover a connection that runs deeper than mere chemistry....
NIGHT AFTER NIGHT
With a dirty mind and a mouth to match, Clay Nichols is everything Julia never knew she wanted and exactly what she cannot have. He walked into her life one night and unlocked pleasure in her that she never knew was possible. Possessing her body, captivating her every thought. Which makes him way too dangerous for Julia to risk her heart, given that she has a price tag on her head. She ran after one mind-blowing week with him, but now he's back, and determined to make her his own.
AFTER THIS NIGHT
Clay Nichols can't get the gorgeous and fiery Julia Bell out of his mind. He's so drawn to her, and to the nights they shared, that she's all he can focus on. But she's playing hot and cold, and he wants all of her. When he finds her again at her sister's wedding, they have a second chance but she'll have to let him all the way in. And they'll learn just how much more there is to the intense chemistry they share, and whether love can carry them well past the danger of her past and into a new future, after this night...
ONE MORE NIGHT
Sexy bartender Julia Bell and hot-as-hell entertainment lawyer Clay thought their future was clear sailing. But life doesn't work that way and the fiery lovers run into a slew of new challenges. Trouble looms in every corner on their trip to the city of sin. Can Clay save Julia from danger one more time? Or will he be too late for the woman he adores?
iBooks➙ http://tinyurl.com/CompleteClay
Amazon➙ http://amzn.to/1impbuq
Amazon UK➙ http://amzn.to/1L95RMb
Kobo➙ http://bit.ly/1LgyDHF
B&N➙ http://bit.ly/1zTlelJ
Google Play➙ http://bit.ly/1Ozpxrs