Has Max, the bad boy of the art world been tamed just as his girlfriend, Ava's star begins to shine?
Anything can happen in Los Angeles, a world where heroes become villains and the rogue saves the day.
An unexpected plane ticket leads our heroine to a meeting that will change her life.
What happens when what's most precious to you slips out of your grasp? How fiercely will you fight for the one you love?
Join Max and Ava for the dramatic and passionate conclusion to the Work of Art trilogy.
Publication: March 2, 2015
Goodreads
AMAZON US | ITUNES | BN
I wonder if my silence and twirling mind spook Max, so I stroke his hand reassuringly. Because I'm beyond exhausted when we step in the house, he seems unsure of what to say or do. He decides to feed me, and he heats up the leftover pasta from his dinner and pours me a glass of Pinot Noir. We sit at the kitchen island, and he watches me eat as if each bite is his own. I lick my lips and watch him watch me, too exhausted to make much conversation.
After dinner, I shower and crawl into bed, still damp and disoriented.
He pulls me into his arms and rubs my back gently. I'm so in love and happy to be back home with him, and I tell him that in quiet mumbles. I have a vague memory of my knee hitched up against his erection, but sleep takes me hard.
The next morning dawns in a gray quiet light, and I lift my head and see a thick blanket of fog draped across the Malibu horizon. I settle back into the bed and watch Max as his chest rises and falls with each breath.
I observe him for a long while and become overwhelmed with the desire to see more of him. I slide the sheet off, excruciatingly slowly, to reveal his incredible body. His thighs…God, I love his strong thighs and the way they're slightly parted, leading my view to his beautiful ass.
My insides curl with desire as I skim my hand down his back. I'm glad to be naked and warm, my arousal spreading through me. I want him so much that it takes everything not to shake him awake and seduce him.
I quietly lift myself up to my knees so I can study him from another angle. I gently push his waves of hair off his forehead.
Inexplicably, tears fill my eyes and I still for a moment. I love this man, and when we're joined together, all I know in life is the depth of my passion. I kiss his neck, his taste and the Max smell of musk, paint, and salt air arousing me further. He stirs out of the deepest sleep, and as I kiss his jaw, his eyes slowly open.
"I thought I was dreaming and didn't want to wake up. What are you doing to me, Angel?" he says in his morning voice, as he rolls over to his back.
"Good morning, handsome. Sorry to wake you, but I woke up and you're naked and all…"
"It's okay," he says, smiling lazily as he reaches for me. "I take it you missed me."
"You have no idea," I say, as I straddle him, resting lightly on his thighs.
There's something so intoxicating about how he makes me feel as he looks at me. His eyes are wide now and alert to my movements. He skims his fingers up my sides and then across my breasts, his thumbs circling my nipples.
"Max, I want you so much," I whisper, as I gently run my fingers up and down his length.
His face colors and his jaw flexes as he watches me touch him. He's completely hard now, and my fingers tighten as I stroke him.
His hands slide back to my hips and he pulls me closer so I can lift up and sink down on him.
I love it when he's all the way inside me. His eyes close and his head tips back before he lazily begins to rock his hips.
We move slowly in the morning light with the sound and rhythm of our breath and the waves crashing just beyond.
I gaze at him as the intensity builds. His eyes are stormy as his body tenses.
"Max," I whisper.
He takes a sharp breath as he pulls me to him. "I've got you, Ava."
His words spark a fuse, and I tremble with exquisite pleasure as he watches me.

Every hard thrust is the very definition of masculine energy as he brings me to climax and soon after joins me with a quiet roar.
We both settle and try to catch our breath. I ease off of him and curl into his side.
"Round one," he says, as he nuzzles and kisses me.
"Yeah, wait until we have our coffee. I'm already imagining round two, but I'll definitely need breakfast first." I settle back into the sheets and we lie quietly, listening to the waves break along the shore.
My limbs are loose and happy and my head as clear as the early morning beach. Max's eyes are deep in concentration.
"I can hear your wheels turning. What are you thinking about?" I trace circles lightly with my fingertips across his chest.
"Your birthday." He grins and pulls me closer.
"Oh, it's next Saturday, isn't it? Can we do something special?" I'm like a little girl, complete with party hat and balloon.
"It's already planned."
I grin widely. "Really? What are we going to do?"
"I'm not telling. It's a surprise. But when you come to spend the night Friday, bring your swimsuit and something nice to wear."
"Oh, I love birthday surprises!"
He kisses me on the forehead. "I'm glad, because this one's special."


Read my 5 Star Simply Splendid Review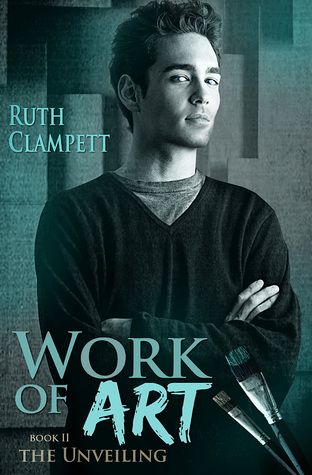 Work of Art- The Inspiration
(Work of Art #1)
AMAZON US
| AMAZON UK |
BARNES AND NOBLE |
ITUNES
Goodreads
Work of Art - The Unveiling
(Work of Art #2)
AMAZON US |
AMAZON UK |
BARNES AND NOBLE |
ITUNES
GoodReads
About the Author:


Ruth Clampett, daughter of legendary animation director, Bob Clampett, has spent a lifetime surrounded by art and animation.
A graduate of Art Center College of Design, her careers have included graphic design, photography,
VP of Design for WB Stores and teaching photography at UCLA. She now runs her own studio as the fine art publisher for Warner Bros. where she's had the opportunity to know and work with many of the greatest artists in the world of animation and comics.
The Work of Art Trilogy is Ruth's third publishing endeavor, following Animate Me and Mr. 365.
She lives in Los Angeles and is heavily supervised by her teenage daughter, lovingly referred to as Snarky, who loves art and visiting museums as much as her mom.