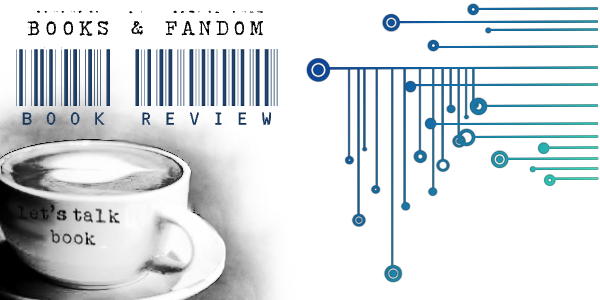 Jay
My life was a dark and desolate place. Consumed by work and full of regret, loneliness had become my closest friend.

Ink and a tattoo machine were my therapy, a way to claim my own skin with the art that I loved.
The day I walked into her shop, I knew I'd found what I needed.
The light I'd been looking for.
Jade
When I first looked into those blue eyes I saw a depth behind them that I wanted to explore. Jason "Jay" Clarke was more than a perfectly pressed suit and dimpled smile.

He was a man with a heart of gold drowning in the weight of his world.
He wanted me to mark him.
I never expected him to soothe my aching heart.
When our worlds collide and Jay begins to fall apart, will my love be enough to save him?
**WARNING: Not recommended for younger readers due to sexual content and language.
Published February 10, 2015
Buy Link: Amazon
My 5 Star "I Heart Jay So Much" Review
When I met Jay in Freeing Asia, I was instantly smitten. After reading Breaking Shaun, I was in love and wanted more.
I knew there was so much more to Jay, his story just begged to be told.
E.M. Abel delivered Jay to us in her own unique writing style way....signed, sealed, and tied up beautifully in a white cotton bath robe belt. *snicker snicker*
Jade and Jay were so endearing that their story was the perfect conclusion to the series. It was impossible not to love them both, for very different reasons.
Both broken from very different pasts, but it is their pain that gave them a link to connect on a level that made their chemistry so believable and sizzling. And when I say sizzling, I mean uber sizzling!
And as much as I loved the sizzle, it was the careful build up of their friendship and trust that I fell head over heals for. Written with such an easy flow, you find yourself completely immersed in the story and feeling their every emotion.
I think everyone loved Jay in the series. His cockiness, swagger, bravado. A man's man. An alpha through and though. But distant. In Freeing Asia and Breaking Shaun, you could see the wall he has around his emotions with just peaks in the cracks here and there. A deep seeded hurt your not quite sure where it rooted from, but it's palpable.
Jade was much more transparent. A broken relationship filled with hurt and betrayal causes her to make the move and start her life over. A new shop built with some really good friends as well as a determination not to allow the past to drag her down. She was more an optimist in her attitude towards love, but even in her openness, she still held a piece of her heart close. Broken trust is tough one to let go of.
Once they finally accept the draw to one another, it's total passion and heat, with a nice side of some kinkery. Once they come together emotionally and start bringing down their walls, it was perfection.
The chemistry was just a huge wow and you feel every feeling they are having with low drama and angst. E.M Abel wrote such a good story with fantastic main characters and great secondary characters, the story just flowed. No unnecessary filling needed.
I loved the entire series. The stories were great, lots of romance, emotion, fun, and humor through out.
Saving Jay was my favorite and a perfect conclusion over all.
E.M Abel is my new favorite author and I am truly looking forward to more from her.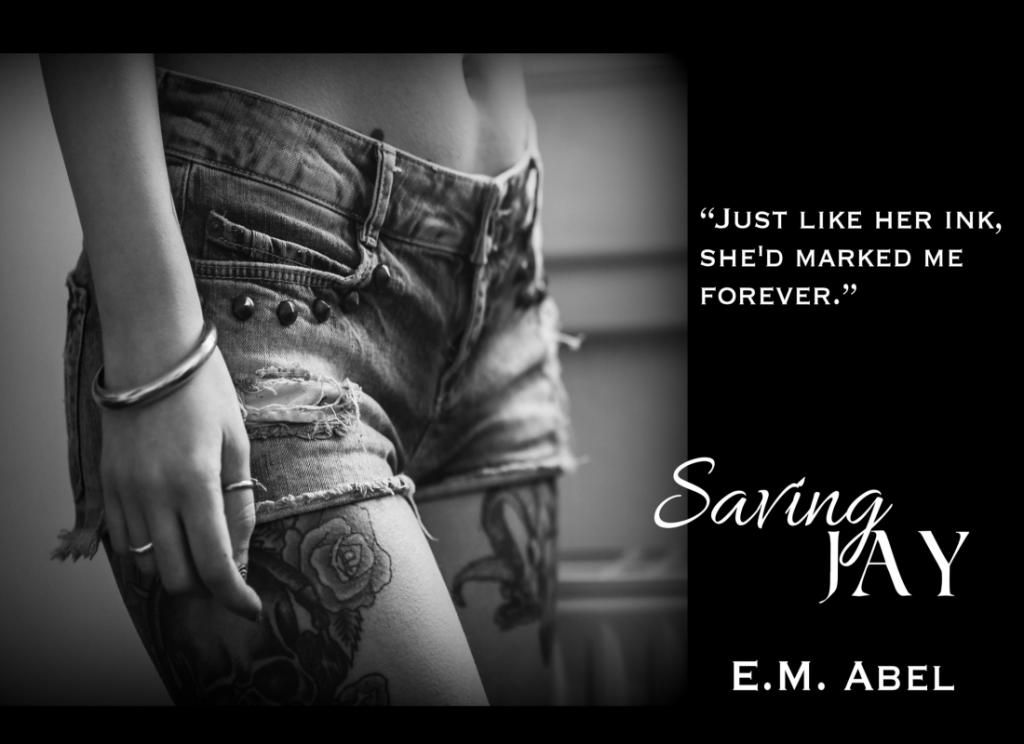 Jade has some fantastic friends in Trix, Jackson, and Dustin. Here's a perfect example of their hysterical banter!!
Jackson raised his hand as another waitress walked by, and she stopped at our table. Trix's eyes went directly to her cleavage.
"Can we get another round of beers?" Jackson asked, pointing to his empty glass.
"Sure thing. What were you drinking?"
"Three Fat Tires and one Heineken," he said, pointing to my glass.
The waitress's eyes met mine, and a seductive smile spread across her red lips. "Oh my god, are you Jade Holliday?"
All the guys turned to look at me, and I grinned.
"Yeah, that's me."
"Wow. You're gorgeous. I'd love to get some ink from you one day." Her eyes moved to my breasts before meeting mine again. She was totally hitting on me.
"Expressions, over by the mall. Come by anytime, sweetheart," Dustin said.
She glanced at him before gazing at me again. "Seriously? You opened up a shop out here?"
"Yes, she did," Trix chimed in.
"Awesome. I'll definitely come by," she said, giving me another flirtatious smile before walking away with her tray.
"Bring your friends!" Dustin shouted after her. "Fuck. I got a chub from just watching you two," he said, adjusting his crotch under the table.
"She wants a taste of that pink taco," Trix teased, wiggling his eyebrows at me.
"Oh, shut up."
"Just promise me one thing. If you ever—I mean, ever—decide to give her a taste, please, for the love of God, let me watch," Dustin pleaded, his eyes looking desperate.
"You'll be the first to know."
"Fuck yes!" he said.
He shook his fist in the air, and we all laughed.
Breaking Free Series
Freeing Asia (Breaking Free #1)
Breaking Shaun (Breaking Free #2)
About the Author:
My husband is awesome and also a Chief in the US Navy. This means crazy schedules, uncertainty and lots of nights spent alone writing on my computer.
I have two amazing kids who always know how to make me laugh.
I've been passionate about writing since I wrote my first poem in the 3rd grade and I've been using it as a means to express myself since.
I think because I hold my emotions so close and fear being vulnerable I use different forms of self expression- writing, drawing, painting, photography, tattoos- to show the world who I am.
The one rule I use everyday is the Golden Rule--"Treat others the way you'd like to be treated." I believe karma is very real and sometimes she can be a bitch if you make her that way.
I love acting crazy, I love to laugh, I love making people laugh, I love the ocean, I love dancing like no one is watching, I love good music, I love good books... oh man I should probably stop there.
I love a lot of stuff.
Please feel free to write me or send a friend request.