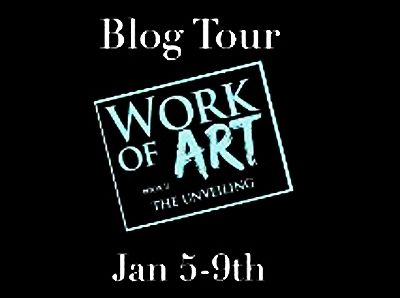 Famed artist, Maxfield Caswell is missing.
Three of his major paintings have been savagely defaced and his house left in ruins.
As his friends search for him, does his muse, Ava, hold the key?
Before the hope of love is lost, secrets will be told, spirits will be broken, and a price will be paid.
From the cave dwellings of New Mexico to the shores of Malibu, Max and Ava's journey tests them to their limits.
As they render passion and pain in broad strokes, will their all-consuming love rise from the debris?
Release Day: January 5, 2015 by Clampett Studio Collections
Goodreads | Amazon
My Thoughts:
I wish I could look into his head and see what he sees.
Maybe I'll never understand him, but because I love him, I'll never stop trying.
Work of Art Book #2, The Unveiling just completely wrenched my heart!
The growth that both Max and Ava experienced had me just hanging on their every word. That doesn't mean they didn't make me just as crazy as they did in book 1, but this time around, the journey was a tad bit gentler, drama not as high. Which I personally appreciated!
We left off with Max missing, his studio destroyed, and Ava heartbroken at the turn of events.
We now find Ava in her search for Max more mature and trying to take responsibility for her feelings. We also find her more involved with Jonathan in trying to give that relationship a go, of course, all the while trying to find out what happened to Max.
When Ava finally discovers where Max is, she goes to him. They are both very fragile with each other at this point and agree to work on being friends, developing that friendship. Their baby steps in growing as individuals and friends was completely huggable and you just cheer them on.
And while this is all going on, Ava is still seeing Jonathon. I din't trust him in book 1 and definitely still do not trust him in book 2, but Ava wanted to pursue the relationship even though she really wanted to be with Max. We also find Max understanding and more accepting, not pleased at all, but really trying to be a friend to Ava and work on his own inner demons.
Let me just say this with out giving anything away - there is a very climatic scene with Ava, Jonathon, and Max that causes the story to take a complete turn!!
It is after this turn that we see a new Max. More mature, responsible, and genuinely in love wanting the best for Ava. Ava at this point, not so good, but you'll see why, even though you just want to shake her!!!
I really enjoyed book 2 so much more than book 1. The growth of the characters, the development of the story line, the understanding and revealing of Max's past just had me hooked and the story flowed.
The author's characterizations are exceptional and vivid. You know Max and Ava, you live in their worlds, you cheer, cry, get angry, laugh, and fight right along with them.
I am looking forward to book 3 and conclusion to the trilogy, though fair warning, book 2 ends on a cliffie...again. I am not a fan of that at all, but the story is captivating enough, that once again, I am all in.
About the Author:
Ruth Clampett, daughter of legendary animation director, Bob Clampett, has spent a lifetime surrounded by art and animation.

A graduate of Art Center College of Design, her careers have included graphic design, photography, VP of Design for WB Stores and teaching photography at UCLA. She now runs her own studio as the fine art publisher for Warner Bros. where she's had the opportunity to know and work with many of the greatest artists in the world of animation and comics.
The Work of Art Trilogy is Ruth's third publishing endeavor, following Animate Me and Mr. 365.
She lives in Los Angeles and is heavily supervised by her teenage daughter, lovingly referred to as Snarky, who loves art and visiting museums as much as her mom.