Two stories so deeply intertwined, you'll think you know how they intersect…but you'll be wrong….
Zack Martin
The day I met Emily Bennett my whole world changed. Sure, we were just kids, but I was old enough to know my life would never be the same. She was my best friend. My destiny. My fate. I wasn't wrong…I just didn't know how twisted fate could be.
Nikki Fallon
After the death of my mother, moving from my dark and dreary trailer park to sunny California, I was focused on one thing – finding a sister I'd only just learned existed. Falling in love with him wasn't part of the plan. But he filled a void I never knew was possible to fill. He had to be my fate. My destiny. Until the day I finally found out who my sister was…and how twisted fate could be.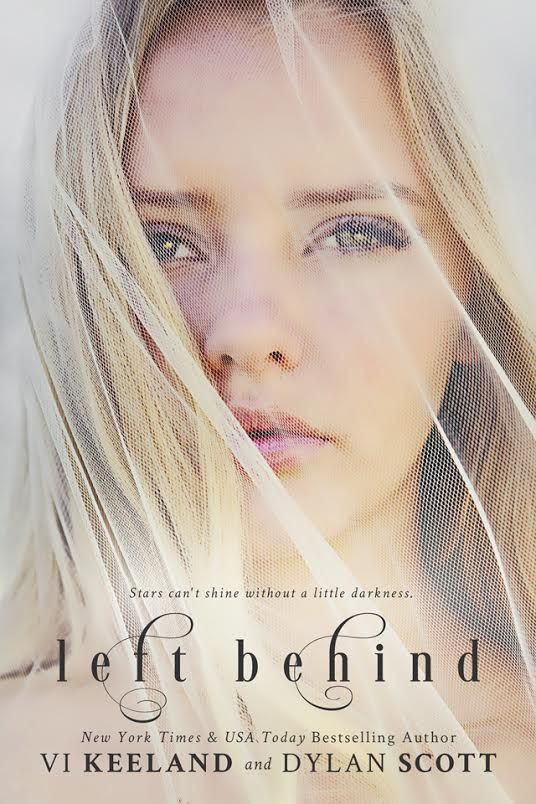 Published: October16, 2014
Amazon | Barnes & Noble | iTunes | Kobo | Google Play
Considering I am not a big fan of YA, you can imagine my own surprise how much I adored this story. I love Vi Keeland, and Left Behind was quite the departure from the MMA Fighter series that I loved.
I laughed, I cried, I cheered, I had fits of anger, and many moments of warm fuzzies. There were just so many emotions coursing through me!
And hello Dylan Scott. I don't know your writing but if this is your debut, you have a new fan who will be watching your every move ;)
"Love needs no words. You had me before you even spoke."
And that's exactly how I feel, there are no words to describe how I adored this story!
I was utterly engaged with Nikki and Zack and the entire story completely enveloped me.There was tragedy, grief, hard knocks, starting over, new beginnings, but mostly it was a story of hope.
The story flowed, the characterizations dynamic, and some really good secondary characters balancing out and driving the story.
Without giving to much a way...
Nikki had a difficult upbringing, her Mother constantly sick. When she passed away, Nikki meets her Aunt, her Mother's sisters for the first time. She agrees to go back to California with her to start over, but there are secrets and reasons why Nikki agrees.
Then we have Zack. The perfect epitome of all American high school life. But there is tragedy and a big "what if" that completely changes him.
Once Nikki and Zack meet, all the sorrow turns to hope with another "what if."
Now there's a twist and surprise in the story. You kind of see it coming, but it did not take away from the story for me at all.
And a big hooray ending that I loved!!
Left Behind was just so enjoyable and Nikki and Zack...completely adorable.
I truly enjoyed this!
Excerpt:
He looks up and I watch his eyes take me in. Slowly. They rake over me, dropping from my eyes to my glossed lips down to my exposed shoulders. Taking his time, he follows the neckline of my simple, yet body contouring sundress, lingering when he reaches my full breasts. I'm sufficiently covered, but I'd be lying if I said I wasn't aware that the dress showed off my assets well. Tight around my chest, gathering snuggly at the waist, with a scant amount of cleavage. Just enough coverage to still leave something for him to imagine.
And I watch his face change as his imagination takes off running.
His eyes drift down my legs, tanned now from the eternal California sun. Momentarily he's lost in what he sees and doesn't even notice I'm watching him leer. Totally worth the extra effort getting ready tonight, I couldn't be happier at the reaction I get. Eventually, his eyes make their way back up to mine and I arch one eyebrow, letting him know he's been caught. A normal reaction might be to look embarrassed or perhaps even flustered a little.
But not Zack. Instead, he flashes me a wicked grin. "You look incredible."
He's the one doing the leering, yet I'm the one who ends up blushing.
About the Authors:
Vi Keeland is a native New Yorker with three children that occupy most of her free time, which she complains about often, but wouldn't change for the world. She is a bookworm and has been known to read her kindle at stop lights, while styling her hair, cleaning, walking, during sporting events, and frequently while pretending to work.
She is a boring attorney by day, and an exciting smut author by night!
Stalk Her:

Website

|

Facebook

|

Twitter

|

Goodreads
Dylan Scott is a New York trial attorney, wife and mother of four. She believes her job as a trial attorney is a subcategory to the field of entertainment more than law. With a Bachelor's Degree in English Literature she believed teaching English was a destined career choice until she realized her life long talent of "argument" could actually be her job.
A recent, fairly boring, midlife crisis resulted in a brief stint as a middle school English teacher which confirmed that she wasn't ready to give up the law. Dylan has also taught legal courses at the college level and worked with at-risk inner city youth in the roles of mentor and coach.
She is co-author Vi Keeland's biggest fan.
a Rafflecopter giveaway