Stop me if you've heard this one before: girl meets player, they fall in love, player changes his ways.
It's a good story. But it's not our story. Ours is a lot more colorful.
When I met Dee I knew right away that she was special. When she met me, she thought I was anything but special—I was exactly like every other guy who'd screwed her over and let her down. It took some time to convince her otherwise, but turns out I can make a convincing argument when sex is at stake.
You might know where this story's headed. But the best part isn't where we ended up.
It's how we got there.
TAMED goes back in time to the Tangled days. But this time around, it's not Drew dishing out the advice and opinions—it's his best friend Matthew, who of course is dealing with Dee Dee.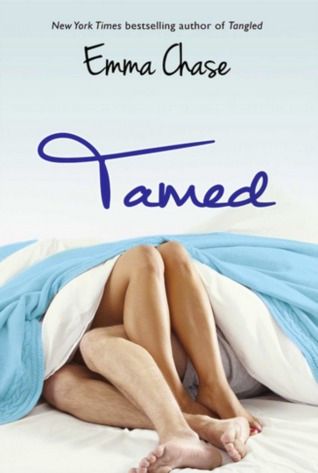 Expected publication: July 15th 2014 by Gallery Books
Meet Matthew...
She puts on the helmet, but doesn't climb on the Ducati right away. She stands on the sidewalk, hands on her hips, looking thoughtfully at it. "What would you say if I said I wanted to drive your motorcycle to the party?"
"I'd say you're shit out of luck. I don't ride bitch."
She knocks me upside the head—but my helmet softens the blow. "Then let me take it for a ride myself. Just around the block."
"I . . .don't think so."
She pouts.
I sigh. "Have you ever driven a motorcycle before?"
"No, but I've always wanted to."
"Well, I've always wanted to fly, but that doesn't mean I'm gonna strap on a squirrel suit and skydive from the god damn Empire State Building."
She steps closer, and rubs her placating hands up my chest. "Come on, please? I'll be really careful and grateful. Really grateful. Like . . .deviantly, let you handcuff me to the bed, kind of grateful."
Forget the national broadcast system—this is the test. Am I going to stick to my man-guns, keep my pride, and protect my cherished vehicle from almost certain carnage? Or, am I going to be ruled by my dick and swayed by the promise of kinky, have-Dee-at-my-mercy-all-night-long, sex?
No contest.
"Riding bitch, it is."
5 Glorious Redemptive Stars!!!
Aah sweet sweet redemption! That is exactly how I felt when I finished Tamed.
Redemption of my heart.
No one can write an arrogant, cocky, self assured jerk they way Emma Chase can. I mean you aren't supposed to like those kind of characters, but the way she writes them, you love them!
Twisted did not make me the happy obsessed fan that I readily admit. *shakes head*
So yes REDEMPTION!!!
Tamed was a fantastic read and gave me what I love, an arrogant, cocky, self assured jerk to love. A watered down version of Drew, there is no comparison of course, but Matthew definitely attended the same school of male jerkery as Drew.
Again, no one writes these type of male POV's the way Emma Chase can. No one.
I liked Matthew in Tangled. And Dee just scared me. But they were great secondary characters. So for them to have their own story, to find out more about them and how they actually got together...fabulous!!!
And their story just works.
There was even some more of Drew's demise from the start of Tangled that we now have a bigger picture of. Loved that.
Loved Matthew's voice telling his story and he is his own person. The author portrayed that beautifully. Not once did I compare him to Drew, he held his own through out the entire story.
An excellent example of contemporary romance packed full of humor, swoon worthy scenes, some drama, a little bit of pain and frustration, but mostly a completely entertaining story with characters you love and are engaged with.
"Delores is a gorgeous name, for a gorgeous girl. Plus, it rhymes with clitoris…and I really know my way around them. Big fan."
Now that's an opening line when picking up a girl!!
And the story just takes off from there.
Dee is Dee. Makes no excuses, balls to the wall kind of girl. Knows what she wants and what she wants is Matthew, but that's it. No relationship's.
Matthew is the same until their first roll in the hay, and what a roll!
The story was witty, charming, get to know you kind of fun.
The chemistry phenomenal. You wanted to hug Matthew, he was trying so hard, and choke Dee at certain points, but you knew in your heart of hearts, they were just so right for each other.
Absolutely stellar, loved it and my own heart is just soaring for Emma Chase. How she does what she does is beyond me but am so pleased she does!!
Absolutely loved this story and will forever be stalking the author! Review will also be posted on my
Loved These
shelf on Goodreads.
About the Author:
By day, Emma Chase is a devoted wife and mother of two who resides in a small, rural town in New Jersey. By night she is a keyboard crusader, toiling away the hours to bring her colorful characters and their endless antics to life. She has a long standing love/hate relationship with caffeine.


Emma is an avid reader. Before her children were born she was known to consume whole books in a single day. Writing has also always been a passion and with the 2013 release of her debut romantic comedy, Tangled, the ability to now call herself an author is nothing less than a dream come true.
Twitter | Goodreads | Website | Facebook