Will his call of duty break both their hearts?
Losing her father in Desert Storm has left Stephanie James with a bitter soul when it comes to the military. As a college senior juggling a full course load, Steph's only goal is to graduate with honors at the end of the semester. She's focused, determined, and a firm believer in all work and no play. Then she meets Brandon Walker at a New Year's Eve costume party. Despite his disguise, Steph finds herself attracted to the camouflaged soldier who curls her toes with a scorching midnight kiss.
Brandon is an engineering major and ROTC student from the hills of Kentucky. Growing up as the son of a major general has given Brandon firsthand knowledge of the struggles military families sometimes face. Now that his father's memory is fading, Brandon is even more determined to make his dad proud and graduate as an officer in the United States Army. Then he meets Stephanie, and suddenly, his focus is less on his military service and more on the pretty brunette who has stolen his heart. When he becomes aware of Steph's resentment toward the military, he worries their relationship is doomed.
When faced with the realization that she's fallen in love with a soldier, can Steph's wounds from the past be healed with love in her present . . . and in her future?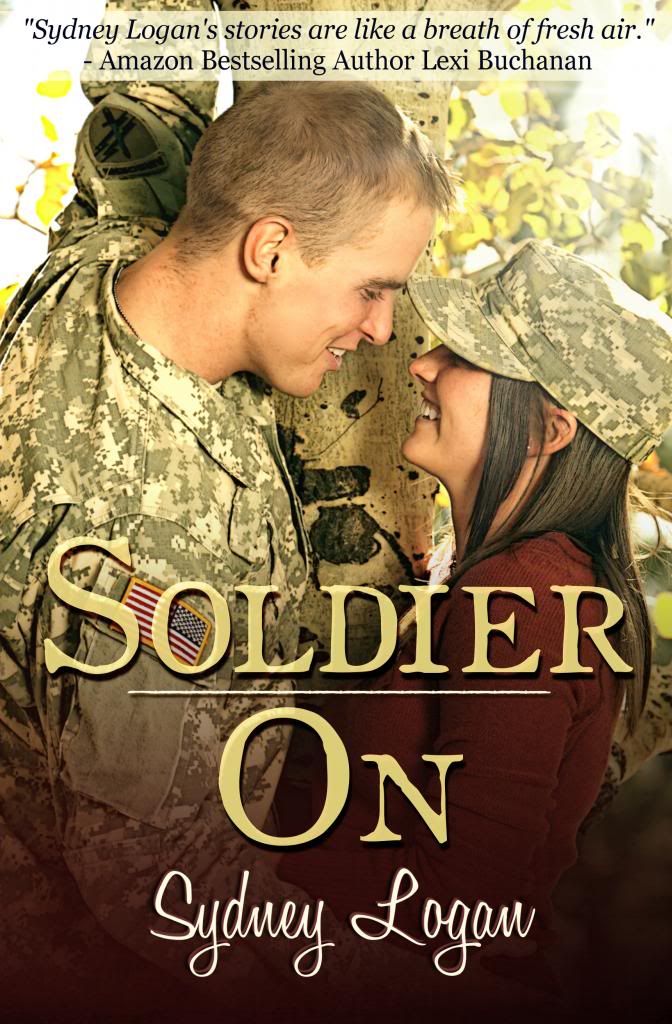 Add to Goodreads
Publication: June 20th 2014 by Mountain Media
Buy Links: Amazon | BN
My Thoughts:
Sydney Logan is just one of those rare writers for me, that no matter what she writes, I love.
It's true. Her stories always leave me with a smile on my face.
Soldier On was no exception.
So touching. So poignant. Touched the very essence of my soul with emotions that just had me reeling from one end of the spectrum and beyond.
I snot sobbed through the last half of this story!
Brandon and Steph's relationship was realistic with all the obstacles that go along with new relationships, compounded by Steph's utter dislike of the military.
I actually found her to be immature in her reasoning why she disliked the military and her obstinate attitude a crux to keep herself closed off, not allowing anyone to get close to her. Steph kept herself focused on school and her goals. Again, reinforcement of the self built walls she kept up. defintiely nice to see those walls crumble a bit as the story went on.
Brandon is the perfect book boyfriend. Kind, respectful, honor bound, loving, smexy, just a good person.
He suffers from guilt of trying to always please and make his father proud. Something all to familiar for many sons.
He is ROTC which is how he is going to school. When Brandon and Steph meet, instant attraction but an attraction they both try to keep at bay because of their own secrets and demons.
When Steph discovers Brandon's secret is when the snob sobbing commenced. You totally got these two, understood both sides, and just cheered for them to come to terms with their pasts and figure out their futures.
Soldier On was so well written, so smooth the flow, that I just kept turning page after page just wanting to know what happens next.
The secondary characters, Tessa and Xavier, Steph's best friends, Christian, Brandon sisters were fantastic characters as well completely driving and anchoring the story line.
And though there was a military theme to the story, I found it be more a story of loss, love, and healing.
Breathtakingly intense.
I am going to say this is Sydney's best story to date. Pure perfection...
Loved it to pieces! Sydney Logan, you play with my heart in the best possible ways!!
Absolutely loved this story and will forever be stalking the author! Review will also be posted on my
Loved These
shelf on Goodreads.
About the Author:
Sydney Logan is an Amazon bestselling author and holds a Master's degree in Elementary Education. With the 2012 release of her debut novel, Lessons Learned, she made the transition from bookworm to author. Her second novel, Mountain Charm, was released in 2013. She is also the author of four short stories – Mistletoe Magic, The Little Drummer Boy, Force of Nature, and Stupid Cupid.
A native of East Tennessee, Sydney enjoys playing piano and relaxing on her porch with her wonderful husband and their very spoiled cat.
a Rafflecopter giveaway

Website | Twitter
Buy links are provided as a courtesy to the reader and do not constitute an endorsement by this blog or its owner.
In accordance with FTC regulations regarding giveaways, let it be known that Books and Fandom has not received nor does it accept any compensation for posting giveaways. Giveaways are at the the discretion of said tour host and/or author. All questions are to be directed to said tour host and/or author.
ARC provided by author in exchange for a fair review.