Seventeen-year-old Oliver Wendell Holmes (Yes, his parents are just that peculiar, but his brother's name is Sherlock, so it could have been worse) knows that he's different. He's quirky, awkward, and he's okay with that. Oliver also likes making lists—meticulous procedures for achieving his goals, step-by-step. Whether it's "How to Get an A in Chemistry" or "How to Get Accepted to MIT," he has a process, and it's worked for him so far. He doesn't even care that the popular kids mock him. Oliver's got his eye on the prize.
So when he decides it's time to declare his feelings for Ainsley Bishop, the girl of his dreams, it's only natural for him to make a list—a point-by-point strategy to win her heart. He knows it will take a grand gesture for her to see all he has to offer, and her approaching birthday provides the ideal opportunity for Oliver to put his plan into action.
Finding the perfect gift is a challenge Oliver meets with his usual dogged determination. He'll need to watch her carefully for clues to pinpoint exactly what he should give her. And along the way, he might just learn that what Ainsley really needs is not quite what he expected
Add to Goodreads
Publication: June 12th 2014
The Writer's Coffee Shop Publishing House
Today we hear from T.M. Franklin, whose new YA Romance has just been released. We asked T.M. about the book, making lists, first love, and just how she came up with the name, Ainsley Bishop.
Don't forget to enter the giveaway to win a signed copy of Ainsley, and some other fun prizes!
1. Oliver is a bit quirky, he isn't your typical popular jock, yet he is confident in his own body and doesn't give into peer pressure. What message are you trying to send to teenage boys with Oliver's character?
This was pretty much the original inspiration for the story. I wanted to write about a boy who is different, quirky – maybe someone that the popular kids mock – but who is okay with who he is. I wanted him to feel comfortable in his own skin, have goals for the future, and not really care what other people think of him. He sets his sights on Ainsley Bishop, the girl of his dreams, but he doesn't go the typical "makeover" route to win her (Well, other than a haircut and an attempt at working out.) He doesn't think he needs to change because he believes he has a lot to offer, and he just has to get Ainsley to see that too.
2. This novel is about first love, what was your first love like?
Wonderful and miserable – isn't everyone's? First love is intense in every way. You think about the person all the time, want to be with them ALL THE TIME, and when it ends, the heartbreak is the worst.
3. You have children, do you draw on them and your experiences with them when you write YA? If so give us an example?
Yes, in fact, that's one of the reasons I decided to write YA. My younger son is a teenager and an avid reader, and I wanted to be able to share my stories with him. He was a pre-reader on MORE and The Guardians and gave me a lot of valuable insight. He hasn't read Ainsley yet, because romance isn't really his thing. But Oliver is loosely based on him. Not specific details, but the way he does what he wants, like what he likes, and doesn't care what others say? That was inspired by my son.
4. Ainsley, is quite a quirky name, how did you come up with this name?
Names are such a big deal to me! I wanted her name to be unusual, but one that would kind of stick in your mind when you heard it, because it would be in the title of the story. I love the website Nymbler.com – I go in and start clicking on names that I like and it suggests others that I might like as well. Once I narrowed it down to Ainsley, I started looking for surnames that would fit well with it. Ainsley Bishop…kind of rolls off the tongue, don't you think? And I learned that Ainsley means "one's own meadow" in Gaelic – isn't that beautiful?
5. Dream cast- what actors would play your main characters?
Oh, this is difficult because I lucked out and found the perfect models for my book trailer. (You can see it below.) So now I tend to picture them when I think of Ainsley and Oliver. But if I had to pick actors, maybe Bonnie Wright for Ainsley and Nicholas Hoult for Oliver?
6. You do some of your own cover art. Did you make the cover for Ainsley? If so what were you trying to express with this cover?
I did make the cover. Actually, I made several of them. I knew that the title would be the star of the cover – no images – and I wanted it to be fun and bright, like the story.
7. Oliver likes to make lists, do you do this as well? Why are lists so important in this novel?
I do make lists. I have a To-Do list on my computer right now on the side of the screen, taunting me! I also have daily lists that I jot down on a notebook and I sometimes keep lists on my phone as well. I have a terrible memory and it's the only way I can keep everything straight. Lists and spreadsheets – they are my saviors!
As for why lists are important to the story, they say a lot about Oliver's character. He has goals and hopes and dreams, and his lists are his way of making sure he achieves those goals. They're what helps him keep focused.
8. Are you working on anything new?
Always! I'm currently editing TWELVE, the third book in the MORE Trilogy, which comes out October 9th. I've also started working on a new time-travel/alternate-reality story that should be a lot of fun. And I'm working on a Christmas novella, that I'm hoping to release around the holidays.
We'll see how that goes!
About the Author: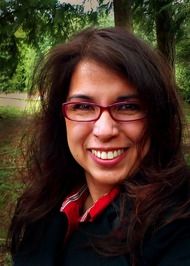 T.M. Franklin started out her career writing non-fiction in a television newsroom. Graduating with a B.A. in Communications specializing in broadcast journalism and production, she worked for nine years as a major market television news producer, and garnered two regional Emmy Awards, before she resigned to be a full-time mom and part-time freelance writer. Her first published novel, MORE, was born during National Novel Writing month, a challenge to write a novel in thirty days. MORE was well-received, being selected as a finalist in the 2013 Kindle Book Review Best Indie Book Awards, as well as winning the Suspense/Thriller division of the Blogger Book Fair Reader's Choice Awards.
In addition to MORE and its sequel, The Guardians, Franklin penned the Amazon best-selling short stories A Piece of Cake and Window, which also won a Blogger Book Fair Reader's Choice Award for Short Story/Fantasy. Her new YA romance, How to Get Ainsley Bishop to Fall in Love with You, is Franklin's first love story without a paranormal or fantasy element, although she believes love is the best kind of magic.
TWELVE, the final installment in the MORE Trilogy will be released in the fall of 2014.