Haunted by the responsibility of caring for her troubled family, Maya Jacobs gave the only answer she could when Cameron asked her to marry him. Years later, entrenched in a soulless professional routine, she distracts herself from the lingering regret of her decision with a "work hard, play hard" lifestyle that guarantees no man will ever find his way into her heart again.
Cameron Bridge has spent the past five years married to the military, trying to escape the painful memory of losing Maya. After fighting his own war in the desert, he starts a new life in New York City, with his siblings, Olivia and Darren, by his side.
When fate brings Maya back to him in the heart of a city filled with its own hopes and shadows, can Cameron find the girl he once loved in the woman she's become?

Buy Links: Amazon | Amazon UK | Barnes & Noble | Google Play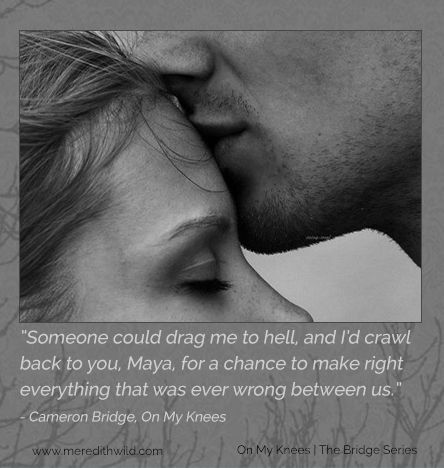 About the Author:
USA Today bestselling author, Meredith Wild, picked up her first romance novel at the tender age of twelve, and shortly after put pen to word processor and made her first attempt at writing a love story inspired by those she so enjoyed reading well past her bedtime.


Her dream of writing took a back seat to college, parenthood and eventually entrepreneurship, which led her into the fast-paced and male-dominated high tech industry. With enough life experience for a few lifetimes, she now devotes her hours to writing contemporary adult romance with a hint of kink.
When she isn't writing or mothering, Meredith can be found sunbathing with an adult beverage.
Facebook | Twitter | Goodreads | Pinterest
a Rafflecopter giveaway
Buy links are provided as a courtesy to the reader and do not constitute an endorsement by this blog or its owner.
In accordance with FTC regulations regarding giveaways, let it be known that Books and Fandom has not received nor does it accept any compensation for posting giveaways. Giveaways are at the the discretion of said tour host and/or author. All questions are to be directed to said tour host and/or author.