Thursday, November 14, 2013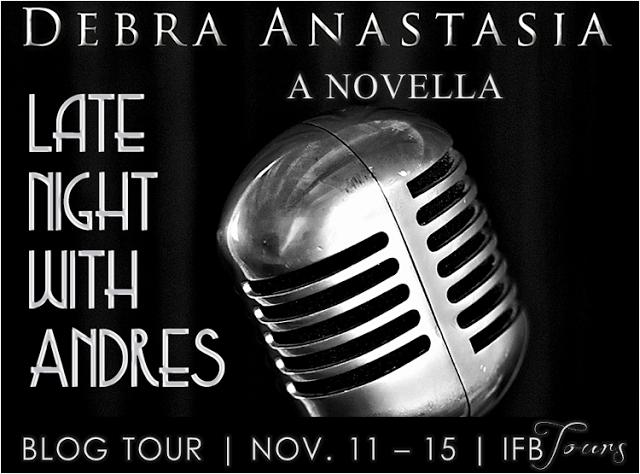 Rising-star blogger Milla Kierce knows she's arrived when she sees the swag basket in her dressing room on the night of her late-night television debut. But before she can bite into the muffin that symbolizes her success, gunfire echoes through the TV studio. She's just hidden herself (mostly in plain sight) when the door flings open. Instead of a gunman, there stands one of the world's most popular rock stars, Gage Daxson, looking for his own way out of danger.
Thrown together, they'll battle a venomous man seeking revenge and his own sexual pleasure, but they may never leave the building again. Distracted by fear, fame, and infamy, can these two somehow find their way to each other?
Equal parts horrifying and hilarious, Debra Anastasia's Late Night With Andres offers more than a few twists and turns—and, of course, enough heat to keep things interesting.
100% of the proceeds generated from sales the novella Late Night with Andres will be donated by Debra Anastasia, Omnific Publishing, and all the staff members involved, to assist in the battle against breast cancer.
Because cancer sucks.

Expected Publication: October 29th 2013
My Review:
OK, so when a story starts out like this...
When security showed her to the dressing room, she nodded gracefully and closed the door. But once she knew she was out of sight, she commenced a butt-slapping, hair swinging dance of excitement and victory. She had no way of knowing she was being taped for the late night television show's blooper reel. Not even a little hint. She added her pretend-I'm-a-drunk-stripper dance, complete with toe drags. Eventually, she petered out and chicken-danced over to her welcome packet the people from Late Night With Andres! had thoughtfully put on the coffee table.
And moves on to this...
He looked like the Devil's fart.
And then this...
#WTFThe DevilsFart
You are probably scratching your head right about now wondering what the blazes is going on, I know I was.
Totally not what I expected but then again, never expect the expected from Debra Anastasia silly rabbits. *points at self *
As novella's go, Late Night with Andres was really a very good one. There were engaging main characters, secondary characters helping to drive the story, a main plot, and even a sub plot. Then we had a rocking his own agenda, morally repugnant TV host to balance the zaniness of the story line out.
And least not forget, the incomparable, Devil's Fart.
In my life I have never read a character like him, I didn't know whether to laugh or cry at his creation....hmm....I am going with laugh....pure belly flopping laughs.
Dark, slapstick funny, Debra at her craziest best. I do believe her cheese has finally slipped off her cracker.
And the ending...perfect...
His lips were perfect. And anytime she was able to take her eyes away from him, she had paradise laid out before her. In the nearby forest a host of night animals sang their songs. The surf's pounding was the perfect percussion, and Gage timed his thrusts with the beat here and there. They made love for hours, and when they were spent, Milla fell asleep with her head on his chest. He hummed a song, one of many he would write or her in the years to come.
As Debra would say...2 tits up on this great little story!!
*The Devil's Fart banner by Lucia of Reading Is My Breathing
Absolutely loved this story and will forever be stalking the author! Review will also be posted on my
Loved These
shelf on Goodreads.
a Rafflecopter giveaway
About the Author: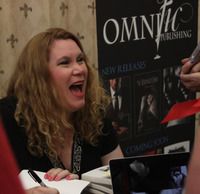 Debra Anastasia grew up in New York and got a bachelor's degree in political science at SUNY New Paltz. At the start of her marriage, she moved to southern Maryland with her husband. She still doesn't trust crabs and all their legs, though everyone else in her family thinks they're delicious. Her favorite hobbies include knitting, painting furniture and wall murals, and slapping clowns.


Her writing started a decent handful of years ago when along with the dogs, cat, kids, and husband, the voices of characters started whispering stories in Debra's ear. Insomnia was the gateway for the plots that wouldn't give up, wouldn't let go. In the shower, a twist would take hold and--dripping and frenzied--she'd find somewhere, anywhere to write it down.
Website | Twitter
Goodreads | Facebook | Twitter | Google+
Buy links are provided as a courtesy to the reader and do not constitute an endorsement by this blog or its owner. ARC provided by author via tour host.