Expected Publication: December 1st 2013
Isabelle's mission seemed so clear: kill the king of the vampires to give humanity a fighting chance. Except she didn't count on falling in love with him. And she didn't realize he held secrets that could actually end up saving the human race.
As the kingdom falls and Isabelle's heart is torn between two worlds, everything changes. There's something more dangerous out there, a plague that might destroy both humans and vampires alike. The only way to survive it might be to find a truce between species.
Peace will require the ultimate sacrifice.
And change the future of the world forever.
*I read City of the Fallen, book 1 in the Dark Tides series and loved it! I am personally looking for forward to Night of the Fallen. You can read my review
here
.
About the Author: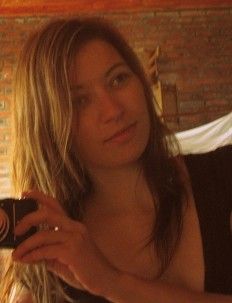 I've been a fan of all kinds of dark creatures since I was a kid (even before I discovered Stephen King at the age of 10). If it crawls in the night and tugs at your covers while you're sleeping, chances are I've written about it. It's probably no surprise that I'm a big fan of old buildings, urban exploring and things that go bump in the night. Oh, and Halloween, of course -- but that should go without saying.
Growing up, I wanted to be Indiana Jones. I ended up not pursuing a degree in Archaeology (although I toyed with the idea for a while) but I did become a huge lover of travel and history. Aside from traveling to all corners of the world, I've also lived in five countries in three continents -- including three years in Siberia and two in Vietnam. I'm currently living in Thailand.
I have a soft spot for animals (which is why you can be sure that in my stories, the dog will always make it) and right now have three wonderful -- but slightly crazy -- dogs in my life. And yes, they move with me from country to country. Too bad dogs can't accumulate frequent flyer miles!
In my other life, I also write nonfiction: articles, books, and even quizzes for the Discovery Channel website. I really can't help it -- I'm a nerd at heart and love research and discovering new things. Could be the Indiana Jones in me pushing me along.
When it comes to life, I'm pretty fearless. I figure life is too short to live it too safely -- so I take risks and I try to have fun, whether that means snowshoeing in the middle of Siberia or going ghost-hunting in an abandoned asylum. And yes, I've done both.