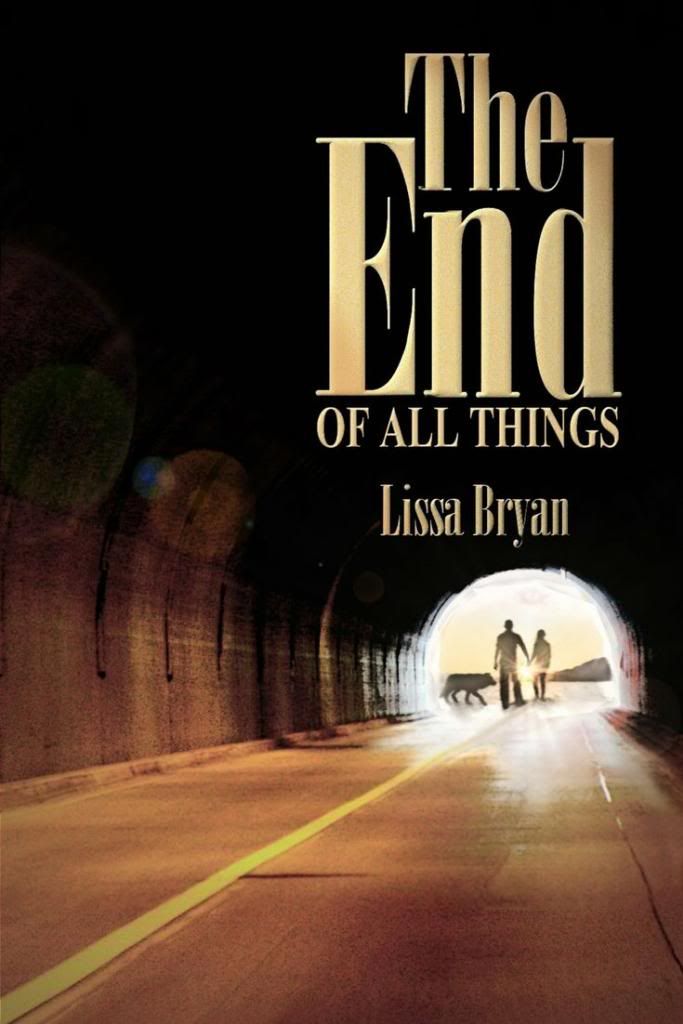 I need to create a shelf titled...
"Why did I wait to read this book? I need to kick myself!"
But due to GR's new guidelines, it might get pulled, so I'll just say it here instead...
Why did I wait to read this book? I need to kick myself!
I actually won an autographed copy of The End of All Things, always a huge thrill for me. I am also a fan of Lissa Bryan's FF stories. They are really some of the most creative, original story lines I have ever read. I also just recently participated in the cover reveal for Tales from the End, a collection of short stories. Three of them introduce us to new characters you will meet in the upcoming sequel to The End of All Things.
But... The End of All Things is also a post apocalyptic story and not being a fan of zombies, mutants, and overt violence, which the majority of the genre usually contains, I was a bit standoffish so it became one of those stories I would read eventually. I am wuss as we all know and have to be psyched up for these kinds of things.
Here comes another but...one of the short stories from Tales From the End, "I Wandered Lonely As A Cloud" really caught my eye and my curiosity got the best of me.
Let me just say...WOW!!! The End of All Things had all the wow factors for me, hence the "I need to kick myself" attitude.
The story is about hope...
"I think you're wrong," she said. "I don't think humans were supposed to die out during the Infection. And I think those of us who survived have a duty to protect the next generation. We're starting over, Justin. We're rebuilding the world. And this time, we're going to make it even better."
With humor peppered through out...
"There's no crying in baseball," Justin said. "And there's no being grossed out in an apocalypse."
And strength...
"Courage isn't the absence of fear; it's forging ahead despite that fear."
Mostly this is a story about love, finding your true self, acceptance, forgiveness, overcoming the greatest odds and the belief in humanity regardless of the circumstances.
Carly is alone after the Crisis. The Infection has killed everyone she knows, including her parents. The thought of that alone is extremely humbling. Most would give up and look for an easy way out being in such an overwhelming situation. The only thing that keeps Carly going is Sam, her puppy she rescued from starvation. Sam though is not a puppy, he is actually a wolf, unbeknownst to Carly.
Justin, aka as "Biker Guy" sets up camp across the street from Carly's apartment. Carly is rightfully fearful of him knowing there were some who survived the Infection, but the fevers they suffered left them a shell of their former selves and dangerous for the most part.
Justin is also an ex military special forces and knows Carly needs to leave what she feels is her safe haven. She will eventually starve or freeze to the death. He becomes very persistent in coaxing her out and a tentative friendship starts between them. They need to head south to a warmer climate if they are to even have a chance of survival.
Once Carly agrees to the journey, they set out in to the unknown.
The story takes you on a bountiful ride of emotions and puts Carly and Justin in the middle of the most dangerous situations with only each others trust and determination to rely on. They also encounter some humorous events such as their "meeting" of a horse Carly adopts and names "Shadowfax", much to Justin's dismay and appropriately dubbing her the "pied piper of the apocalypse", considering they are already traveling with a wolf.
They also fall in love in such a realistic way too. Not forced or assumed because it is just them alone in the world. The love develops and is nurtured by them getting to know one another as they travel as well as the little nuances the author displays in them both.
I can' say enough wonderful things about this story. It really is a must read if you haven't read it already. Don't be like me and kick yourself because you just aren't sure of apocalypse type genre's. You can definitely trust Lissa Bryan to deliver an amazing story that will just have you hugging yourself.
And!! I am thrilled there will be a sequel. All amazing stories deserve a sequel if possible and The End of All Things will have you just wanting more!
Make sure you pick up Tales From the End too, I know I am!
Absolutely loved this story and will forever be stalking the author! Review will also be posted on my
Loved These
shelf on Goodreads.
About the Author:
Lissa Bryan is an astronaut, renowned Kabuki actress, Olympic pole vault gold medalist, Iron Chef champion, and scientist who recently discovered the cure for athlete's foot.... though only in her head. Real life isn't so interesting, which is why she spends most of her time writing.
Her first novel, Ghostwriter was released October 11, 2012, and her second, The End of All Things, was released on January 24, 2013. Her third, Under These Restless Skies, is scheduled for spring of 2014.