Thursday, October 24, 2013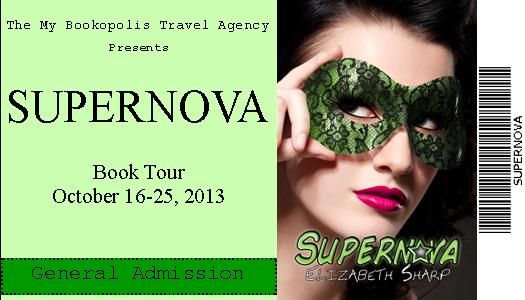 On Cleo's first day at St. Aloysius Gonzaga Academy, things get pretty weird pretty fast. After being confronted by a strangely hostile boy, she meets two girls and instantly bonds with them. Before long danger threatens the entire student body, in the form of a soul eating possessor fae. When her brother is savagely beaten and left in a coma, the girls decide to use their fae powers to become superheroes and stop the possessions.
They quickly learn things are a lot more complicated than they had ever imagined. A government plot that had begun when they were infants endangers them all, and a demented former soldier bent on revenge is after them. The line between friend and foe has become so blurry, Cleo has no idea who she can trust.
Will their superhero plot help them save the day, or just get them killed?

Buy Links: Amazon | BN | Smashwords
Excerpt:
By the time the weekend rolled around, we had managed to piece together three passable costumes. They might not pass scrutiny on a well-lit city street, but they would serve in a dark alleyway. We'd each gone with a theme that would fit our abilities, and costumes to match. As soon as Juliette was settled in front of her Saturday morning cartoons, we headed up to put finishing touches on our outfits. Before we knew it, the time to take them out for a test run had come. We waited until Cleo put her little sister to bed before we began a final assembly of the pieces scattered around Cleo's room. Her bedroom looked like a bomb had gone off in a costume shop. We all crowded into the bathroom, styling our hair and applying makeup. When all three of us were ready, we gathered in front of the mirrored closet doors admiring our handiwork.
Cleo wore a black skirted corset waist over a blousy white top. A ballet dancer at heart, she wore a black tutu with acid green accents over green tights. The outfit was completed with a pair of slouchy black boots she'd dug out of the back of her closet. She clipped green segments into her hair and we curled the whole lot. Finally she slid on a green Venetian mask with a lace overlay and beads dangling from a tuft of feathers on her right temple. Makeup accentuated the planes of her face and hot pink lips puckered in what I assumed was supposed to be her tough face.
Charlotte had covered her bleached hair with a red-and-black wig, two spiky bonbons with a full bang. She wore an adapted Renesaince dress, black crushed velevet over red satin to her mid-thigh over black leather tights. No matter how hard I'd tried to talk her out of it, she wore her usual black combat boots, though I had to admit they looked far less out of place on her than normal. We'd completed the look with a black painted on mask with red-glitter trim as well as on her eyelids and fake lashes. Red velvet lips pulled up in a smirk as she met my eyes in our reflections.
Mine was the most typical superhero outfit, a white unitard with icicles trimming the top of the bodice and belting the waist. The skirt was jagged, white velvet over layers of blue toile petticoats. A fur-trimmed blue sued coat let me move while looking fabulous, and slouchy white boots completed the look. Instead of a mask I glued more fake ice on my face, framing the outside of my eyes from the brows to my cheeks. "Arctic Chill will save the day."
Charlotte held a black gloved fist up next to her face. "Not if Scarlet Rage gets there first." She shot me a grin as we both turned to Cleo, our brows raised. She'd been tight lipped about her hero name, and I couldn't wait to hear what she'd come up with.
She rubbed a hand over her hips, turning this way and that in the mirror as if she didn't notice we were waiting. With a final turn of her head, she placed her fists on her hips and spread her feet shoulder width apart in the classic pose. "You can call me Supernova."
a Rafflecopter giveaway
About the Author:
Elizabeth has a near crippling Facebook addiction, dwarfed only by her need for Dr. Pepper. A self-proclaimed techno geek, she loves cell phones, computers, tablets and all things technological. The internet has to be the greatest invention since the wheel, in her opinion. She lives in a quiet subdivision with her husband, one-year-old son, three cats, and far too many electronics. It's quite possible she has some raccoon in her DNA, because she loves glitter and anything that sparkles. She enjoys making jewelry and costumes. Halloween is her favorite holiday since it's the one day of the year that you can be whatever you want. But her first love will always be writing. Otherwise, hearing voices in her head would make her feel schizophrenic.
Twitter | Goodreads | Facebook | Bloglovin
Buy links are provided as a courtesy to the reader and do not constitute an endorsement by this blog or its owner.