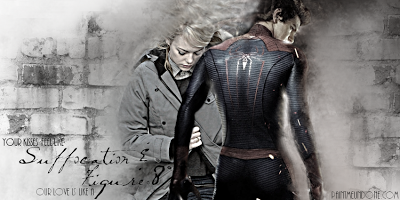 Story Link | Author Profile | Banner | Twitter
Summary: Kissing him felt like suffocation and I didn't want to breathe. But loving him is like a figure eight, it can never stop. So come on bug boy, whisper that infamous line again, "Yeah, but those are the best kind".
PMU is back with another amazing one shot, this time stepping in to the
Spideman fandom
...
" Where have you been? " a broken girl with blonde hair tucked under a hat asked the one man left in her life that was still holding her heart.
" I... " the boy stammers to answers her because the truth is ugly and he hates it with every inhuman fiber inside his body.
" My father died. There was a funeral….. " he doesn't hear her, all he sees is the way her eyes are watering and hears the way her voice is cracking. This crumbling boy feels his heart bleeding as her tears match the rain falling behind her. He reaches to wipe them away, the contact of his finger and her skin has him slipping on a dead man's promise.
"I can't do this. I can't do this. I'm sorry." All she gets is one tear touched before he tracts his hand so quickly.
Beautifully written, poetic in style. Unrequited love. Longing. Wanting. Hoping. Angst that will clutch your heart...
"I will not walk, but run. Just know, at the end of night it will always be back to you." And though his words scare me, they give more of that ugly hope. I will gladly suck it up like greedy fool and will never let go either… "I love you Gwen." He tells me, rolling his body back on top of mine and those daring eyes pierce my soul.
I was bitten and so was he.
PMU has a wonderful writing style with dark undertones. She loves her angst. Yet written in a way that you don't become frustrated with the level of angst she dishes up and can stick with it, definitely my favorite type of angst.
Give it a try, you won't be disappointed. There are so many other fandoms out there with some really amazing stories.
*If you have an other fandom story you are loving, let me know. I am really liking these stories that are being sent my way!