Pre-med student Sarah Jones is back in Beaver, Alaska, for summer vacation. A loyal member of the Gwich'in tribe, she accepts the rules set by her father, the leader of their small town. Raised in a strict household, she learned early on to do what is expected of her and has agreed to an arranged marriage. Despite her reluctance to marry without love, Sarah is unwilling to defy her father's wishes. She hopes to help usher in an era of independence and stability for the town, but for now, her focus is finishing med school so she can become Beaver's resident doctor.
Business owner Greg Andrews wants to escape his philandering wife and his life in general. Leaving New York City to join a hunting expedition in Alaska, Greg's plans are turned upside down when he is shot on Gwich'in land and ends up on Sarah's operating table. In the absence of a qualified doctor, Sarah must operate to save his life. She refuses to wait for the consent of their tribal leader, and her father banishes her from the tribal land in punishment.
Grateful for his life, Greg concocts a scheme to help. Plagued by the side effects of her unconventional operation, he convinces Sarah to become his live-in nurse. Without the means to support herself, Sarah agrees to the questionable arrangement, but she soon finds herself in even more trouble. Her new problem is that she is falling in love with this infuriating man, and the choices she now must make are must more difficult than the simple act of saving a man's life.
Together, Sarah and Greg must both decide whether they can overcome the vast differences between them, or if the indivisible line that separates their worlds will ultimately pull them apart.
Goodreads
Buy Link: Amazon | BN
My Review:
I am inquisitive by nature. So when I come across a story where the story line or characters are based on actual events, history, or cultures, and the story itself is completely engaging with the incorporation of the realism, it is a win/win situation for me. Lorenz Font's introduction of the Gwich'in people was utterly fascinating to the point that when I finished the story, I started googling.
Sarah Jonea is a member of the Gwich'in tribe. She is also the only child of their leader. Raised with a rich history of tradition, culture, and loyalty, Sarah has never and is unwilling to defy her father, even at the cost of her own happiness, an arranged marriage to a man she does not love. And while that seems backwards and unfeeling, the tribe is also very caring and giving. Sarah is attending UCLA to become a doctor, something she is very passionate about and has wanted her life. The tribe is paying for her education.
It is while working in her tribe's clinic that Sarah's life is turned completely upside down with everything she has ever known and loved taken from her.
A man with a gunshot wound is brought o the clinic. And while only a medical student and a qualified doctor not present, Sarah did the only thing she could, she saved his life. Saving a life or at least trying to save a life is the highest form selflessness. But she is banished from her tribe by her father for acting without permission from the tribal leaders. I found this so cruel and unimaginable that her own father would shun her. This incident alone really gives you an amazing feel for who Sarah is. And while cruel to think her own flesh and blood would act without mercy, I developed a very clear understanding for the steadfast ways and beliefs of her culture.
This is the point where the story really takes off.
The man she saves, though barely is Greg Andrews. A man looking to escape his life and cheater of a wife, if only for a while on a hunting trip with his best friend. It is on this trip that we find out his best friend is not what he seems and direct the cause of his near death experience.
Greg is appalled at Sarah's banishment and wants to help, convincing her to be his live in-nurse bringing their fate and destiny together, though in a very unconventional and surprising way.
I loved this story. The twists and turns were a bit of a roller coaster. The plot of Greg's best friend and wife added to the overall plot throwing the budding romance in to turmoil and danger.
I found Sarah and Greg very engaging and believable. The story had an amazing flow and was peppered with a nice background and very broad characterizations that drove the plot. I found the ending to be a huge statement in healing, coming together, understanding, acceptance, and how a true journey of one spirit can bring you true love and happiness.
A definite must read!
Absolutely loved this story and will forever be stalking the author! Review will also be posted on my Loved These shelf on Goodreads.
About the Author: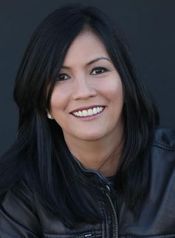 Lorenz Font discovered her love of writing after reading a celebrated novel that inspired one idea after another. She is currently enjoying the buzz from her debut novel Hunted, the first installment of The Gates Legacy trilogy.


Writing is therapeutic for Lorenz, and a perfect day consists of writing and playing with her characters while listening to her ever-growing music collection. She enjoys dabbling in different genres, with an intense focus on angst and the redemption of flawed characters. Her fascination with romantic twists is a mainstay in all her stories.
Lorenz currently lives in California with her husband, children, and two demanding dogs. She divides her time between a full-time job as a Business Office Manager for a hospital and her busy writing schedule.
Website | Twitter

Buy links are provided as a courtesy to the reader and do not constitute an endorsement by this blog or its owner. ARC provided by publisher.