Back To Nature...
Blaine, the enigmatic billionaire hero of He Watches Me, is the founder and CEO of a high tech company. He works with computers and technology all day. A person, upon first meeting Blaine, might think he lives in a modern, high tech home, a fully automated compound made of concrete and glass, run by a complex computer system. The yard would be paved over and there wouldn't be any plants or animals or insects on the premises.
This person would be very surprised to find out where Blaine truly lives.
Anna describes Blaine's mansion as classic. His backyard is filled with ground cover native to Los Angeles. A waterfall feeds the naturally shaped pool. Water rushes over red rock. Moths flutter on the night breeze. Shrubbery blocks the noise of traffic.
Blaine's home is his haven, a sanctuary, a bit of greenery in the city. This is where he unplugs from the world and relaxes. He values nature and is drawn to the earth.
Anna grew up in downtown Detroit yet she's drawn to nature also. Every night, she hops Blaine's fence, strips off her clothes, and swims nude in his beautiful pool. These midnight swims keep her sane during long days spent in an office building.
I think many of us need to get in touch with nature at least once in a while. This could be as brief as an annual vacation to a Caribbean island or tending to a plant we seldom remember to water.
My hubby, like Blaine, works in the high tech field. He loves his computers, always having some sort of device on him. Cables climb our walls like vines and he wears his Microsoft Surface like it's a hand puppet. But my hubby also derives great pleasure from puttering around our tiny backyard every weekend. He digs in the dirt, pulls weeds and mows the small patch of grass. On vacations, we often go hiking and when possible, he prefers to go off the trails.
I grew up on the farm so my connection with nature is deep. I've always had plants even while I lived in a university residence (Fern - he's an adorable rabbit's foot fern). I love watching the squirrels frolic in the backyard, hearing the birds sing when I wake up, smelling the scent of pine. It makes me feel grounded, connected to the earth, complete.
Do you enjoy getting back to nature?
~ Cynthia Sax, Author Of He Watches Me


He Watches Me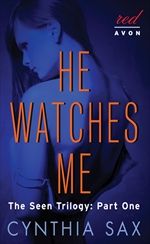 She desires to be seen. He wants to watch.
Anna Sampson has a naughty secret. Every night, she slips into her neighbor's yard and swims naked in his pool. She fantasizes that the dynamic young billionaire watches her nightly nude aquatics, his brilliant green eyes gleaming with lust.
She discovers this isn't pure fantasy. Gabriel Blaine has been watching her via his security cameras, and now that he has returned to L.A., he doesn't plan to stop. That's all he wants—to watch. Anna knows she shouldn't allow him and she certainly shouldn't want more, but she craves Blaine's attention, needing his gaze fixed on her body.
He Touches Me
His touch enflames her desires.
Anna Sampson has allowed billionaire businessman Gabriel Blaine to watch her, all of her. And looking is all he's done—until now. After giving him permission to touch her, Anna realizes she won't be satisfied until she has all of this handsome and secretive man.
Soon she tempts him, shreds his control, and pushes him too far. Blaine's reluctance to take her virginity frustrates Anna. He fulfills her fantasy, but what is their reality together?
Amazon | BN
He Claims Me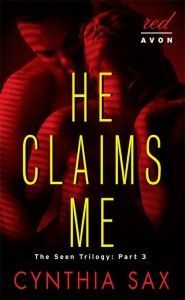 A billionaire's desires and a virgin's wish to be claimed come together.
Two men want Anna Sampson. Gabriel Blaine is powerful, intelligent, the CEO of a successful company, and a billionaire. He's watched her, touched her, encouraged her to become a strong, independent woman, a woman unafraid of her desires.
Now secrets from the past are exposed, threatening Anna's freedom and safety. Will the man she loves stand by her side, or will he desert her, leaving Anna once again to face the future alone?
The searing climax of The Seen Trilogy.
Author Info:
Cynthia Sax lives in a world filled with magic and romance. Although her heroes may not always say, "I love you", they will do anything for the women they adore. They live passionately. They play hard. They love the same women forever.
Cynthia has loved the same wonderful man forever. Her supportive hubby offers himself up to the joys and pains of research, while they travel the world together, meeting fascinating people and finding inspiration in exotic places such as Istanbul, Bali, and Chicago.
Buy links are provided as a courtesy to the reader and do not constitute an endorsement by this blog or its owner.