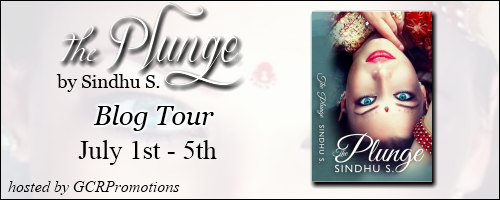 Love is madness…
When a thirty-something journalist Anjali meets the charismatic Siddharth, she has no intention of becoming romantically involved with him. Anjali is a strong, independent woman, angered by the man's world she lives in and traumatized by events in her past. She has no desire to fall in love. Anjali is certain that, after months of chatting online, when she finally meets Siddharth the charm will be broken. But she is surprised to find herself attracted to him – and shocked when they fall into bed together on their first date. Seized by new emotions that go against everything she believes in, Anjali is caught in a battle between her head and her heart, between love and self-protection. For the first time in her life, Anjali is at the mercy of her emotions and desires…and as she plunges into an affair with a man she knows little about, she risks losing everything.
Set in India, The Plunge is a frank and powerful examination of modern relationships that every woman will identify with. Told with astonishing emotional insight, this debut novel will take your breath away.
Goodreads
Buy Links: Amazon | BN
Anjali clutched his arm as they sat there, watching the tranquil river flow over the rocky riverbed. It was the first time she had touched him since they had greeted each other that morning. He hugged her back and held her hand, staring at the river as it flowed cheerfully. The Sutlej soothed the spirits.
"You look adorable when you are lost in thought," he said.
Anjali leaned in even closer.
"I missed you terribly," he said. "Did you miss me?"
She rested her head on his shoulder, holding his arm tighter.
"I want to ask you something, Siddh."
He sat upright, letting go of her hand, feeling edgy.
"It's just a supposition. In case Chandni comes to hear about us, would she believe it?"
"Hah!" He shrugged his shoulders, raised his brows to indicate the stupidity of such a thought. "She won't hear. And even if she does by some weird chance, I don't think she will believe it. She knows me well."
Anjali looked at him, her face turning pale.
"I mean we need not fear such a thing. She knows I am fully committed to her."
"You don't consider our relationship a mistake, do you, Siddh?" Her voice broke as she completed the question.
"Anjali, please, don't twist my words. I was only trying to answer your supposition.
a Rafflecopter giveaway
About the Author:
Born in 1966, Indian writer Sindhu drew inspiration for 'The Plunge' from her days as a journalist in her home country. She loves writing human interest stories and is drawn to women centric issues.As a child she "had suffered from the ugly duckling syndrome", she says. She quit her job as a school teacher on realizing it was beyond her ability to discipline students, and switched over to journalism.She moved to the Gulf (Middle East) six years ago. Currently based in Bahrain, she is working on her new book, a non-fiction on relationships, and two more projects, among them a novel set in the Middle East."


Website | Goodreads
Website | Twitter | Facebook
Buy links are provided as a courtesy to the reader and do not constitute an endorsement by this blog or its owner.