Nothing says spring like blooming love. And what's better than love?
A Blooming Love Spring Blog Hop!
Today starts the Blooming Love Spring Blog Hop hosted by CBL Book Reviews. The hop will run from April 1 to April 15. There will be fantastic prizes and giveaways at every stop for our hoppers.
For my giveaway I am offering an e-book or paperback of Romantic Interludes. A romantic anthology of 7 stories by some of our favorite writers...
Lissa Bryan, Suzy Duffy, T.M. Franklin, Allie Jean, Sandi Layne,
Sydney Logan, Jennifer Schmidt
These stories are fun, flirty, sweet, and sexy. Perfect for springtime blooming love! You will enjoy them as much as I did.
What happens when the God of love is smitten by a mortal woman? Or when a marine comes home from overseas and wants a second chance with the one he let get away? From a greeting card writer who hates Valentine's Day, to a matchmaker who doesn't believe in love, to a young couple who has to face fears from the past before then can accept their future.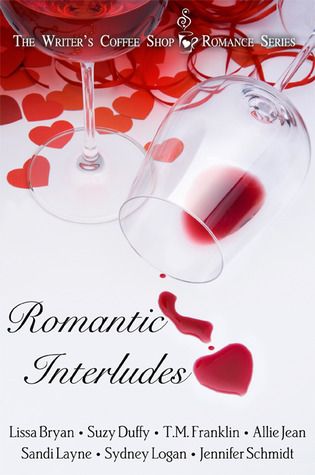 And how do you get these amazing blooming love stories?
All you have to do is enter the giveaway below and hop on over to the next blog
for more ways to feel the blooming love!
Must be 17 years old to enter
Giveaway is International as long as The Book Depository ships to you
- please confirm before entering!
Winner will have 48 hours to respond once contacted.
a Rafflecopter giveaway
Now that you've entered, hop on over to the next participating blog for more prizes!
Swag Pack from Jennifer Armentrout / J.Lynn | Signed Paperback from Lisa Schroader
Signed Paperback from Jennifer Echols | Signed Paperback from Laura Kaye
Signed Paperback from M.Leighton