I love this idea. Sadly, I have already fallen under the watchful eye of Ms.GrammarGrouch recently, aka as the lovely Sarah Aisling.
Now, knowing Sarah is a thrill for me. She is an amazing writer, and all around fun twitter gal pal. But, she is a notorious grammar snob. I say this with love because it is true. When I saw the first Ms.GrammarGrouch tweet, I was immediately drawn, more so knowing Sarah was the master mind. I knew this would be good!
So in Sarah's own words, let's see what she has to say and why...
Poor grammar and punctuation make me ragey. I've spent a lot of time grumbling to myself about it. Not all that productive, is it? As a believer in the "put your money where your mouth is" credo, I decided to come out of the closet–the Grammar Grouch Closet.
I'm a self-taught grammar snob. When I read poorly edited material, I spew snarky comments as my blood pressure rises. Instead of imploding, I've decided to open my arms wide to anyone who wishes to join me in floating on clouds of literacy. Do I have all the answers? Nope. That's why I have Sassy Sue (she's an English teacher, and all my stories fall under the spell of her red pen before they go anywhere else).
I'll be posting segments related to grammar and punctuation, and there's also a place for you to ask questions under the
GrammarGrouch
tab on the website.
You can also follow
@MsGrammarGrouch
on Twitter for grammar related commentary. If I don't know the answer to a question, I'll find out.
Let's do this one cheese curl at a time…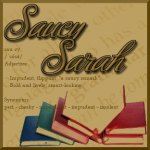 Saucy Sarah is an author, beta reader, and self-taught grammar snob. Bad grammar makes me ragey. I'm on a personal mission to improve grammar and punctuation.
Sassy Sue is a Bibliophile, English teacher, and Saucy Sarah's beloved beta reader. She can leap piles of bad grammar in a single bound!
Grammar + Mayhem = #Grayhem
Have questions? Enter here for answers from Ms.Grammar Grouch
Make sure you are following @MsGrammarGrouch for helpful tips and posts.