Friday, February 15, 2013
A Cast of Shadows by Hailey Edwards
Genre: Fantasy Romance
Series: Araneae Nation series, #2.5
Publisher: Samhain Publishing
Pub. Date: February 12, 2013
Words: 31, 114
The strongest net is no match for destiny...
An Araneae Nation story
Daraja has grown up watching her brothers journey down the river on the traditional Deinopidae rite of passage. Each returned with riches from their travels, and lovers with whom to share their lives.
Now she has reached the age where she would strike out on her own to seek her fortune—if she were male. Instead, she is expected to sit patiently, weave her nets and wait for the river to bring a husband to her.
Patience, however, has never been her strong suit.
Brynmor haunts the forest surrounding the city of Cathis, his disembodied spirit inextricably bound to the wild canis roaming his lands. Until the day he stumbles across a brazen trespasser in his woods.
Compelled to step in when the canis suspect her of poaching one of their own, Brynmor fears he has lost a piece of his ragged soul to the feisty, adventure-seeking female. And when the canis confront the real poachers, he is forced to choose which life to sacrifice.
Hers…or his own.


Warning: This book contains one heroine with a knack for weaving nets and one hero who relishes getting caught. Expect singing, some howling, ghostly shenanigans, and the start of a love that transcends death.


Excerpt...
"I can't help you, Daraja." The male sounded closer. "You butchered his pack mate."
"I have never hunted canis," I said, grateful it was the truth, "let alone butchered one."
"Yet there is a carcass in your camp."
"Liar." I risked a quick glimpse over my shoulder. I saw nothing but the slant of deep shadows.
"How do I know you didn't leave the carcass there to incite the canis?"
The instant the words left my mouth, I shook my head. Our whole conversation was bizarre.
Who was this male? Why wasn't the canis as concerned with him as he was with me?
And why were we speaking of the canis as if it had a mind enough to plot against me?
"The canis are my brothers. I would rather chop off my own hands than harm one."
I crept toward the spear. "I would pay to see a one-handed man chop off his own hand."
The male's voice roughened. "I don't think you appreciate the danger you're in."
"There's a feral mongrel eager to tear my face off if I can't reach my spear, a spear it sounds as if you're much closer to than I am, and you refuse to aid me." I expelled a tired laugh and wished I had stayed in bed. "I think I understand the situation better than you give me credit for."
The canis gnashed his teeth, and the male's voice turned urgent. "Can you prove your innocence?"
"Why should I have to?" In a moment of defiance, I asked, "Who are you to ask that I do?"
He didn't answer. Had I honestly expected him to?
"The Mimetidae paladin brought this pack with him from the northlands. They are under his protection," he said at last. "To kill one of them is to be killed yourself, courtesy of the gallows."
I cleared my suddenly tight throat. "Who are you, their keeper?"
He paused before saying, "Something like that."
Relieved by the notion his concern was legitimate, I lifted my chin. "What proof do you require?"
"Let me examine your person and your belongings for teeth marks or more canis blood."
I glanced at my hands. "How can you tell salmo blood from canis blood except by volume?"
"I can scent you."
Gods above. I had forgotten the Mimetidae were a clan of trackers. This male's talent would prove I was innocent, but his demands rankled. "Then you can scent me from where you stand."
"That's not good enough." He sighed. "All good hunters know how to cover their tracks."
"My tracks are obvious," I snapped. "At least they are to anyone who opens his eyes."
"Then I won't be responsible for the justice their alpha metes out against you."
"You speak for the canis, then?" Of course he did. The male was three ticks past mad.
Silence lingered a moment. "I do."
"Fine." I angled my head to try and catch a glimpse of him. "Then I—"
Teeth snapping, the canis leapt for my throat. I whirled aside, gasping for air, eyes swiveling in their sockets, desperation quickening my pulse as I sought out the one male who might aid me.
I saw no one and heard nothing...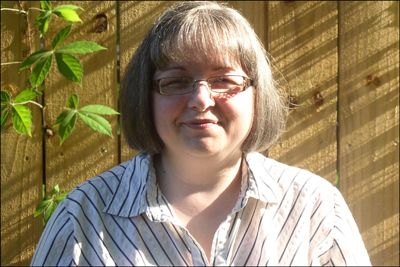 Born in the Deep South, Hailey is a lifelong resident of Alabama. Her husband works for the local sheriff's department and her daughter is counting down the days until she's old enough to audition for American Idol. Her doxie, Black Ilex, helps Hailey write by snoozing in his recliner in her office.
Her desire to explore without leaving the comforts of home fueled her love of reading and writing. Whenever the itch for adventure strikes, Hailey can be found with her nose glued to her Kindle's screen or squinting at her monitor as she writes her next happily-ever-after.
Website | Goodreads | Pinterest | Twitter | Facebook
Giveaway
Hailey is gifting a digital book from a select list of her back list titles to a commenter per number of tour stops.
The contest is open internationally to anyone 18 years or older, or the age of majority, and will run from 12:01am EST 2/11/13 – 11:59pm EST 2/18/13.
No purchase is necessary. Void where prohibited by law.
The winners will be randomly selected via the widget and notified via
Lit Connect
within five days close of the tour.
a Rafflecopter giveaway
Additional Tour Stops & Information



You can find additional stops and an opportunity to gain virtual currency for goodies by following this tour via the web scavenger hunt at Lit Connect, and on the A Cast of Shadows Event Page